Custom Driveway Gates
by JDR Metal Art
JDR Metal Art specializes in building beautiful custom driveway gates with different themes such as wildlife gates, horse gates, tree gates, traditional & ranch gates.
We work hand-in-hand with you or your contractor to design, build and deliver the perfect custom driveway gate for your property entrance.
Our driveway gates have been shipped and installed in over 30 states across America since 1999!
Some Examples of Our Fine Gate Works:
Florida Wildlife Gates

We build a wide variety of wildlife themed driveway gates, featuring everything from deer and elk to turkeys, ducks, geese and even the occasional alligator!
California Horse Gates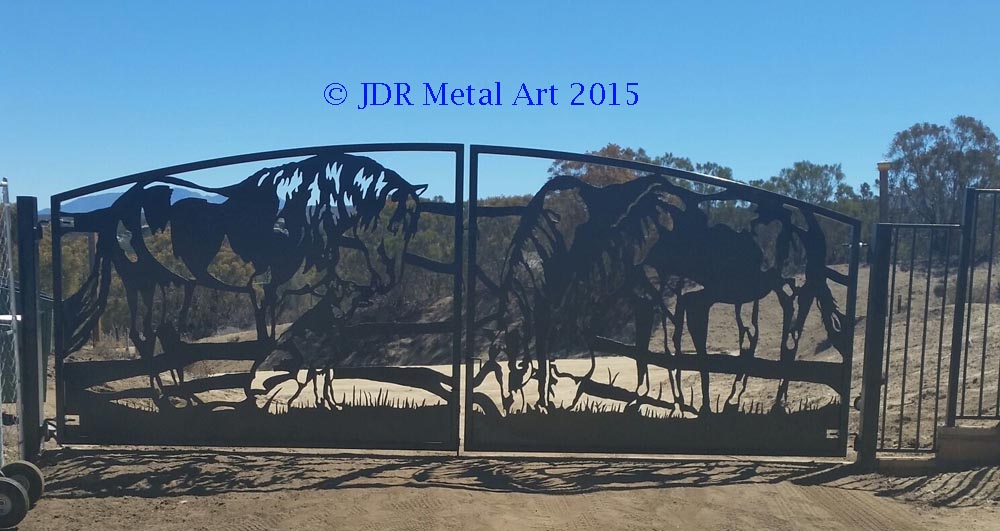 We make equine themed driveway gates for residences, small farms and large horse facilities nationwide.
Tennessee Tree Gates

We make an assortment of tree themed driveway gates, typically for private residences. Oak trees, maple trees, willow trees, tree of life, etc; whatever your inner arboreal enthusiast desires!
Arkansas Modern American Themed Gates

We design and build both traditional and modern themed driveway gates.
Our Unwavering Promise To Each & Every Client:
110% Client Satisfaction Guarantee
Literally Unbeatable Customer Service
Highest Quality, Longest Lasting Driveway Gates Available
Do You Need a Driveway Gate for Your Home, Farm, Ranch or Estate?
Why buy and install a driveway gate?
A quality driveway gate adds a layer of protection to your property, your family and your privacy. A driveway gate is a stark portal between public and private. It provides a  firm line of demarcation in the mind. A driveway gate, depending whether it's open or closed, sends a signal to both passersby and visitors. A driveway gate left open is customarily interpreted as "Please come in," while a closed driveway gate implies to strangers "Come back some other time, if at all".
Why should I buy a custom driveway gate?
A custom driveway gate takes everything a step further and makes a statement about the character of the property and/or property owner. A well designed custom driveway gate adds extra value to the underlying property through visual appeal and blends well with the background of the surrounding property.
What design options do I have for custom gate designs by JDR Metal Art?
If you see a driveway gate design that you like on our website and wish to purchase something with the same design then of course we do not charge any design fees.
If you want something similar to what is shown on our website but with modifications there may be a small design deposit  required to initiate the design process.
If you need a brand new metal gate design created from scratch we'll get started on it today with a  $500 deposit which is applied to the quoted gate balance. 
What are Plasma Cut Driveway Gates?

Plasma cut driveway gates are our specialty craft at JDR Metal Art.
According to Wikipedia:
Plasma cutting is a process that cuts through electrically conductive materials by means of an accelerated jet of hot plasma. Typical materials cut with a plasma torch include steel, stainless steel, aluminum, brass and copper, although other conductive metals may be cut as well. Plasma cutting is often used in fabrication shops, automotive repair and restoration, industrial construction, and salvage and scrapping operations. Due to the high speed and precision cuts combined with low cost, plasma cutting sees widespread use from large-scale industrial CNC applications down to small hobbyist shops.
We've been plasma cutting since 2000, beginning in industrial fabrication and shifting to metal art in 2004.
Plasma cutting is a highly efficient way to create strong and durable decorative driveway gates in practically limitless shapes & sizes!
JDR Builds Only the Highest Quality Driveway Gates
Although we specialize in plasma cut driveway gates there is still no such thing as "cutting corners" at JDR Metal Art! Everything is top notch when complete.
A Great Gate Requires The Right Materials
First things first: the metals we use are only of the highest quality. All our stock steel and aluminum is stamped "Made in USA." 
The Outer Frame & Inner Design
For our metal driveway gates we always use a minimum of 1/8″ (.125 inch thick) material thickness for all gate construction. That's whether we're working with steel, aluminum, or iron. Load bearing components such as the hinge rails and posts are always at least 3/16″ in wall thickness.
Gate Posts
Our standard mounting posts are made from 4×4″ square tubing with a minimum of 1/4″ wall thickness.
We also build 6×6, 8×8 and larger gate posts. 
We prefabricate the posts and hinge block mechanisms for each gate we build. That allows for a simplified installation with no on-site welding required. The hinges bolt together and are adjustable so that the gates can be kept level.
Gate Hinges
We use maintenance-free sealed bearing driveway gate hinges with a 2000lb load rating (per gate leaf). No greasing is required to keep the gates swinging freely. Our standard mounting posts are made from 4×4″ square tubing with a minimum of 1/4″ wall thickness.
Iron vs Steel vs Aluminum: 
There are Differences Between Steel & Aluminum
Which material is best for you? Iron vs Steel vs Aluminum.
Steel Driveway Gates
We most commonly create steel driveway gates because they are so strong and durable. 
Much like its precursor iron,  steel is more susceptible to corrosion than aluminum when exposed to moisture and oxygen.
Aluminum Driveway Gates
When the situation calls for it, we also build aluminum driveway gates.
Aluminum gates are a good choice for those who need a lighter gate or heightened corrosion resistance. Aluminum is less than half the weight of steel and has a very high strength to weight ratio. 
Although aluminum doesn't actually "rust" it will still corrode in the form of "white rust" when not properly coated.
Powder Coated Driveway Gates – We Do It Right Every Time!
Once upon a time we painted our gates. Then we learned through experience that powder coating provides a far better solution than wet paints could ever hope for. Since 2014 we have done our powder coating in-house. While we do the powder coating ourselves many gate companies either elect to outsource their powder coating elsewhere or resort to wet painting. Doing it in-house is excellent for us because it greatly increases the finish quality and brings much faster turnaround times than with outsourcing the powder coating. This results in a longer lasting, higher quality product.
Sandblasting
Before being powder coated the metal must be free of any rust, oil or dirt and that is accomplished by sandblasting the driveway gates. 
Our Powder Coating Capacity = 20′ long x 9′ tall
With our powder coating line we have the capacity to powder coat anything up to 26′ long and approximately 9′ tall. It is extremely rare that there is a driveway gate too large for us to apply a beautiful powder coated finish to. 
The most critical aspect of metal finishing is, of course, proper part preparation and pretreatment. As mentioned above use sandblasting to remove all rust, mill scale, and dirt from the metal gate surface. We also add eco-friendly cleaning and pretreatment solutions to prepare a very clean, oil and oxide-free metal surface. This sets the foundation for an extended coating life. It also eliminates toxic impact upon our environment.
Each steel gate receives a coat of zinc rich primer for added corrosion resistance. This primer gives our steel gates an outstanding amount of resistance to the formation of rust, even when the powder coat has been scratched all of the way down to the metal.
This is followed by top coats of exterior grade polyester powder coating that is baked to a beautiful finish. Some metallic finishes even get a clear coat or we can add a clear coat on special request! Our standard topcoat color is a 60% gloss black specially formulated for high color retention and resistance to the elements.
Aluminum gates are still sandblasted but they receive two coats of topcoat instead of any primer. The first layer of our polyester top coat acts as a primer layer on the aluminum.
The second layer is essentially just an added layer of protection that we like to put on for an even longer finish life.
Powder coat is more durable than paint, yet any dings or scratches incurred during installation are easily touched up with the corresponding Rustoleum paint color to keep everything looking great and rust-free.
Nationwide Gate Shipping – Fully Insured
We guarantee that our gates will arrive in original condition. We contract with only the top rated freight carriers to have our custom gate creations delivered to our clients  who are located nationwide. As frequent shippers we secure high level service at the lowest prices available for our valued clients.
Gates are always securely wrapped and crated with foam packaging inside and also fully insured in the unlikely event that damage would ever occur during transit.
Our clients often opt to pick up their new custom gates from their local UPS or FEDEX freight terminal themselves, or send their contractor to do it for them.
If residential delivery is the chosen method then gates and posts can also be offloaded from the freight truck either by forklift/skid steer or the skid can be quickly broken down upon arrival and the gates and posts offloaded by hand, one by one, with the help of several friends. Most gate panels weigh 250 lbs or less (more for much larger gates). Trucks with lift gates are available for our smaller gates at an extra fee.
Farm Gates
Our custom farm gates make your farm entrance stand out from the crowd.  We build these farm gates for a wide range of farms such as cattle farms, horse farms, elk farms, deer farms, sheep farms and practically any other type of farm you might own or manage!
Ranch Gates
Ranch gates are a great way to keep livestock inside your property while keeping unwanted vehicles out. Our custom ranch gates are designed to integrate with your overall ranch theme.
Your ranch is unique in it's own way and ranch gates provide an opportunity to show it.
Driveway Gate Blog with a Selection of Our Recent Projects
Be sure to check out some of our recent gate projects over at our Driveway Gate Blog. There we regularly post content about the driveway gates we ship nationwide to our customers.
Custom Driveway Gates Near Me
You've come to the right place if you're having a difficult time finding a reputable, reasonably priced local gate company to create your beautiful driveway gate.
https://custom-driveway-gates.com/driveway-gates-near-me/
Decorative & Ornamental Driveway Gates
Our decorative driveway gates and ornamental driveway gates add value and security to your property, whether it is a home, farm, ranch or estate.
Get a free quote  for a custom gate now: