Custom Driveway Gates with Metal Art Horses
JDR Metal Art's driveway entrance gates often feature horse-related design themes.
We create customized driveway gates for horse lovers all across America. Whether you're a "horseless" horse lover or you are with a large professional horse facility specializing in a specific breed or discipline…we have or can create the perfect horse themed entry gate for you!.
Shown below are pictures of different horse themed silhouette gates we have custom designed and built for past gate clients who were equine enthusiasts.
Florida Horse Stables Entry Gates
4 Horses @ Fence Theme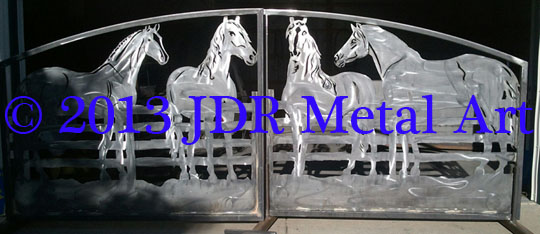 We designed and plasma cut these Florida driveway entry gates to fit a 14′ opening.  They are made with a rugged 1/8″ steel tubing frame and sheet metal silhouettes. Here they are shown after plasma cutting and polishing but before they were painted black with acrylic urethane paint.. We shipped two sets of these out to the Diamond B Stables in Lake Worth, Florida.
California Driveway Security Gates | Horse & Dog Theme
Here is a dual swing gate we designed and fabricated for a California driveway entrance. Each panel is 7′ wide and 6′ tall. The gate design features three horses in a pasture. There is also a German Shepherd in the gate silhouette. Gates were painted black with acrylic urethane paint.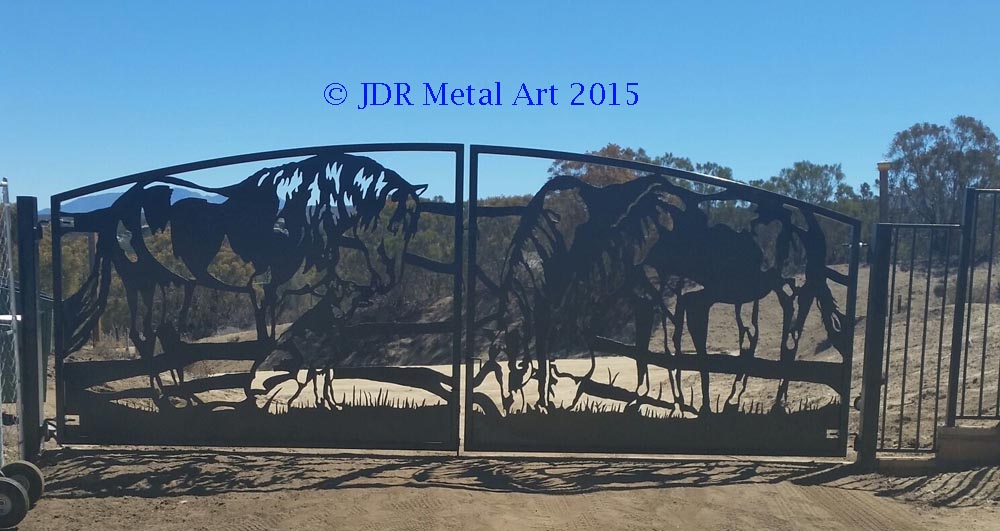 Central California Ranch Entry Gates
Los Angeles Driveway Gates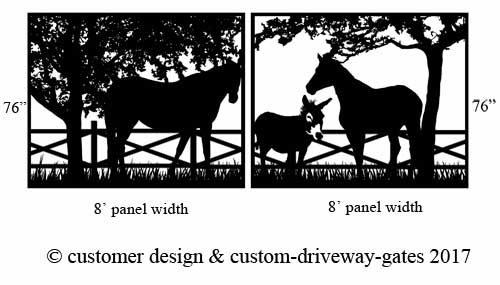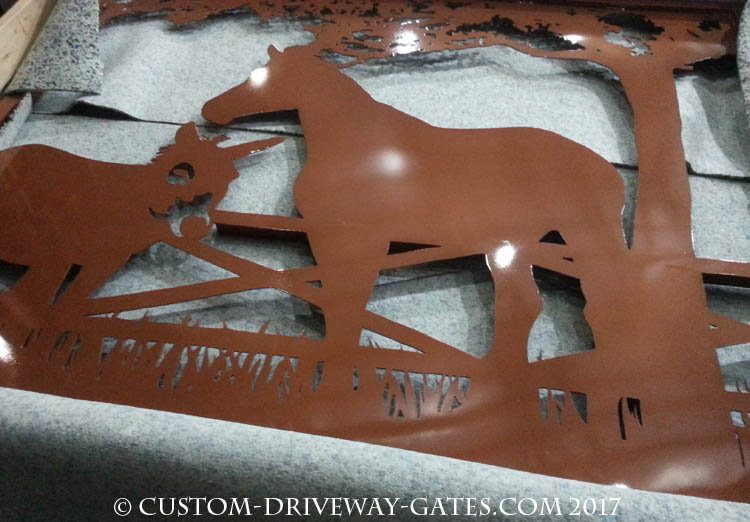 Colorado Custom Horse Design Driveway Gates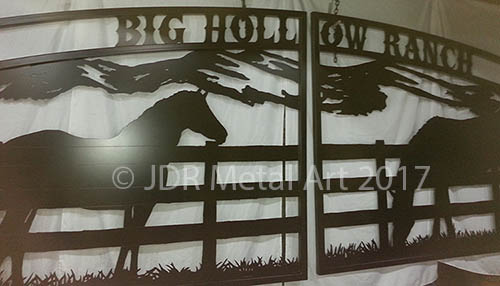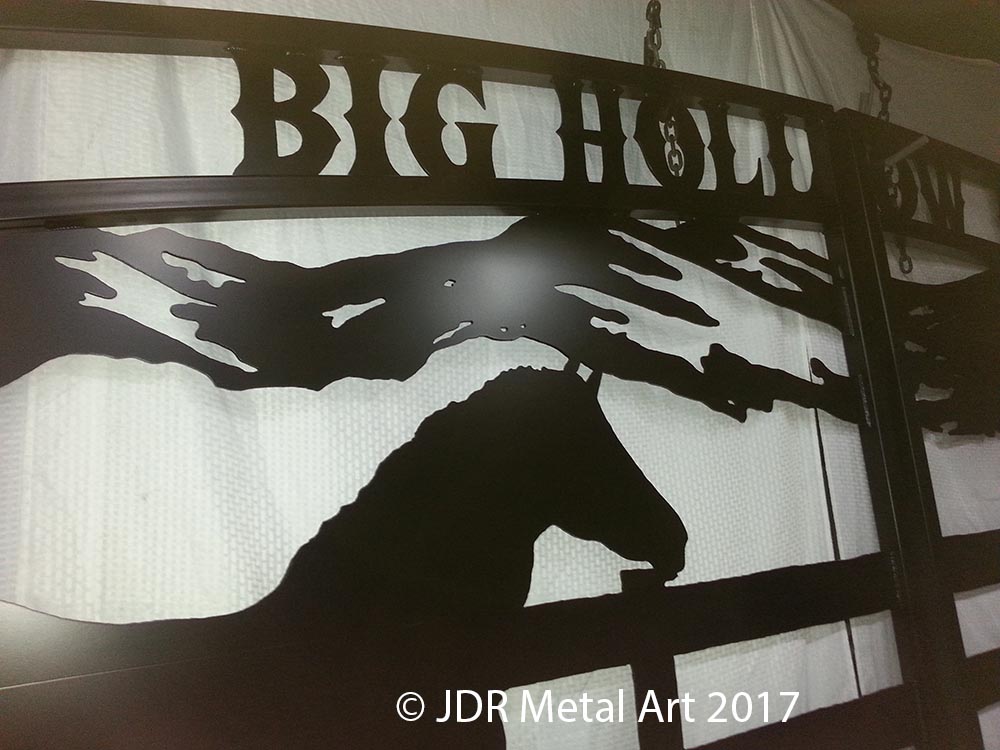 Lexington KY Driveway Gates| Race Horse Gate Theme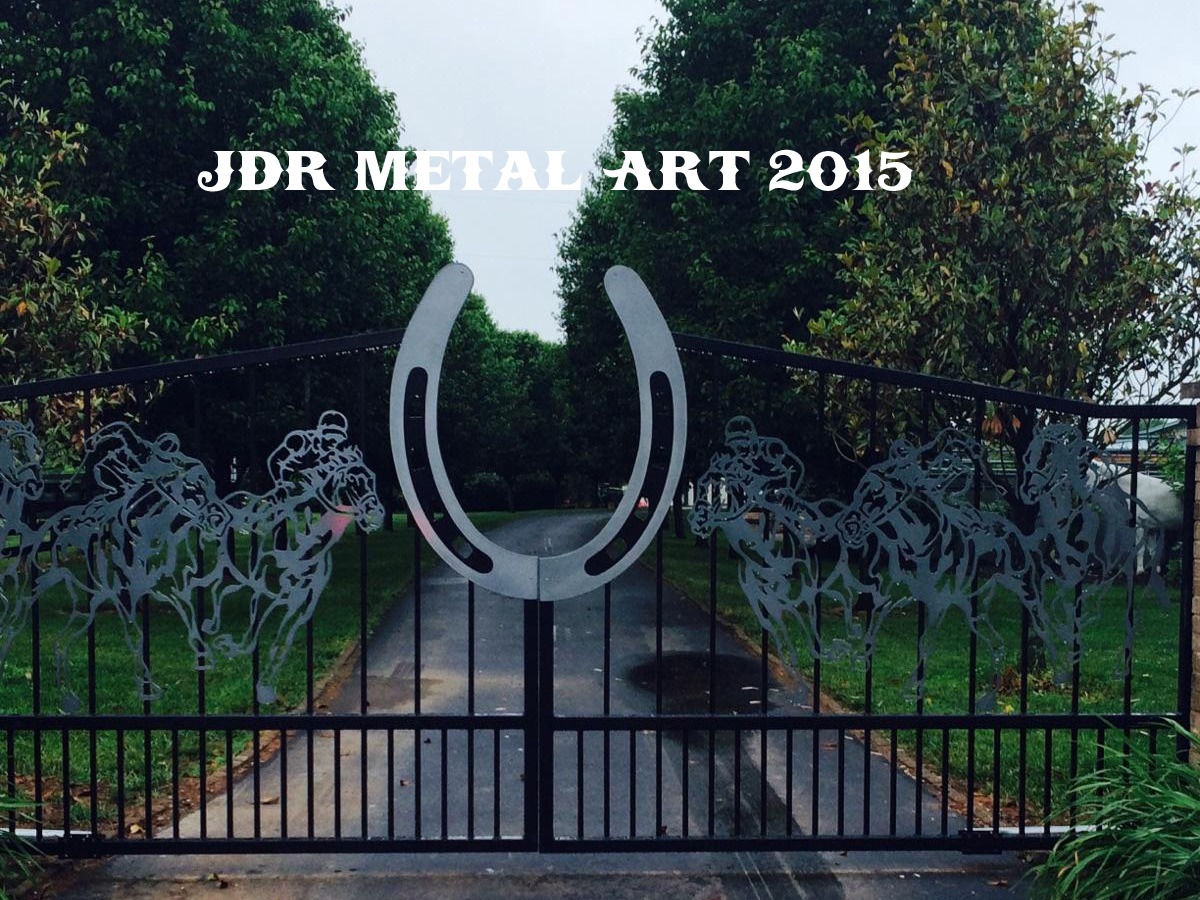 These Lexington, Kentucky driveway gates feature decorative race horses and an oversize horse shoe split in the metal. The gate pickets are 3/4″ square tubing. The gate frame itself was powder coated with a protective zinc primer and then black powder coat. The decorative elements were powder coated with a chrome top coat and clear coat.
Lexington Kentucky Horse & Dog Gate Theme Single Swing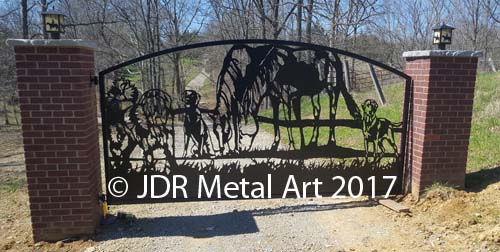 Carolina Horse Shoe Gate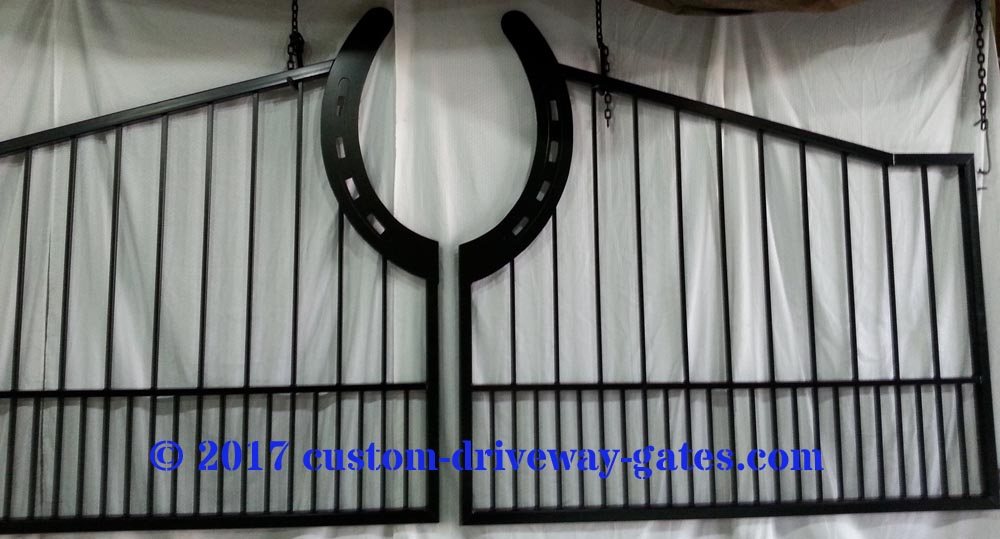 Missouri Oak Tree Driveway Gate featuring Horse Silhouettes
This decorative driveway gate is a 16′ residential single swing gate featuring metal art horse silhouettes welded to each side of the tree. It was custom designed and built in Ohio by JDR Metal Art and delivered to of our friends' beautiful new Missouri residence.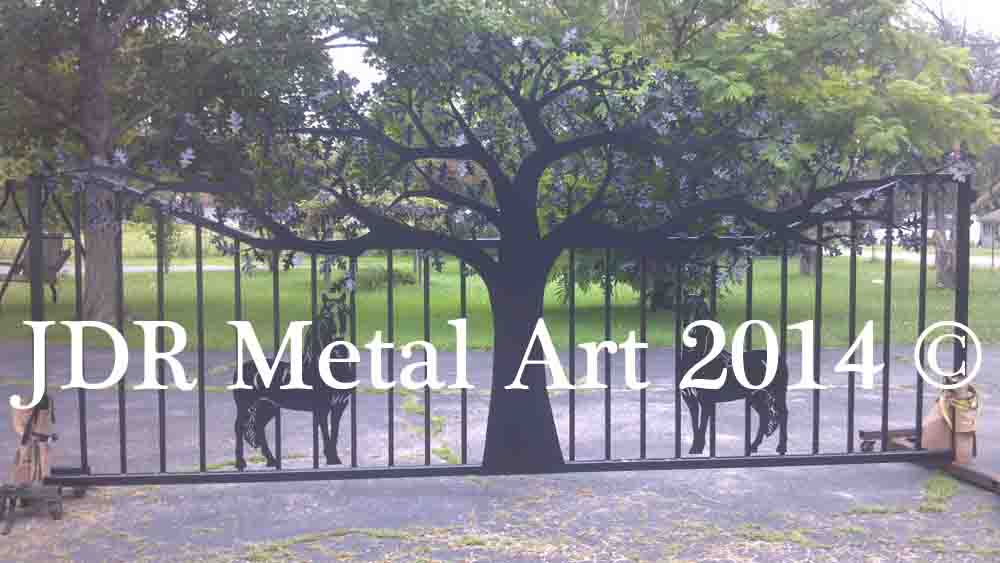 Here below is a picture of the same gate once it was hung from a steel post. The post was located behind large brick columns and supports the entire gate. The gate weighs about 400 lbs.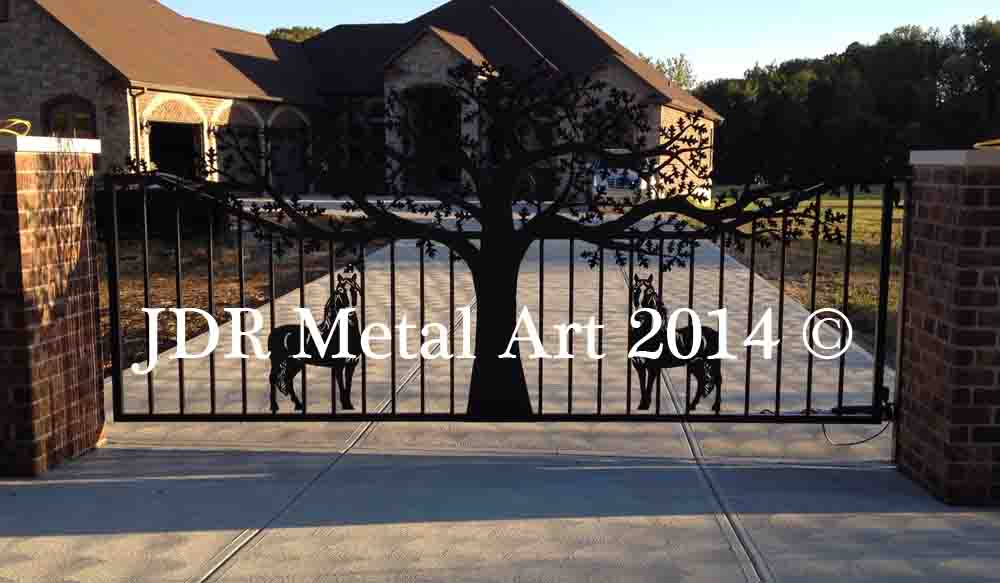 Oklahoma City Rusty Steel Horse & Dog Gates
Design featuring 3 Horses & 5 Dogs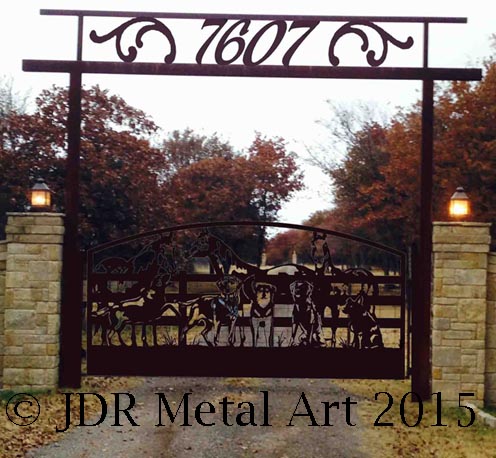 These Oklahoma City driveway gates and overhead sign were custom made for a residence near Oklahoma City. The rusty gate design was custom made to order. With a total of 8 animals, it's a busy scene. It features three paint horses and the property owner's five family dogs.
We plasma cut two of these 16′ single swing gates for our client; one went up at each entrance to the property.
---
Horse Themed Palm Tree Gates
Custom horse/tree design for entry to southern California mansion.
---
Sarasota, Florida Aluminum Gates
Four Horses Design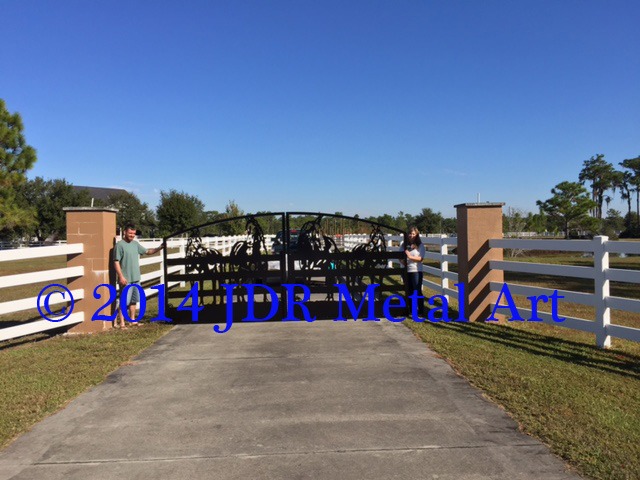 Here is an ornamental gated entrance project we delivered to a Sarasota, Florida residence. Four horses stand at a 3 board fence.
The horse silhouettes were cut from extra heavy duty 3/16 aluminum sheet. The gate frame is square tubing with 3/16″ thick walls. The top is arched and 6'4″ tall in the center.
Plasma cut aluminum gates better withstand the moisture-laden environment of central Florida than does steel. Aluminum is the same strength as steel but only about half the weight. Makes it easier on the openers.
Each gate panel was finished with two coats of "super durable" 60% gloss black powder coat.
Gates were installed by a local gate opener company.
---
Lakeland Florida Custom Driveway Gate Design
Design created to match mosiac in client's home.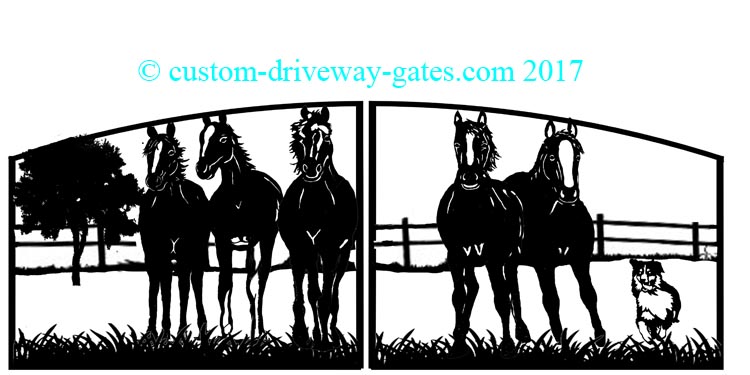 Installed in Bradenton Area by Johnson Gate Openers. Photo by same.
---
North Carolina Custom Horse Themed Gates
Plasma Cut Silhouettes of Mini Donkey, Fresians, and Gypsy Vanner Standing at a Fence

Here is a custom designed dual swing with a miniature donkey, Fresian and Gypsy Vanner horses standing at a metal art fence. We really love how this gate turned out. The gates are 16′ wide overall. They were delivered from our shop in Columbus, Ohio to a home in North Carolina. They were mounted to stone columns by the client.
We can combine any and all breeds you may have into one overall gate design.
---
Tennessee Rodeo Themed Gate Design
---
Picket Style with Rearing Horses
Custom Gate Designs, All Horse Breeds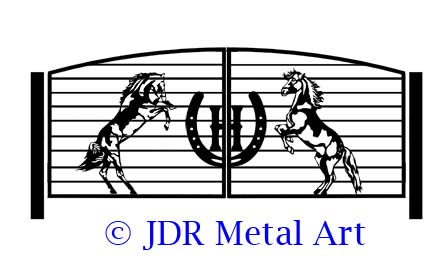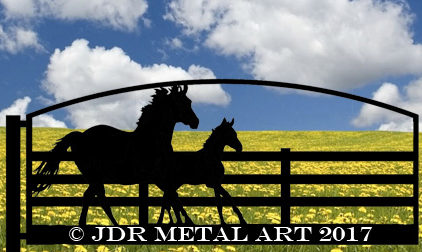 Are You Looking for a Custom Horse Gate Design?
We work with horse folks from all over the country to help them create the perfect gates for their farm, ranch or equine facility.
Our horse gate designs are perfect for all horse lovers because we customize them to represent any breed or discipline. We work with hunter jumper facilities, dressage farms, reining horse facilities, pleasure horse farms, cutting horse ranches, show grounds and fairgrounds, veterinarian facilities, boarding stables, and anywhere else horse lovers are to be found.
We also build driveway gates with wildlife designs, as well as tree gate designs. And we build picket style gates that are simple yet stylish, too!
Our talented driveway gate designers are ready to create the perfect horse scene gate for your property. We pride ourselves on fast turnaround time and are committed to providing some of the most beautiful gates available. We work hard to give you a design that you will love to show off to all your neighbors!
You can get in touch with us by using the form below with any questions you may have about pricing. Please provide us with the size of gate you are looking for and your zip code for a freight quote. All metal art gate projects are packaged and shipped on a pallet for delivery to your home or facility, or to your local freight terminal for pick-up with a truck and trailer.
We would love to help you get started creating your new driveway entry gates today!