Driveway Gates featuring Decorative Metal Trees
Below you will see some of the custom tree themed driveway gates we've worked on over the years. They're all built to custom specs, no two are quite the same.
We work with individuals and/or their contractors to provide a gate that will be the perfect fit into their driveway entrance.
These gates will work with nearly all gate openers.
Atlanta Tree Gates

Tree gates with horse theme for Atlanta entrance. Installed by NE Fence Company.
---
14′ Dual Swing Oak Tree Driveway Gate
This beautiful oak tree driveway gate is flanked by two massive stone columns and safeguards a log home located on an exceptional walleye fishing lake north of Minneapolis, Minnesota. We custom built the gates in Columbus, Ohio to fit the existing stone columns. All measurements were coordinated ahead of time and the communication worked out quite well because the gates fit their new resting spot perfectly.
The overall height of these oak tree themed gates is about 10′ after we hung them.
---
Palm Tree Driveway Gates
Palm tree gate design features a stallion and a mare for front entryway to southern California mansion.
---
Maple Tree Driveway Gate Design
16′ Dual Swing, 7'7″ tall @ center point.
---
18′ Dual Swing Texas Driveway Gates
Featuring Tree & Horse Theme
These Texas driveway gates feature a two-tone powder coated finish. We also added horses and a silhouette of our client's dog to create a plasma cut scene.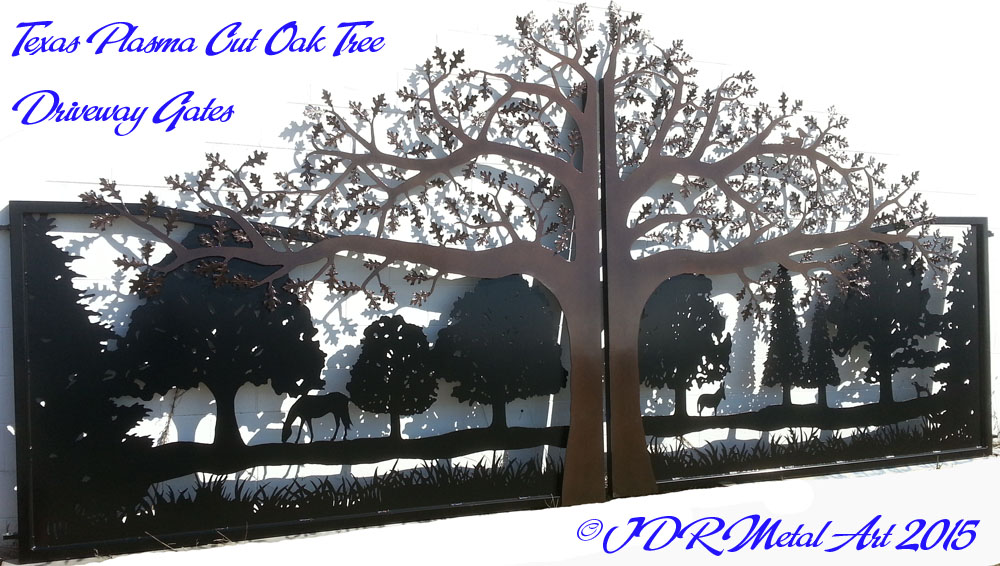 ---
14′ Dual Swing Charleston, SC Driveway Gates
This dual swing iron gate is mounted to steel posts and brick columns with automated electric gate openers attached. Located in front of a beautiful Charleston, SC residence.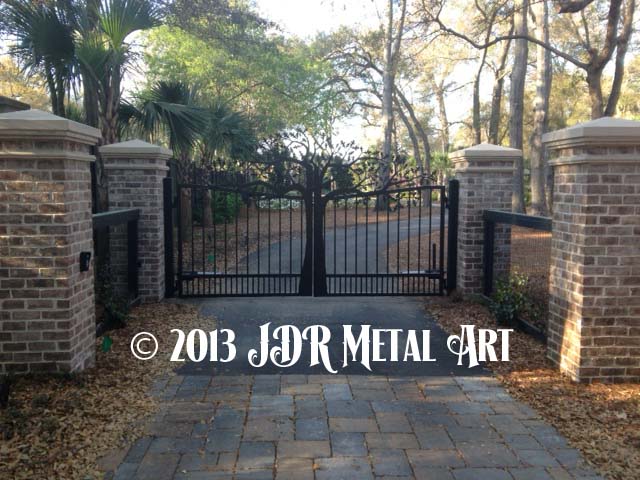 ---
15′ Single Swing Missouri Driveway Gate featuring Horse & Tree Design
We designed, built and delivered this 16′ single swing gate to Missouri. The tree is plasma cut from 3/16″ steel sheet and bolted to the square tubing frame of the gate. The two horse silhouettes were also plasma cut and then welded onto the pickets of the gate. Everything was powder coated black in our new powder coat oven.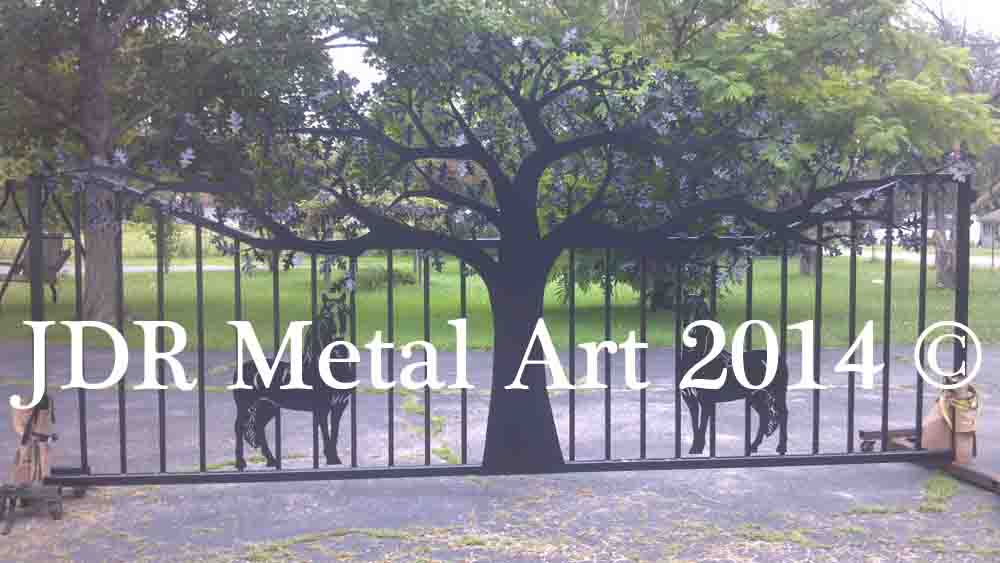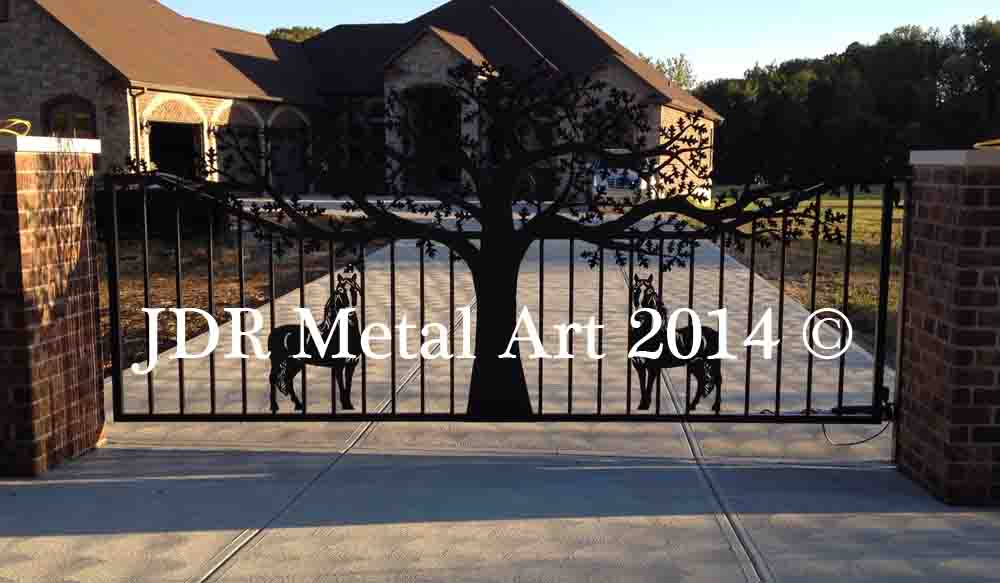 ---
20′ Dual Swing Indiana Oak Tree Driveway Gates
Below is a set of custom cut gates leaning against the side of my shop after the paint cured, shortly before being loaded up and hauled to Indiana where it was installed along with another set just like it. Each set was built for a 20′ opening between stone columns.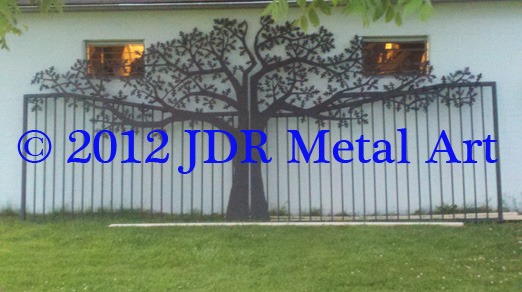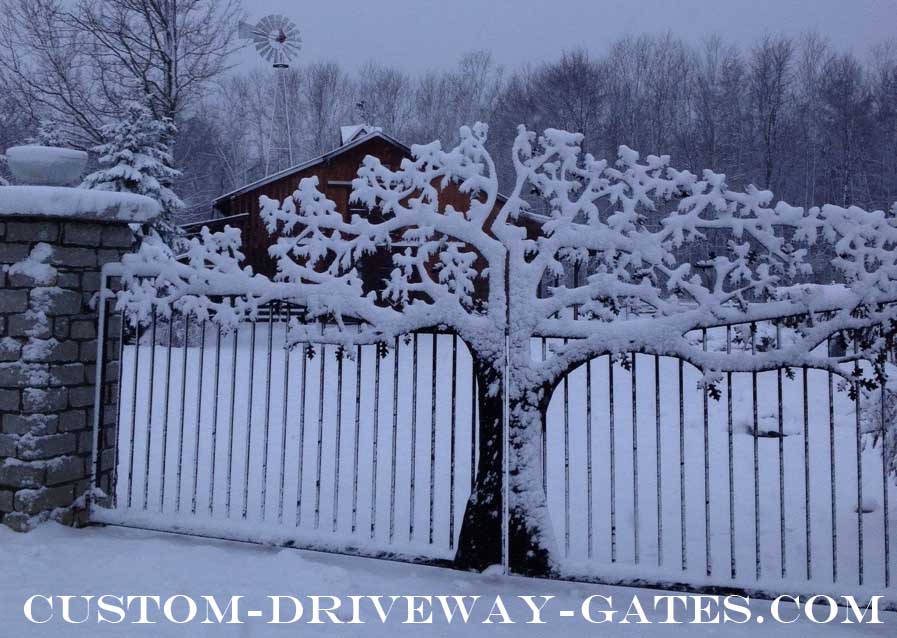 ---
Smoky Mountain 20′ Oak Tree & Wildlife Design
Custom designed for client in Smoky Mountains, early 2018. Split swing oak tree featuring a buck, doe, two baby fawns, two rabbits, a squirrel and a ground hog.
Chattanooga TN Curly Tree Driveway Gates
These Chattanooga, TN driveway gates were a really cool project we did for some fantastic people up on Signal Mountain at the "Wicked Ranch".  The side boxes are lit from the inside at night. The gate opener system is powered by a solar panel.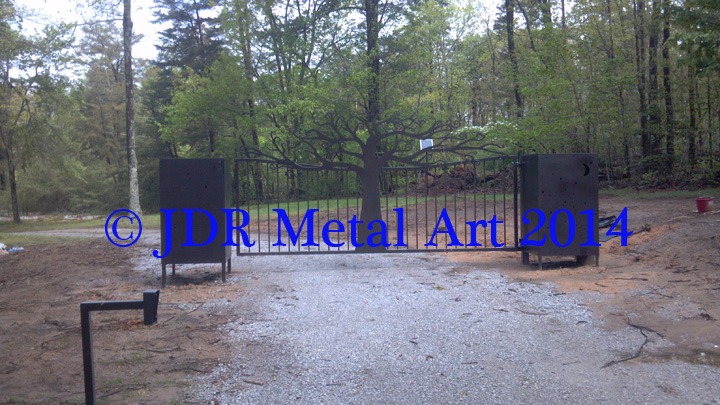 Another picture of the Chattanooga TN entry gate, this time in the shop.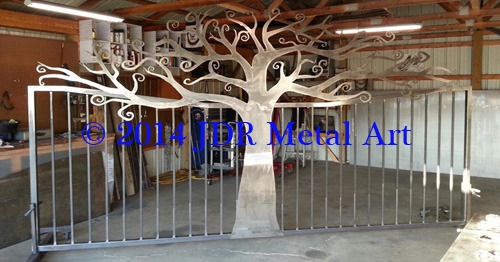 Wisconsin Oak Tree Driveway Gates
16′ dual swing
Dual swing 16′ entry gate with oak tree theme built for a landscaping contractor's residence located in the central Wisconsin area. Approximately 8′ tall in the center.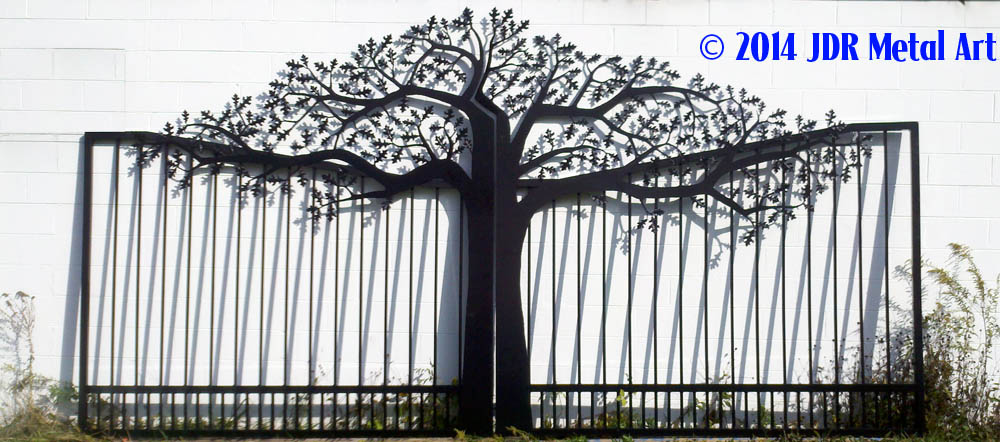 12′ dual swing design
Another Wisconsin decorative entrance gate. Approximately 7′ tall center.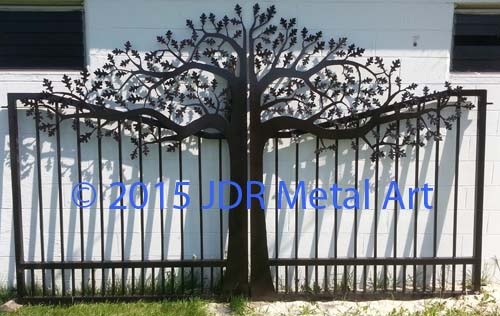 Lake Geneva, WI 20′ Oak Tree Gate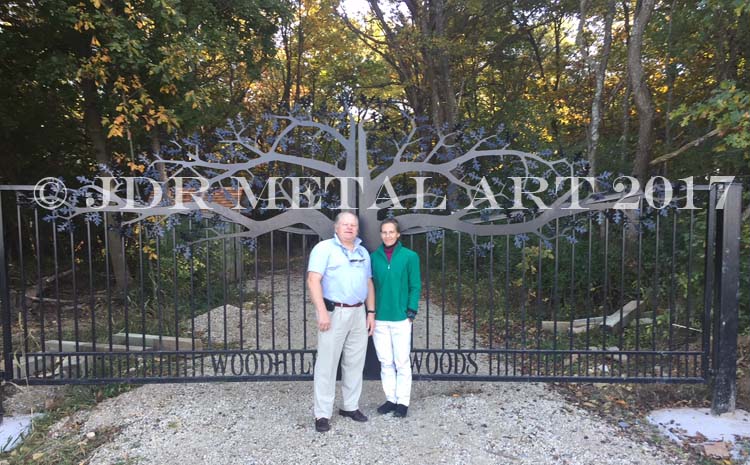 Knoxville Tennessee Driveway Gates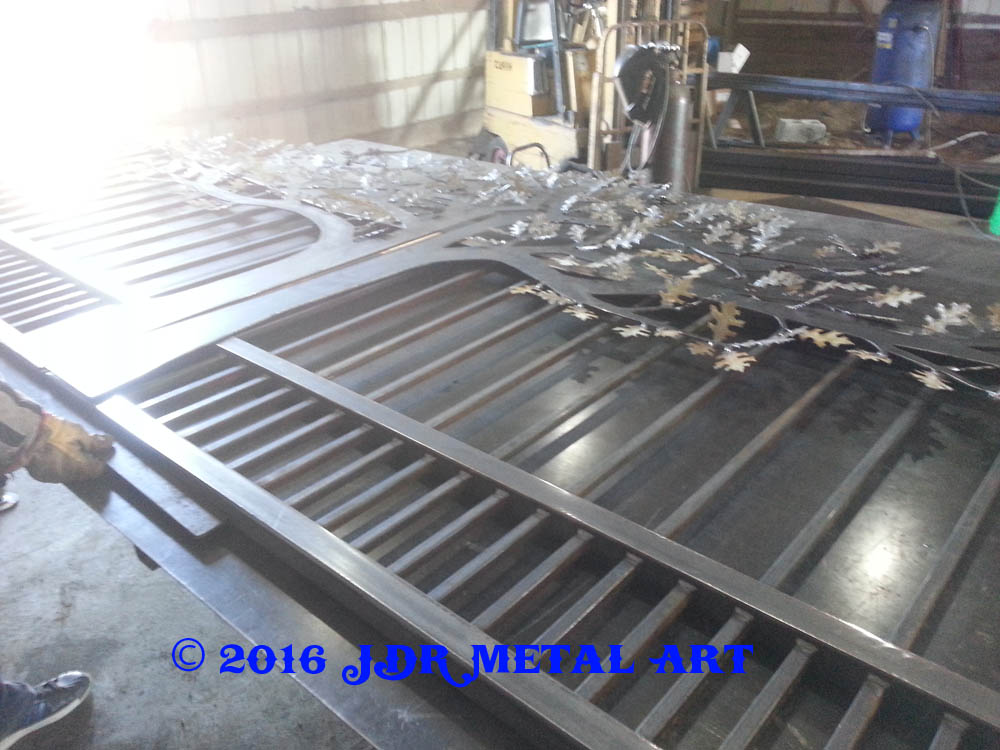 Loaded on a trailer ready to be delivered to Knoxville…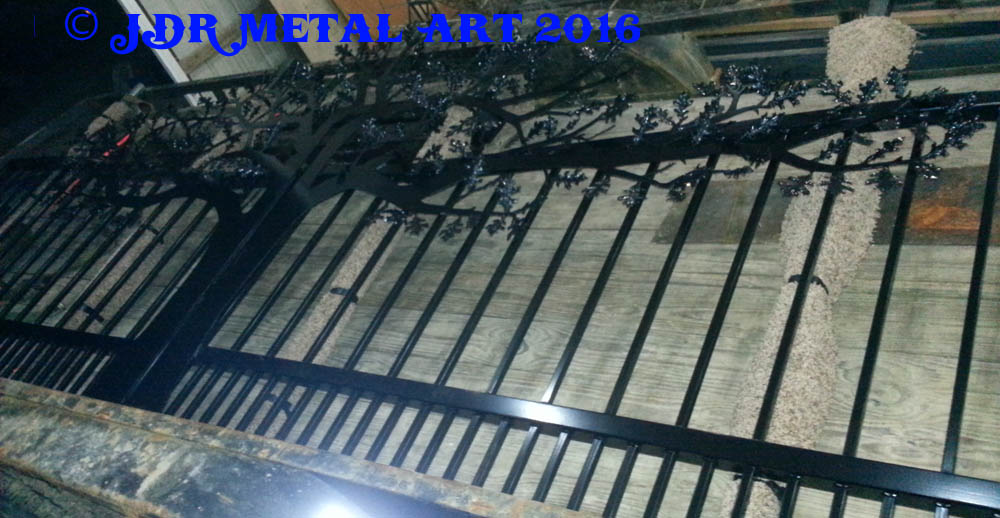 These driveway gates were delivered by us to Knoxville, Tennessee in January 2016. 14'wide, 7′ tall dual swing oak tree gate design with 1″ pickets and doubled bars on the bottom.
12′ Single Swing St. Louis, Missouri Entry Gate
This is a single swing variation of our oak tree entry gate built and delivered for a St. Louis, Missouri area residence.
24′ Dual Swing "Tree of Life" Driveway Gate
A 24′ dual swing entrance gate for a southern Ohio farm, near Lucasville. The owner calls it the "Tree of Life". It also features metal art livestock silhouettes and scenery incorporated into the background.
Sacramento, CA 18′ Dual Swing
Client decided to let his gate rust naturally.
Louisiana Entry Gates
These Louisiana entry gates were built for a lady with smaller dogs. We put the pickets closer together on this one so the dogs wouldn't be able to get out.
20′ Dual Swing Driveway Gate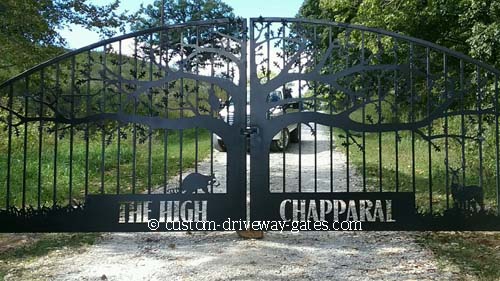 Driveway gates built for avid coon hunter at his Missouri property.
"Tree of Life" Pennsylvania Edition
Custom Tree of Life driveway gate theme for Erie, Pennsylvania / Lake Chataqua, NY area property. 16′ wide single swing is 8′ tall at the center. This huge gate is powered by an LA 500 gate opener to manage opening and closing with the high winds coming off Lake Erie.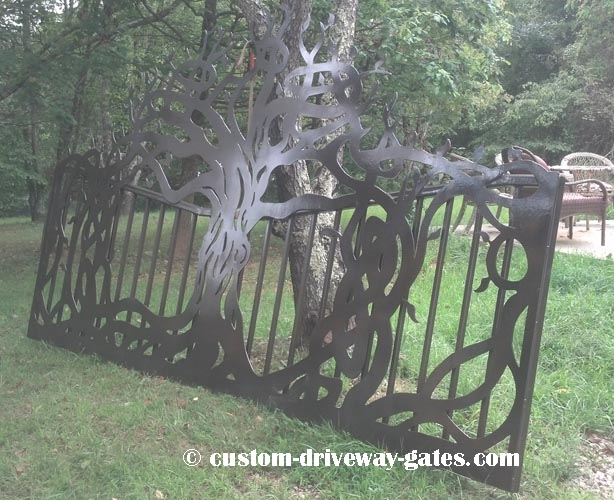 Curly Tree Gate 14′ Dual Swing

Louisville, Kentucky aluminum entry gates, dual swing.
---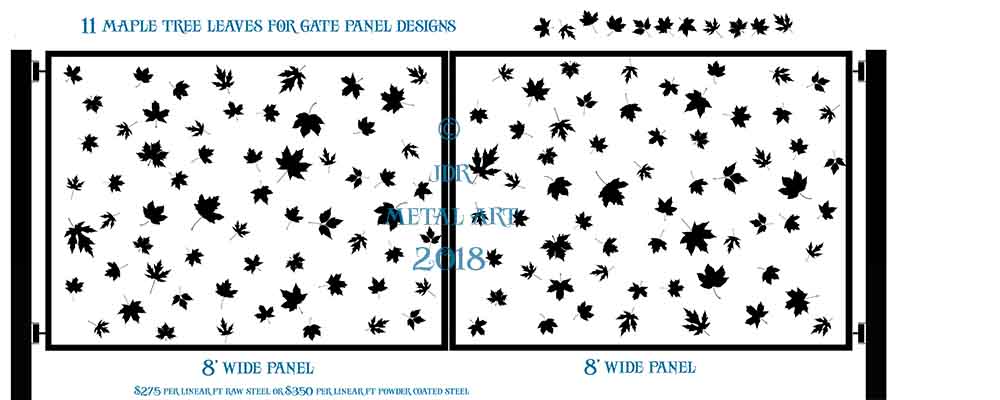 ---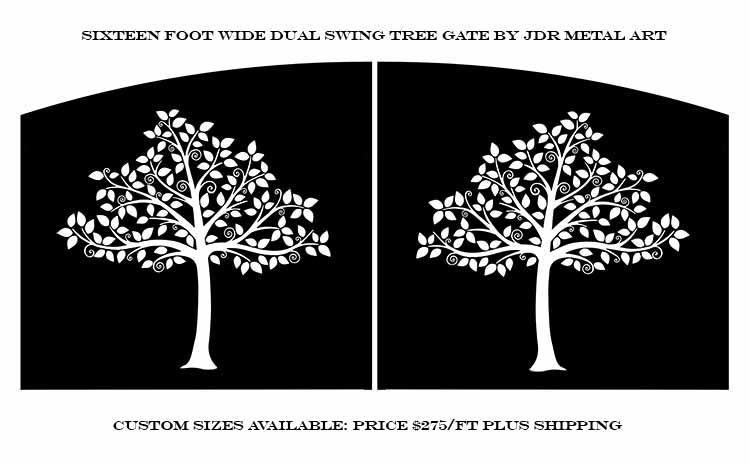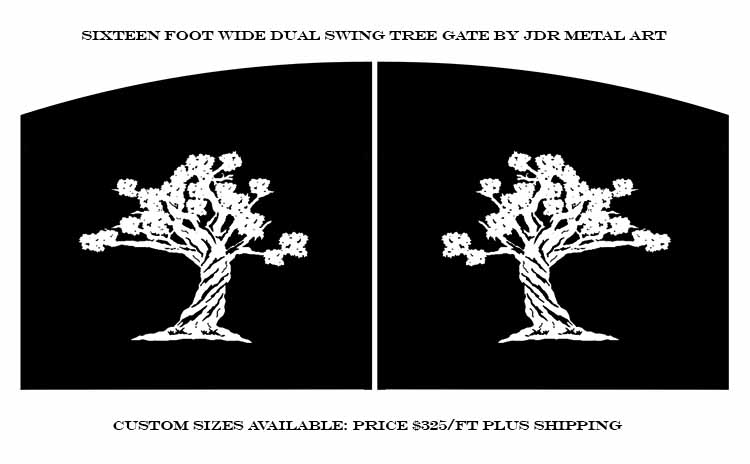 ---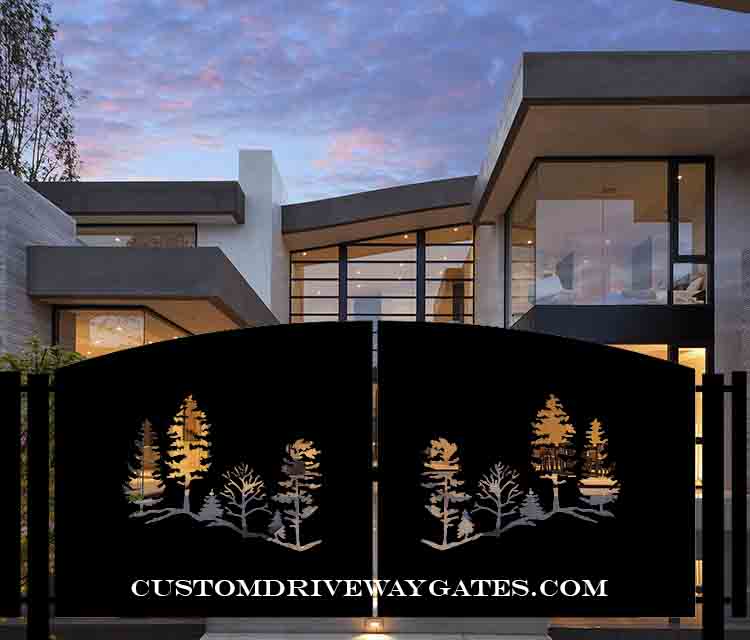 ---
Simple Tree Gate
---
12′ Single Swing "Tree of Life" Driveway Gate

The "tree of life", a plasma cut gate with an arched 2″ square tubing frame that is 6′ tall in the center. The design is cut from 1/8″ thick steel (standard) but can be made any thickness up to 1/2″, either steel or aluminum.
---
Interested In a Personalized Driveway Gate Design?
If you have any questions at all for us we would be glad to answer them. We can design a custom tree gate for you using our simple and easy gate design process. Once the gate design is finished to meet or exceed your expectations then we are able to move forward with the custom fabrication work. All of our custom tree gates are built entirely by hand with pride in the USA. We apply a beautiful and super durable powder coat finish to our gates before we professionally package them up for shipping to your home, business or for pickup from a local freight terminal. We ship freight such as UPS and FedEx. Get a free shipping quote today by filling out our form below. !
Inquiry Form: