Driveway Gates – 36 Different Tree Gate Designs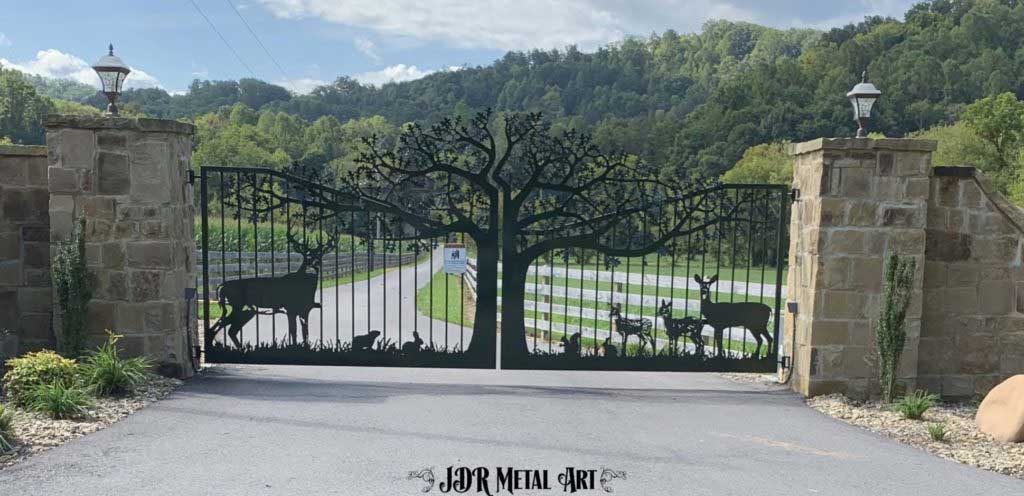 JDR Metal Art Creates Tree Themed Driveway Gates with Oaks, Maples, Willows, Cypress, Palms & More!
JDR Metal Art makes driveway gates for clients across the US. We work with landscapers, nurseries and homeowners, to name a few.
Below are just a handful of the custom tree themed driveway gates we've created for our nationwide clients over the years.
They've all been built to custom specs, no two are quite the same.
---
 Driveway Gate Designs with Trees:
1.
Automatic Gates with Personalized Dog & Tree Design
16′ double swing steel driveway gate, powder coated black, installed by Innovative Fence Solutions of Birmingham, Alabama.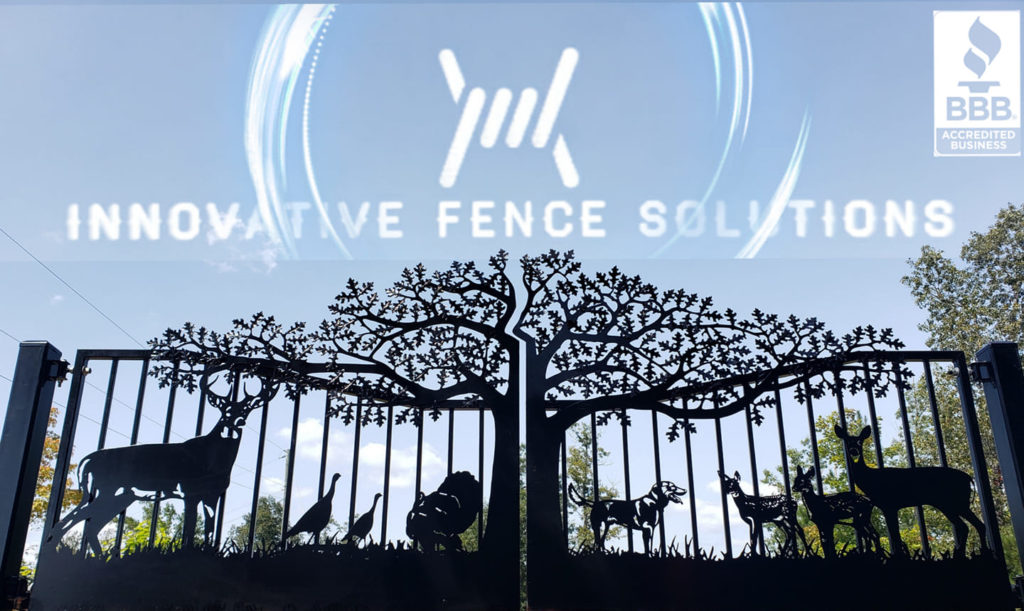 AUTOMATED WITH LIFTMASTER LA500 GATE OPENER SYSTEM.
---
2.
Willow Tree Gate Design
12′ wide dual swing steel
Custom designed willow tree themed driveway gate design is 12′ wide and 10′ tall in the center. Design concept submitted by client and finished by JDR Metal Art.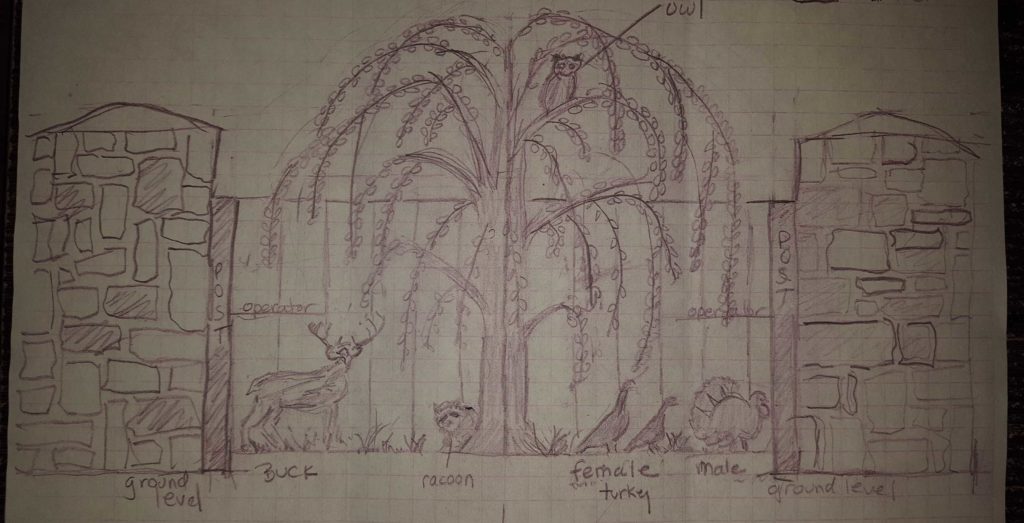 ---
3.
Indiana Oak Tree Driveway Gates
18′ Dual Swing
Custom plasma cut oak tree driveway entry gates, 8′ tall in center. Hung from 4×4″ steel square tubing F-posts buried within rock columns.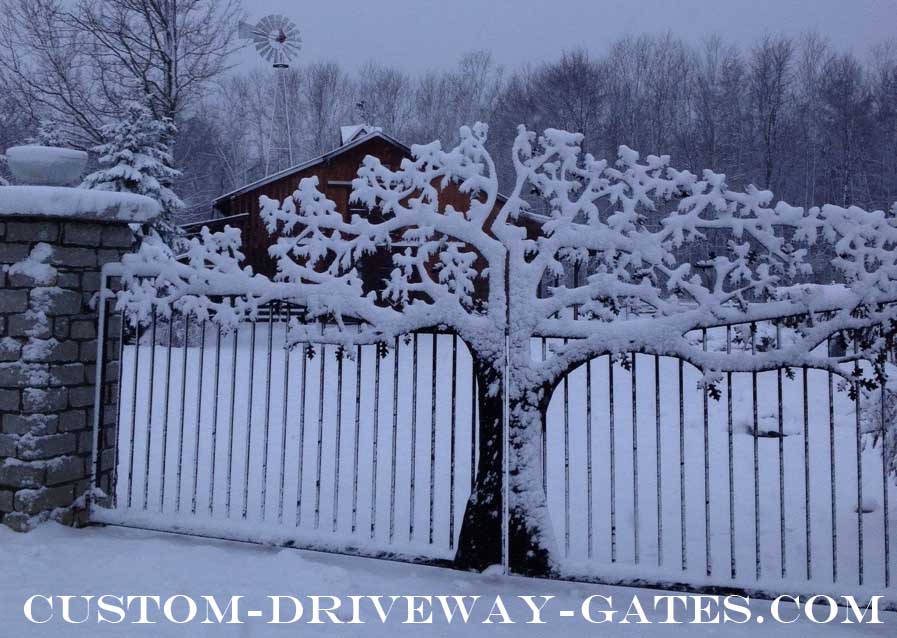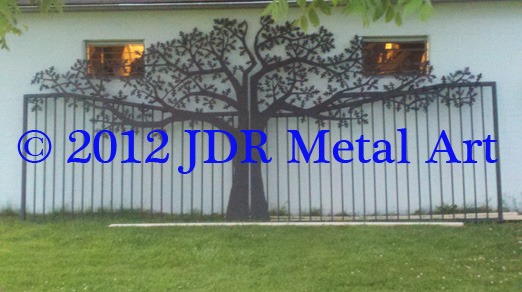 ---
4.
Florida Oak Tree & Wildlife Gate
20′ Dual Swing Aluminum
Aluminum driveway gates with plasma cut oak tree & oak tree leaves. Also plasma cut wildlife including deer, fawns, squirrel, turkeys & rabbit. Powder coated with custom bronze finish. Gate installed with Viking underground gate opener system.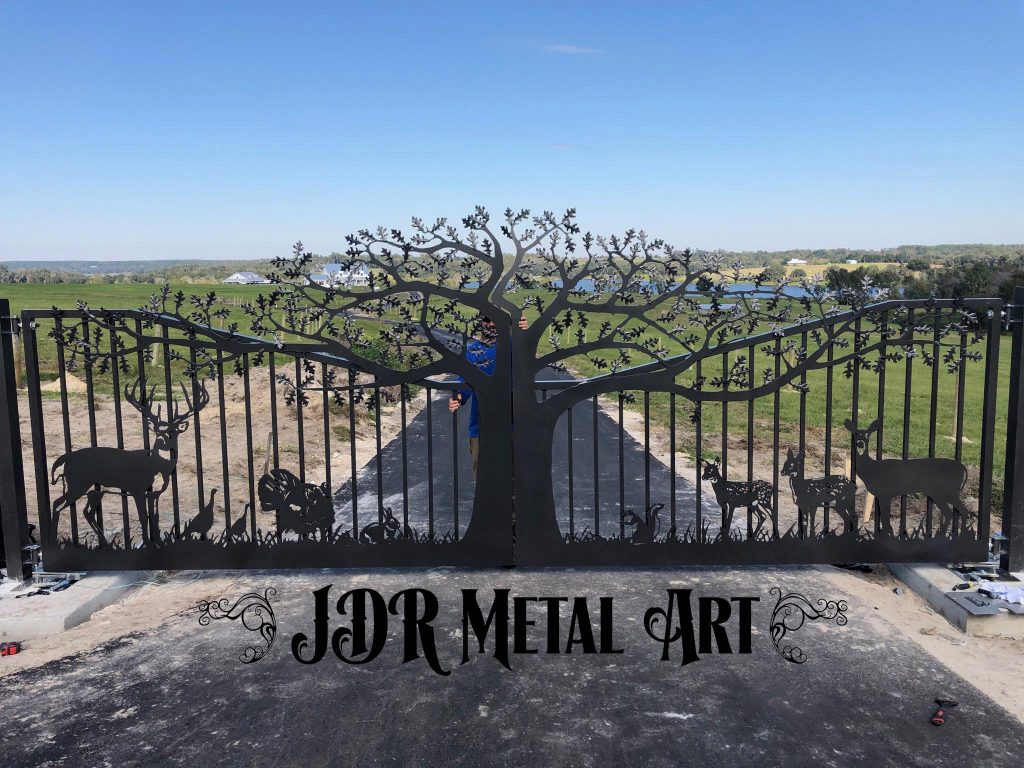 ---
5.
Atlanta, Georgia Tree Gates
18′ Dual Swing Steel

Steel tree gates with mare and foal horse theme built by JDR Metal Art for Atlanta, Georgia estate entrance. Dual swing gate, each panel is 9′ wide.
---
6.
Texas Ranch Driveway Gates
Plasma Cut 18′ Dual Swing
These Texas ranch driveway gates feature a two-tone powder coated finish. We also added horses and a silhouette of our client's dog to create a plasma cut scene.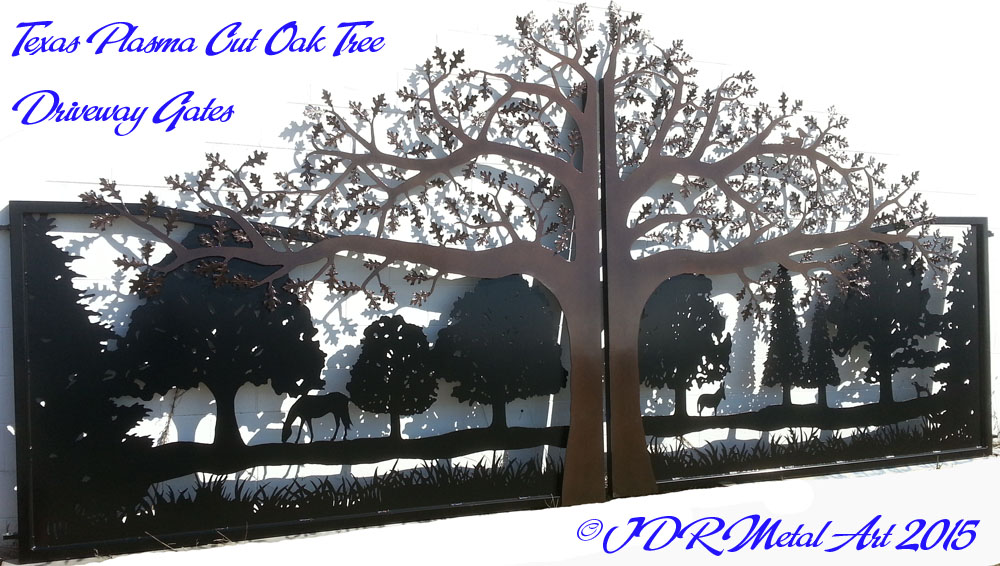 ---
7.
Michigan Maple Tree Gate Design
14′ Dual Swing
This maple tree gate design is plasma cut from rugged 3/16″ thick sheet steel and stands approximately 7'6″ tall in the center of the opening.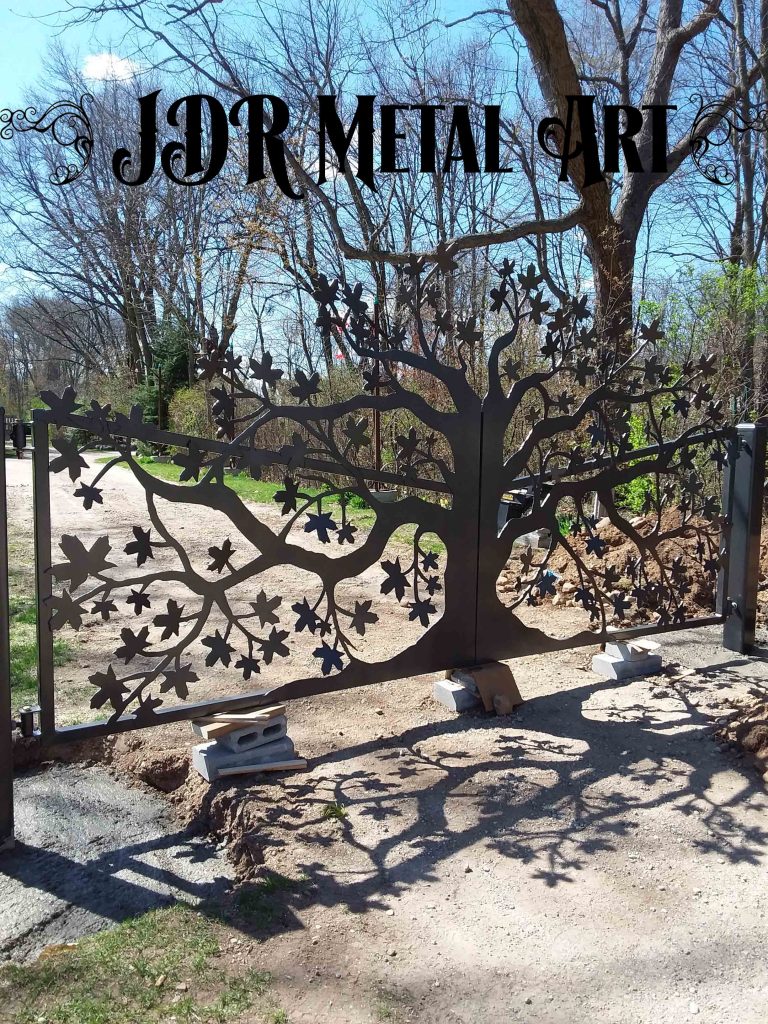 ---
8.
Miami, Florida Driveway Gates
Pair of 16′ Slide Gates with Palms, Oak & Wildlife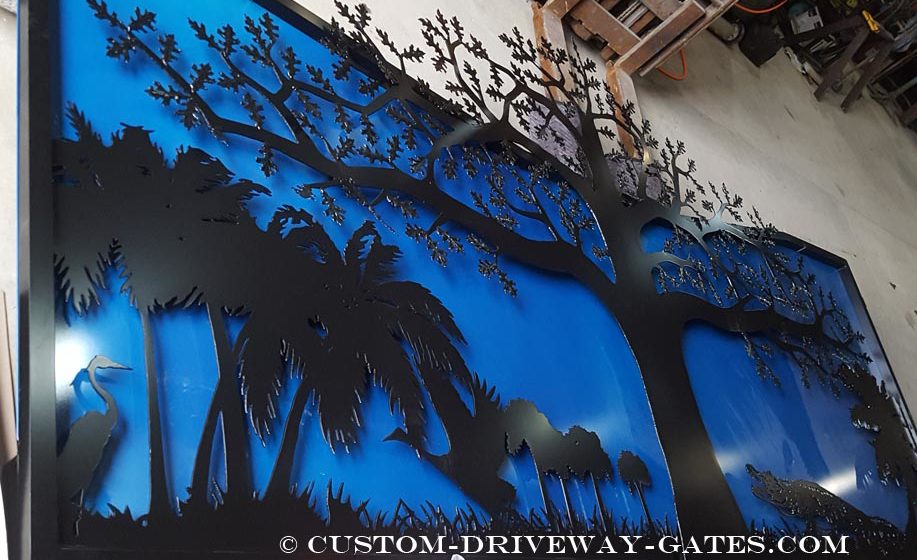 ---
9.
Florida Keys Palm Tree Gates
16′ Dual Swing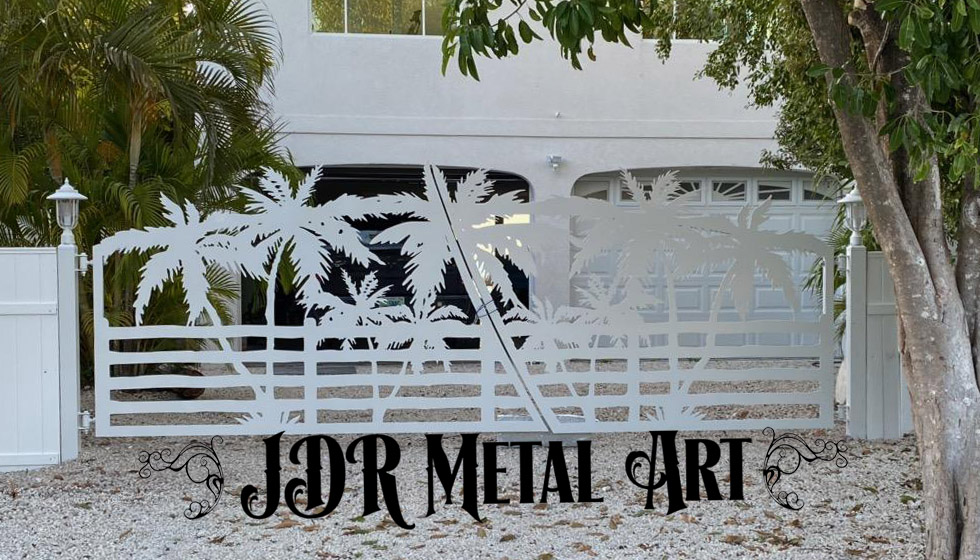 ---
---
10.
Charleston, SC Driveway Gates –
14′ Dual Swing
This dual swing iron gate is mounted to steel posts and brick columns with automated electric gate openers attached. Located in front of a beautiful Charleston, SC residence.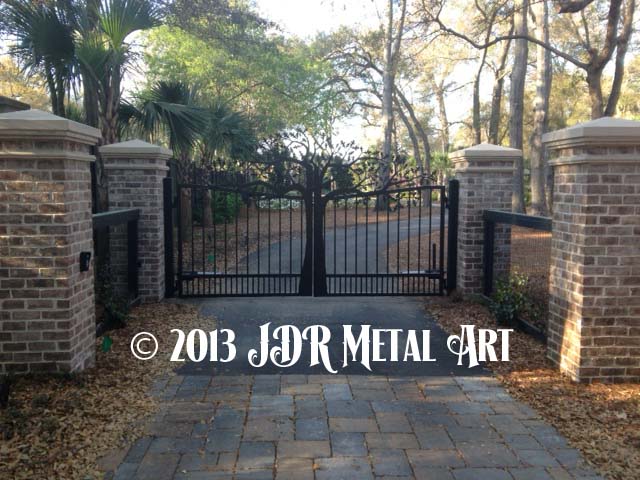 ---
11.
Missouri Driveway Gate featuring Horse & Tree Design
15′ Single Swing
We designed, built and delivered this 16′ single swing gate to Missouri. The tree is plasma cut from 3/16″ steel sheet and bolted to the square tubing frame of the gate. The two horse silhouettes were also plasma cut and then welded onto the pickets of the gate. Everything was powder coated black.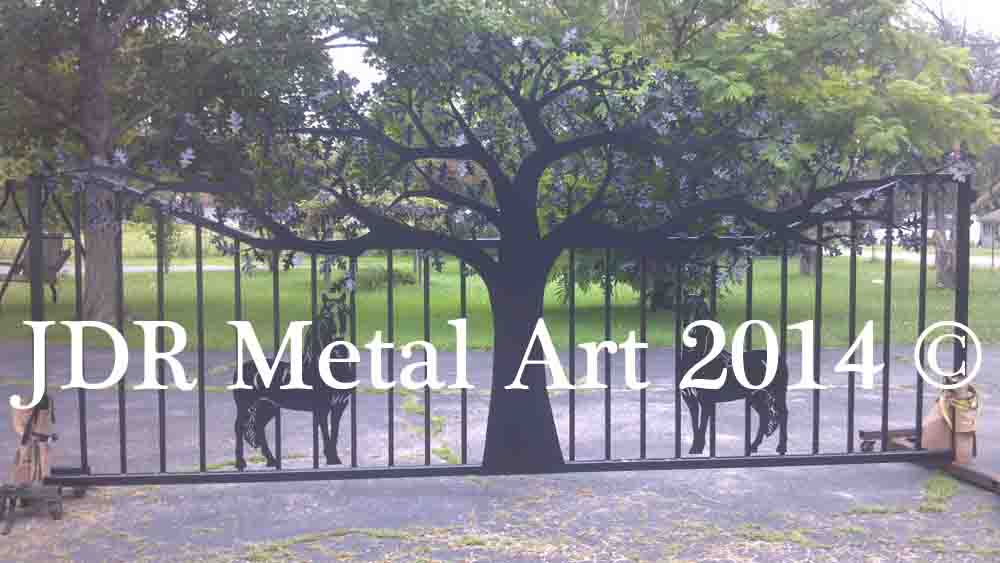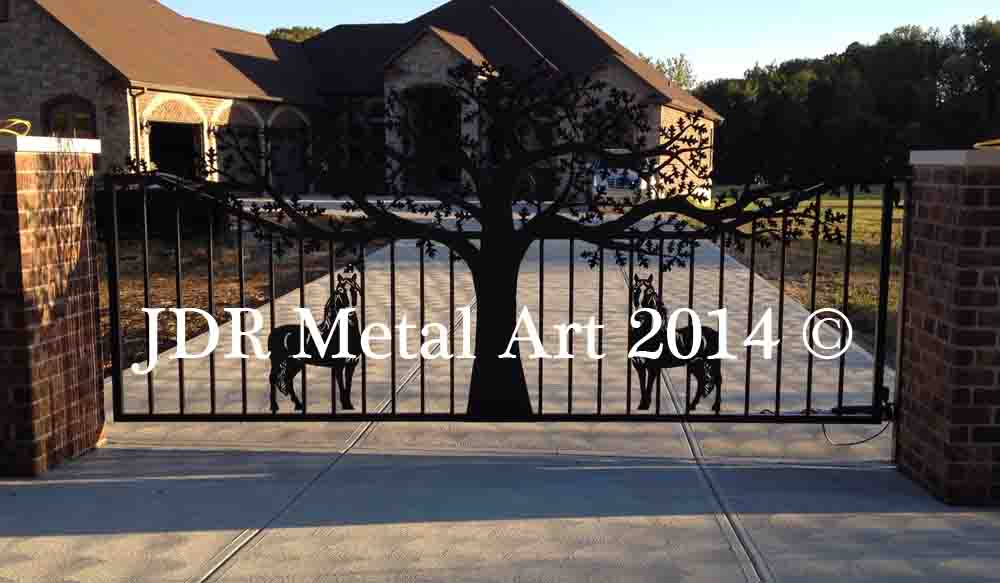 ---
12.
Smoky Mountain Oak Tree & Wildlife Design
18′ Dual Swing
Custom designed for client in Smoky Mountains, early 2018. Split swing oak tree featuring a buck, doe, two baby fawns, two rabbits, a squirrel and a ground hog.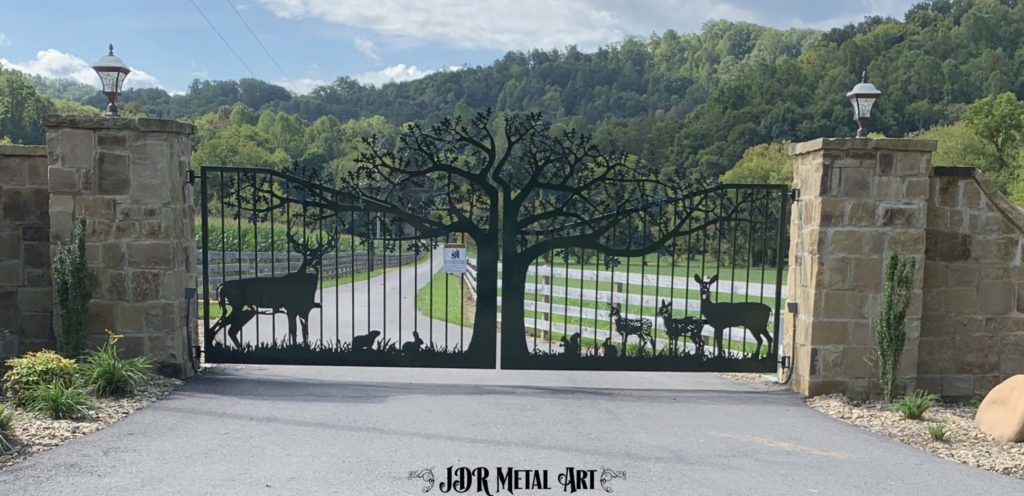 ---
13.
Washington State Tree & Wildlife Themed Entry Gate
12′ Dual Swing
This is a 12′ dual swing steel with an oak tree silhouette theme, 7′ tall, stamped pin oak leaves welded into place, personalized lettering and wildlife cutouts. Powder coated black.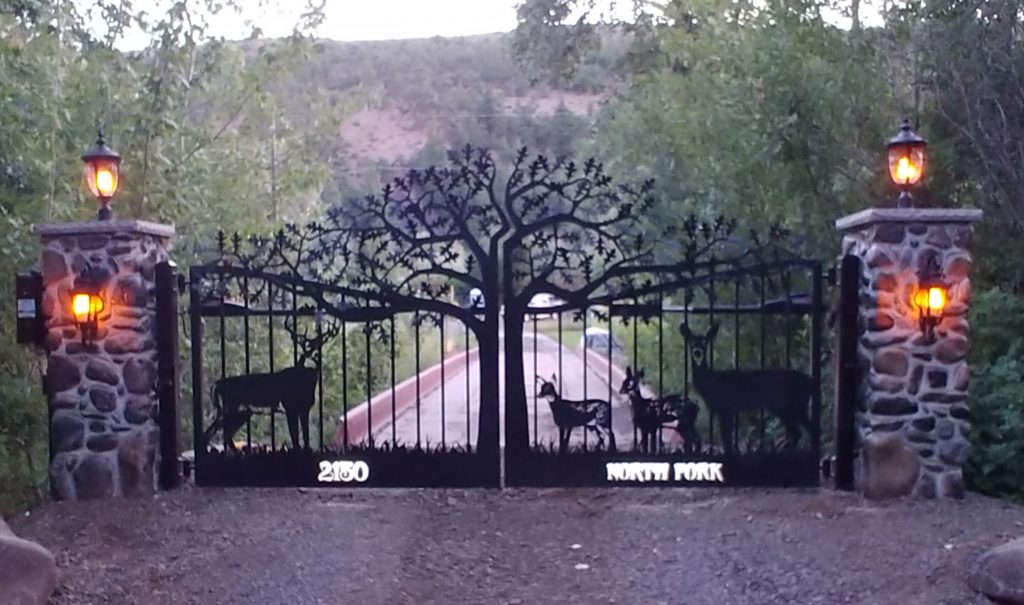 ---
14.
Louisville, Kentucky Oak Tree Gate
18′ Dual Swing

Project for Louisville, Kentucky residence.
---
15.
Chattanooga TN Curly Tree Driveway Gates
14′ Single Swing
These Chattanooga, TN driveway gates were a really cool project we did for some fantastic folks up on Signal Mountain at the "Wicked Ranch".  The side boxes are lit from the inside at night and it's quite an impressive scene. The gate opener system is powered by a solar panel.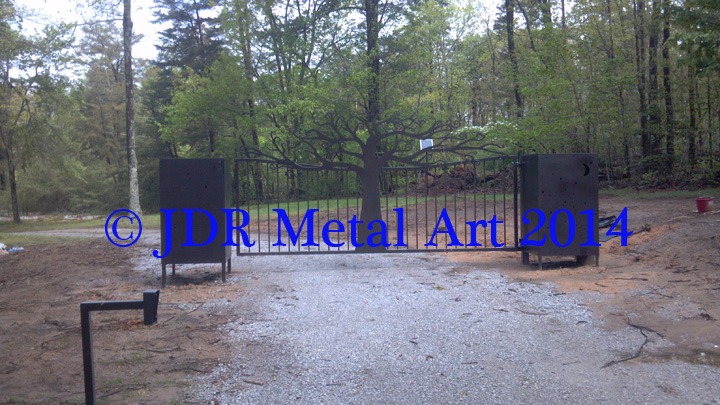 Another picture of the Chattanooga TN entry gate, this time in the shop.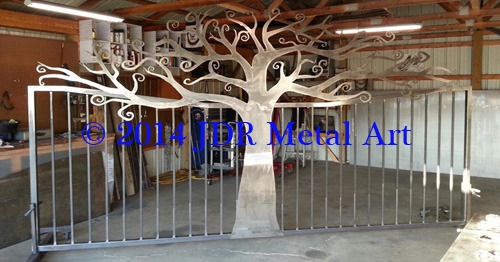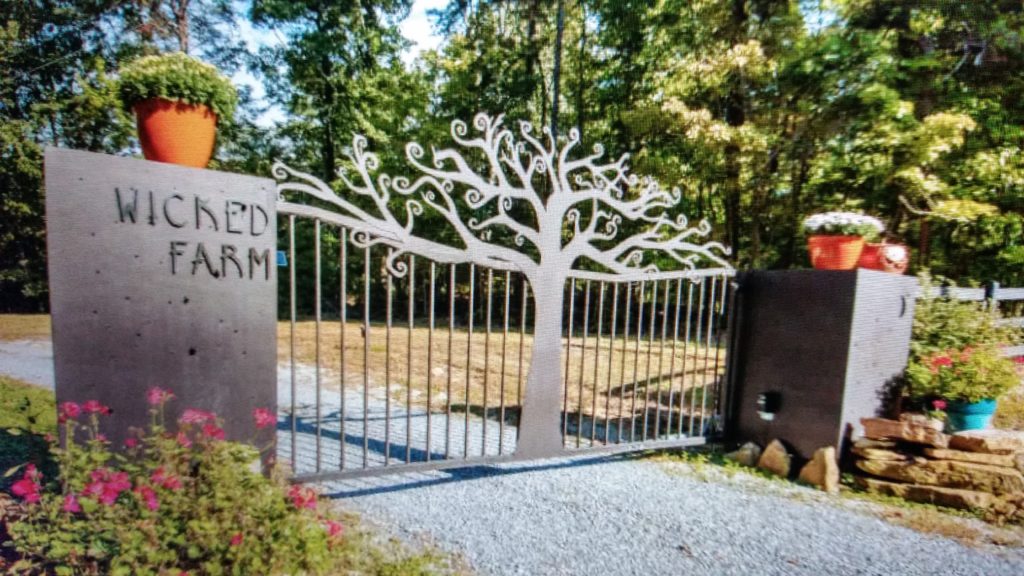 ---
16.
Wisconsin Oak Tree Driveway Gates
Dual swing 16′ entry gate with oak tree theme built for a landscaping contractor's residence located in the central Wisconsin area. Approximately 8′ tall in the center. Our standard black powder coat finish over zinc rich primer.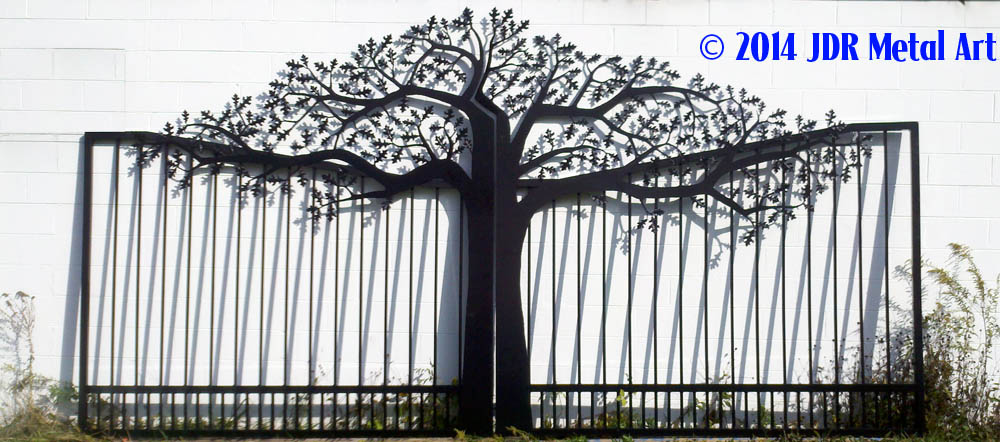 ---
17.
12′ Wisconsin Gate
Another Wisconsin decorative entrance gate. 12′ wide dual swing steel gate which is approximately 7′ tall center. Powder coated bronze finish with clear coat on top.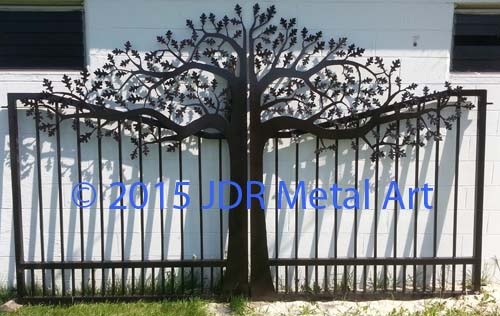 ---
18.
Lake Geneva, WI 20′ Oak Tree Gate
This impressive dual swing gate is 8′ tall in the middle and was delivered to Lake Geneva, Wisconsin by JDR Metal Art and installed by the customer.
Handcrafted entirely from heavy duty 3/16″ steel materials, these gates will withstand the tests of time.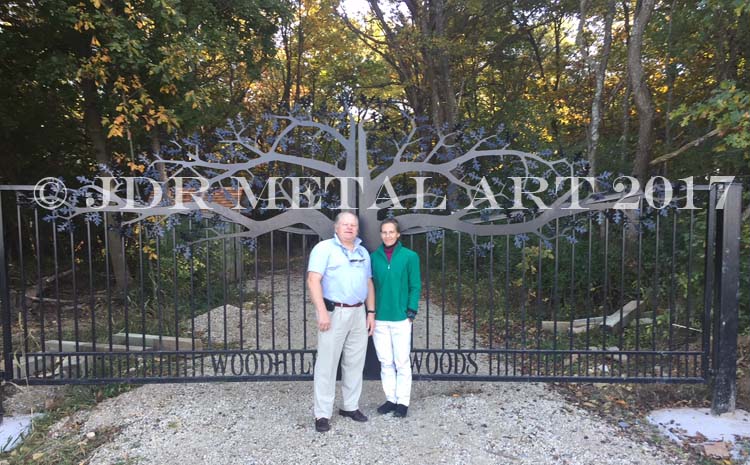 ---
19.
12′ Single Swing St. Louis, Missouri Entry Gate
This is a single swing variation of our oak tree entry gate built and delivered for a St. Louis, Missouri area residence.
---
---