Driveway Gates made in the USA
Featuring life-sized driveway gate silhouettes including horses, trees, wildlife and much more! We offer the cutting edge in new custom driveway gate designs for those individuals who choose JDR Metal Art to create the perfect decorative driveway gates for the entrances of their homes and businesses.
Our #1 goal is to make it simple and easy for every one of our customers to get the exact plasma cut driveway gate they will enjoy seeing everyday for many years to come. For us the possibilities are nearly endless when it comes to adding the exclusive touch to any property.
Lowest Shipping Rates Available
Our custom driveway gates are available to anyone, anywhere. We ship on a national and worldwide basis from our fabrication facility in Columbus, Ohio. We obtain shipping quotes from multiple freight brokers to be sure we are locking in the best rates possible for our customers.
Get my free shipping quote today.
Free Existing Gate Designs – New Designs $300
(limited time offer)
We love building personalized gate designs. Let us get to work designing your upcoming gate project with our custom gate design process. Designs from scratch are currently a bargain at $300.
Whether you want your custom entry gate to feature horses, dogs, cattle, whitetail or mule deer, bears, birds, elk, moose, trees, mountains, etc:  together we will forge a brand new ornamental driveway gate according to your specific tastes, ideas, entrance measurements, and other special requirements. We also customize most of our existing designs to fit different entrances upon request. Once the design is finalized it typically takes 4-6 weeks to finish the gates and ship them out.
 Handcrafted Steel & Aluminum Metal Art Gates
Our plasma cut driveway gates are fabricated entirely by hand from raw material to finished product, preserving the human element of a trade thousands of years in the making. Every individual gate is unique in its own way.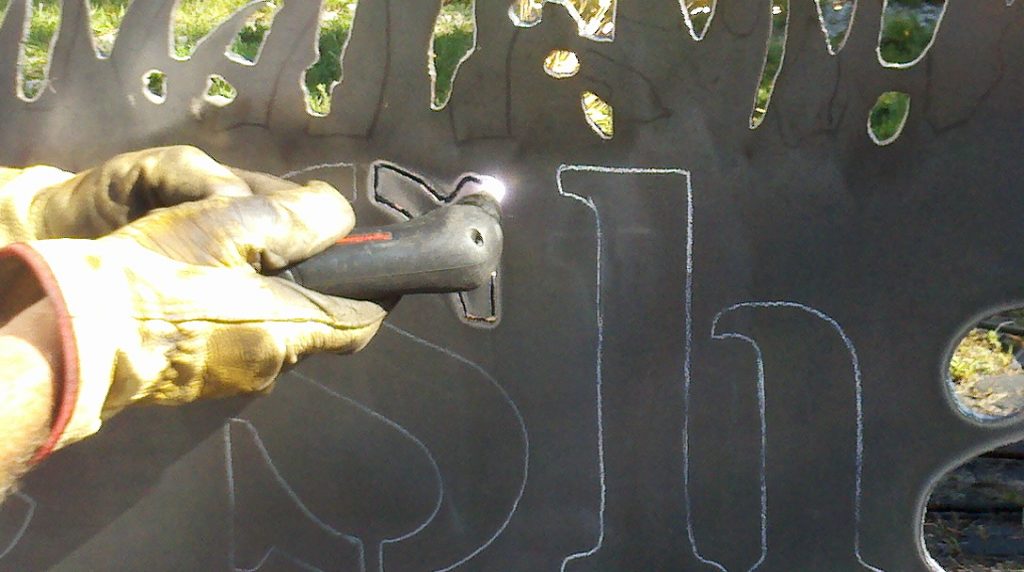 We use 1/8″ material thickness minimum for our metal gates. The standard mounting posts are 4×4″ square tubing with 1/4″ wall thickness. We also build our own hinges. We build steel entrance gates and also build custom aluminum entrance gates when the situation demands heightened corrosion resistance or a lighter product.
Eco-Friendly & Super Durable Powder Coat Finish
Our in-house powder coating system helps us pass along lower costs to our clients while ensuring proper procedures are followed during every stage of the finishing process. We have the capacity to powder coat ornamental iron driveway gates up to 20′ long and approximately 7′ tall.
The most critical aspect of metal finishing is proper part preparation and pretreatment. We use eco-friendly cleaning and pretreatment solutions to prepare a very clean oxide-free metal surface, thereby setting the foundation for an extended coating life while eliminating toxic impact upon our environment.
Each gate receives two coats of "Super Durable" exterior grade polyester powder coating which are baked to a beautiful finish. Our standard color is a 60% gloss black specially formulated for high color retention and resistance to the elements. Custom powder colors are otherwise available upon request. Powder coat is more durable than paint and yet any dings or scratches incurred during installation can quite easily be touched up with Rustoleum paint. Powder coating finishes can even be lightly sanded and painted over if one ever wanted to change the color of their gate.
Gates too large for our powder coat oven are still cleaned and pretreated as normal but are then painted with industrial Rustoleum paint or other paint of your choice for long lasting rust prevention and beauty.
Driveway Gates Made Ready To Automate & Install with Posts or onto Masonry Columns
We prefabricate the posts and hinge block mechanisms for each gate we build in order to allow for a simplified installation with no on-site welding required. The hinges are adjustable and come complete with ball bearings and grease fittings. All our metal art driveway gates are made to be automated with either solar and electric gate opener packages which can be installed by one of your local installers. We also know of numerous clients who have successfully installed the gate openers on their own.
Be sure to check out some of our recent gate projects at the JDR Metal Art Blog.
Get a quote now: