Custom Driveway Gates for America's Homes, Farms, Ranches & Estates
by JDR Metal Art
JDR Metal Art custom designs exceptional driveway gates which feature plasma cut silhouettes of horses, wildlife, trees & much more! We also build simple security gates and wrought iron driveway gates.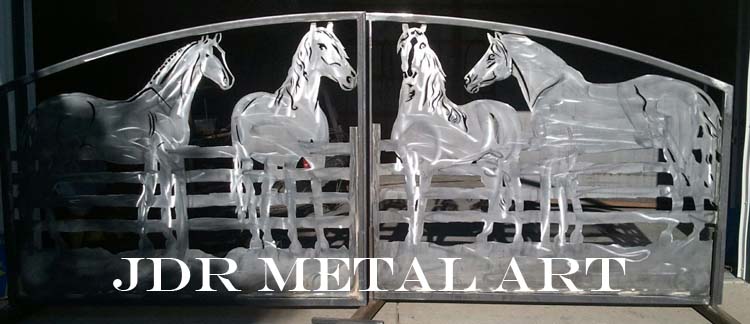 We Supply Driveway Gates to Clients Nationwide
Using our custom design process, we work hand-in-hand with our gate clients to help them create the perfect gate for their drive entrance. Our barrier gates can be found securing driveways all across the lower 48 states.
Our clients receive:
Outstanding Customer Service
Free Gate Consultations
Fast Personalized Design Turnaround
Gates Built Any Size
Gates Built To Outlast Our Competitors
Maintenance Free Sealed Bearing Hinges
Durable Powder Coat Finish
Over 6000 Colors Available
Nationwide Delivery & Installation Available
DIY Support Available
Plasma Cut Entry Gates

Plasma cut gates are our specialty craft. The design themes are practically unlimited. Our process for creating plasma cut gate designs is always centered around the customer's needs. We work hand in hand with our customers to create the perfect design for their situation.
Custom Design Work
Our design prices range anywhere from free (for basic designs or minimal modification of most existing designs) to a $500 flat fee to create a brand new design.
Submit a picture of your driveway entrance and we can show you exactly how the gate will look once it's installed!
Wildlife Gated Entry Themes
Ranch Entry Gate Themes
Ranch gates are a great way to keep livestock inside your property while keeping unwanted vehicles out. Our custom ranch gates are designed to integrate with your overall ranch theme. Your ranch is unique in it's own way and ranch gates provide an opportunity to show it.

Whether your ranch needs a picket style gate or a plasma cut gate, we have the experience and talents needed to meet all your ranch gate design needs.
Dog / American Flag Gate Themes
Here's a dog themed gate we built for a repeat customer located in California. She started the Military Mutts Ranch in Southern California.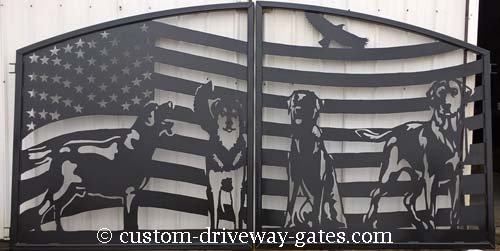 Farm Drive Gate Themes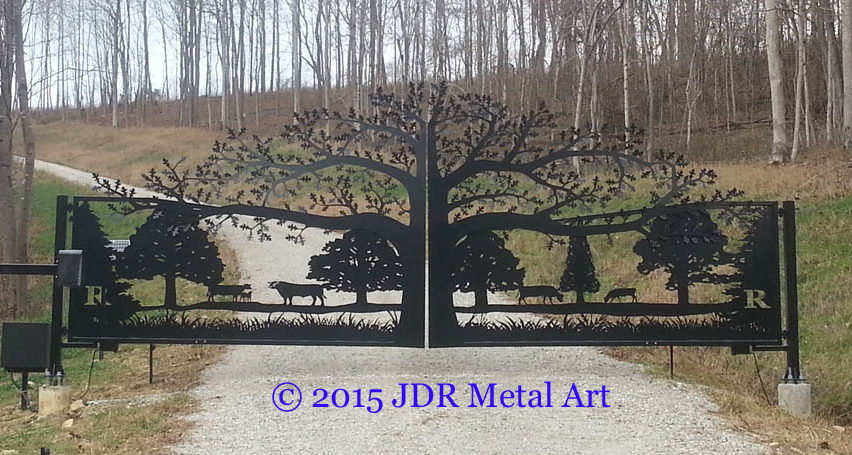 Residential Plasma Cut Gates
Our residential gates with plasma cut metal art silhouettes cost the same or less than what many companies charge for their plain residential driveway gates. We also build plain residential driveway gates, of course, but it's so much more fun when we can plasma cut personalized gates with names, logos, wildlife, livestock or other designs for our residential clients!
Personalized Drive Gates
Plasma cut drive gates are a great way to personalize your drive entrance. We personalized these gates for a customer in Oklahoma. His children all love to golf so we designed this for their two sets of 16′ dual swing gates.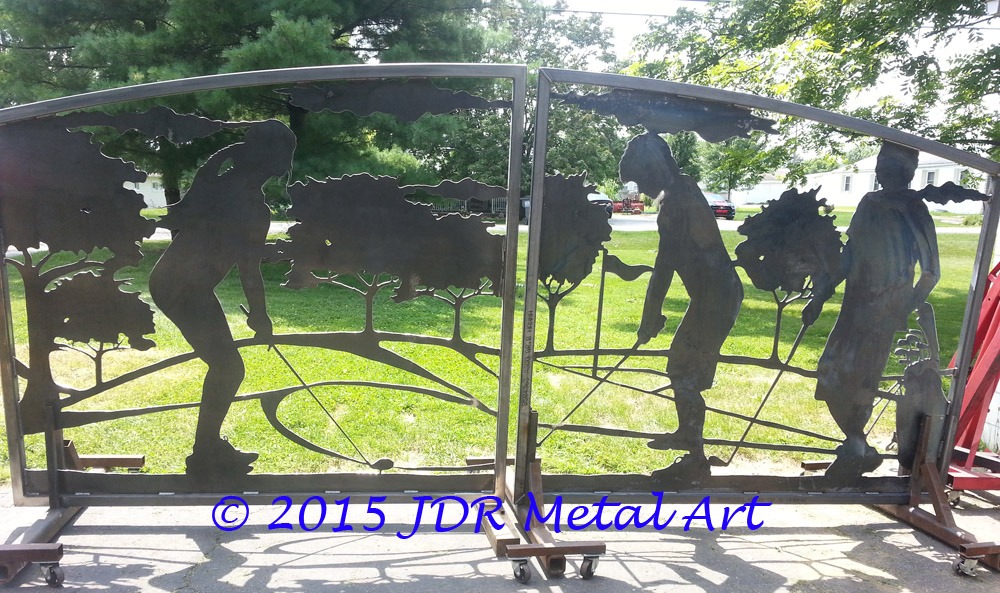 Drive Entry Gates with Overhead Art
This overhead sign was plasma cut from 1/8″ steel sheet. The 16′ single swing gate beneath is cut from 3/16″ sheet steel and was left to rust to match the existing posts. It features 5 dogs and 3 horses.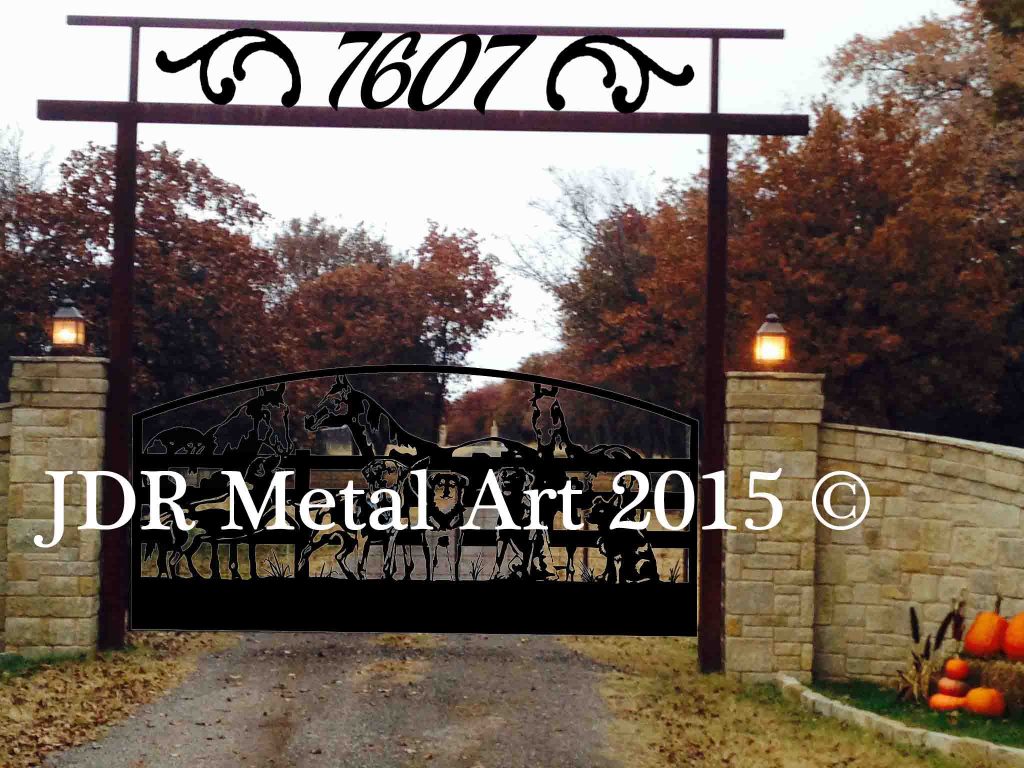 Simple Picket Style Gates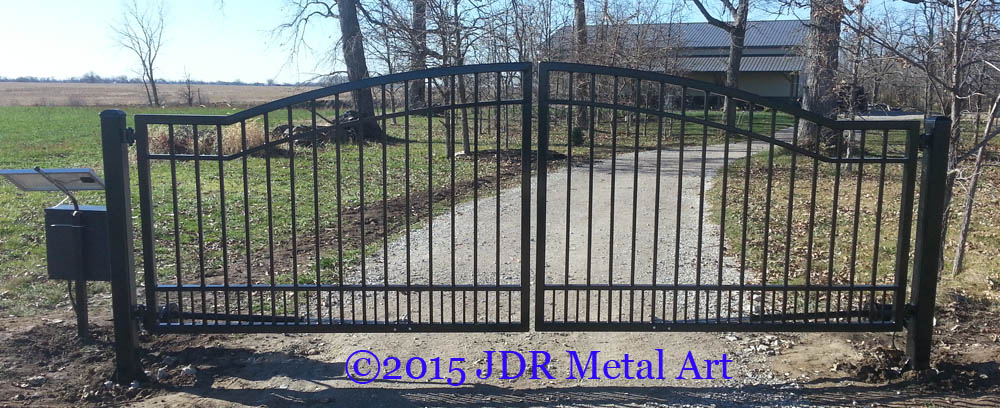 We make simple picket style gates that are both smooth and sleek for an affordable price. They are great for securing recently built homes such as this one located on the outskirts of Columbus, Ohio.
JDR Metal Art has built custom driveway gates for hundreds of clients nationwide. We've had the pleasure of working with customers from sea to shining sea!