We specialize exclusively in creating stunning handmade custom driveway gates. We love working hand-in-hand with clients from all walks of life in order to give them world-class custom metal art gates. Our driveway gates are exceptionally unique, featuring life-like plasma cut silhouettes of horses, trees, wildlife and more!
Each and every driveway gate we create is handcrafted to precise specifications and built by the most skilled of artisans using the best materials available in order to ensure every one of our customers get an entry gate that they will enjoy showing to their friends for many, many years into the future.
Nationwide Delivery of our Custom Driveway Gates
We either deliver your gate ourselves or have it sent via motor freight to anywhere in the continental US, depending on what is most affordable. We've crated and shipped hundreds of gates nationwide.
Some of the Finest Steel & Aluminum Gates
Made in the USA!
We build mainly steel entrance gates but we also build aluminum entrance gates when the situation demands heightened corrosion resistance or a lighter product. We only use steel and aluminum that is manufactured in the USA.
Consistently beautiful structural welds seal all potential moisture access points to avoid rust and ensure maximum longevity.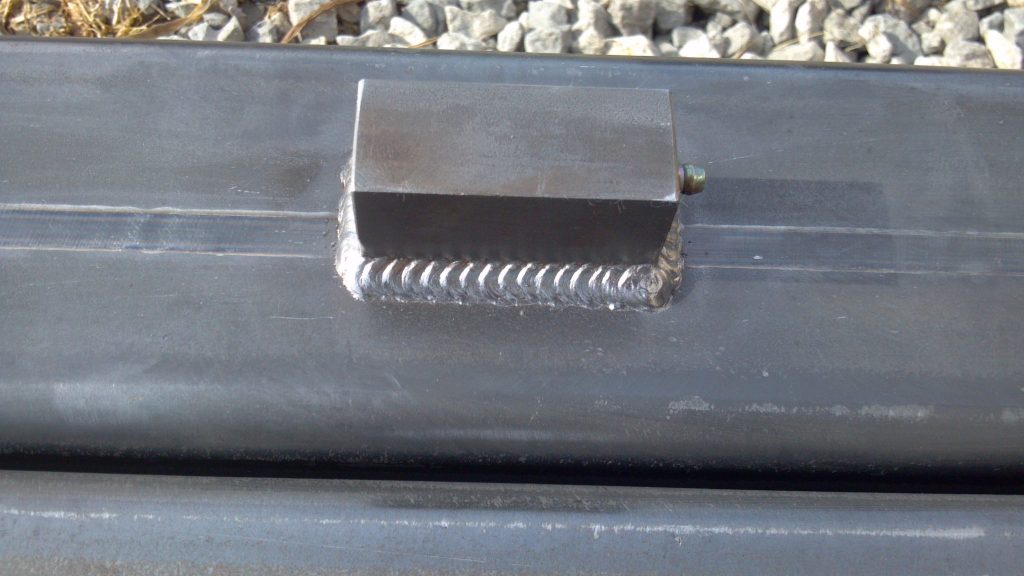 We use 1/8″ material thickness minimum for all construction on our custom metal driveway gates. Our standard mounting posts are made from 4×4″ square tubing with a minimum of 1/4″ wall thickness. We also use maintenance free sealed bearing hinges, so no greasing is required to keep the gates swinging freely. Once the gates are completed they are delivered nationwide to the end users; beautiful homes, farms, ranches, hunting and wildlife preserves, etc.
Eco-Friendly & Super Durable Powder Coat Finish
Our in-house powder coating system helps us pass along lower costs to our clients while ensuring proper procedures are followed during every stage of the finishing process. We have the capacity to powder coat ornamental iron driveway gates up to 20′ long and approximately 7′ tall.
The most critical aspect of metal finishing is proper part preparation and pretreatment. We use eco-friendly cleaning and pretreatment solutions to prepare a very clean oxide-free metal surface, thereby setting the foundation for an extended coating life while eliminating toxic impact upon our environment.
Each gate receives a zinc rich primer for added corrosion resistance and at least two top coats of exterior grade polyester powder coating baked to a beautiful finish. Our standard color is a 60% gloss black specially formulated for high color retention and resistance to the elements.
Custom powder colors are available upon request.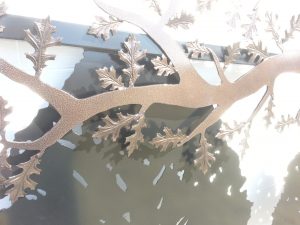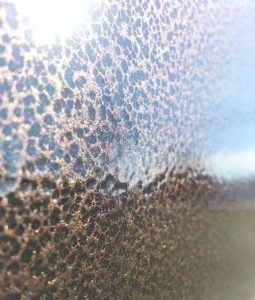 Powder coat is more durable than paint and yet any dings or scratches incurred during installation can quite easily be touched up with the corresponding Rustoleum paint color.
Driveway Gates Made Ready To Automate & Install with Posts or onto Masonry Columns
We prefabricate the posts and hinge block mechanisms for each gate we build in order to allow for a simplified installation with no on-site welding required. The hinges are adjustable and come complete with ball bearings and grease fittings. All of our metal art driveway gates are made to be automated with either solar and electric gate opener packages which can be installed by one of your local installers. We also know of numerous clients who have successfully installed the gate openers on their own.
Be sure to check out some of our recent gate projects at the JDR Metal Art Blog.
Interested in a custom driveway gate? Questions or comments go here:
We will be back in touch with a response shortly! Thanks!!