Walkway Gates – Oak Tree Design.
Garden Gate By JDR Metal Art.
This oak tree themed walkway gate was custom designed and built by JDR Metal Art in Columbus, Ohio and then shipped to Maryland where it will be spending many years being a gate in a backyard garden. It is a miniaturized version of our oak tree themed driveway gates. It measures 5′ wide overall; the height is 4′ tall on the ends rising to 6'8″ tall in the center. The oak tree leaves are 16 ga. stamped steel while the trunk and branches are made from 3/16″ sheet metal that is welded to a 2″ square tubing frame featuring smaller 1″ pickets.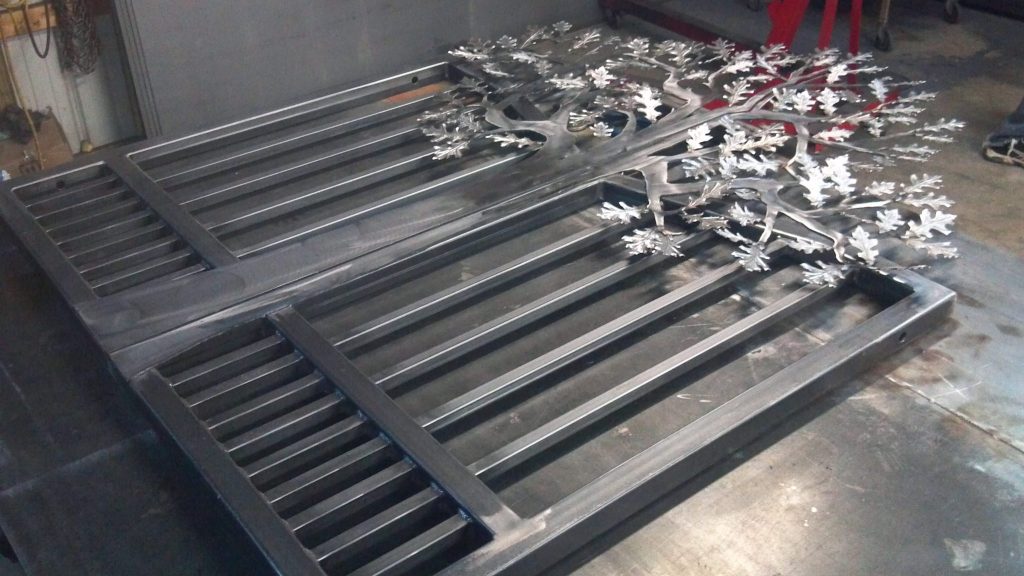 Custom Walkway Gate Designs
We offer custom entry gate designs for everything ranging from garden gates to gates for walkways and driveways. All we need is a basic design theme to start with and we will provide you with an awesome design and gate and experience that you could not be happier with. Our design themes options are truly just about unlimited but include equine silhouette entry gates and wildlife silhouette entry gates.
Handcrafted, Powder Coated & Palletized For Shipping Worldwide
All JDR Metal Art entry gates are handcrafted from American made materials in our Columbus, Ohio fabrication facility.
We also do our own powder coating in-house be sure that not a single spot or procedure is missed when preparing the metal to receive a long-lasting beautiful finish. We apply a conversion coating pretreatment to each gate, followed by a coat of zinc rich primer and then a top coat of "Super durable" exterior grade powder coat. Our standard color is a medium gloss black but over 6,500 other colors are available upon request.
We can ship nearly anywhere in the world using a network of freight brokers to ensure we are getting the best rates for our clients. Each gate and its corresponding posts and hinges are carefully wrapped in multiple layers of shipping foam with double-walled corrugated sheeting protecting them. We then strap them down to shipping pallets.
We Want Your Business!
Dear Customer,
Are you interested in having the best metal driveway gates built for your home, farm, ranch or estate? We'd love to hear about your upcoming driveway gate project! We build custom driveway gates for people just like you from all over the United States. We are able to make any metal driveway gate design that you can imagine! And we have some of the most competitive pricing nationwide! Thank you for considering JDR Metal Art for your customized metal driveway gate needs. We are excited to offer you a unique and personalized metal driveway gate design that will add both aesthetic and functional value to your property.
Our team of experienced expert designers and craftsmen specialize in creating custom metal driveway gates that reflect your unique style and preferences. We use high-quality materials, such as durable metals and powder coat finishes, to ensure that your gate is built to last beautifully for many years to come. We work closely with you to understand your specific needs and preferences, and we will provide you with a comprehensive design proposal that meets your requirements and budget.
We are confident that our custom metal driveway gates will exceed your expectations and provide a lasting value to your property. We look forward to working with you to create a beautiful and functional gate that reflects your unique style and enhances the security and privacy of your property.
Please do not hesitate to contact us if you have any questions or would like to schedule a consultation.
Best regards!