Driveway Gate Designs & Ideas
JDR Metal Art's Custom Plasma Cut Designs Will Make Your Property Entrance Stand Out From the Crowd!
JDR Metal Art makes it easy for you to get the best farm gate, ranch gate and residential gate designs for you property entrance.
We design artistic wildlife gates, horse scenes, large decorative trees, just to name a few, and can create any design concept either from scratch or working from photos..we also have an extensive library of high quality, attractive metal art silhouettes and images to choose from.
No matter where your property is located, we enjoy working with clients from all walks of life nationwide and offer standard free shipping on the end product!
How it Works:
We take your custom gate design ideas and do whatever it takes to creatively bring your ideas into reality with distinction. We can design pretty much anything you can imagine and are always looking for the challenge of creating something new & incredible that you'll love for many years, every time you pull in your driveway!
You can be as involved with the design as you want or just hand us the reins and we'll handle everything for you as you go about your normal routine. Most gate designs are accomplished in a short 1-2 weeks, depending on complexity.
Getting Started: What We Need to Know:
How wide you need the gate(s) to be
Whether you want a single or dual swing, or are undecided yet
The general design theme. Some possibilities would be wildlife scenes, sports silhouettes, family or organization name, pickets and anything else you can imagine.
Once we have this information we design a gate frame template and fill in the "canvas" with a rough draft. We proceed making revisions to the design until you are completely ready to proceed turning the design into reality.
CUSTOM DESIGN Pricing:
We put heart and soul into crafting designs that look as lifelike as the best of them. Therefore we ask a reasonable design deposit to cover the costs associated with preparing the design exactly as you want it. Your deposit is applied toward the final gate balance on completion of your gate!
1 NEW FULL SIZE CREATIVE ART GATE DESIGN COST: $299 WITH 3 FREE REVISIONS
** Unless other arrangements are made prior to design, you agree that all designs created are property of JDR Metal Art.
Popular Fonts People Request
Here are some of the more popular fonts our clients like to use for customizing their gates. However, we can utilize practically any font. Dafont.com is a great spot to hunt for the perfect font.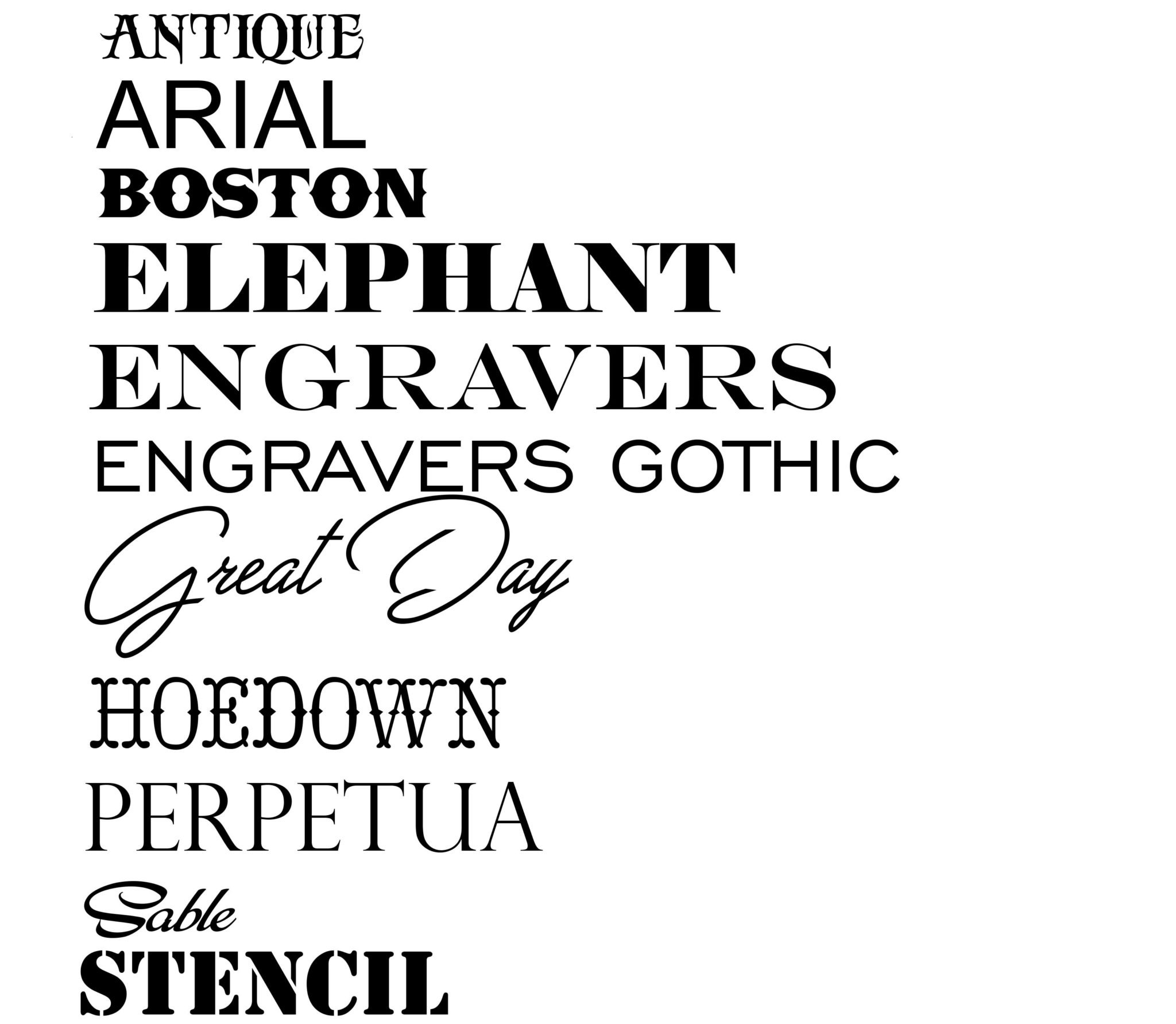 A Small Preview of Our Wildlife Gate Silhouettes:
We have thousands of ready-made designs to choose from and the ability to create anything you desire from scratch.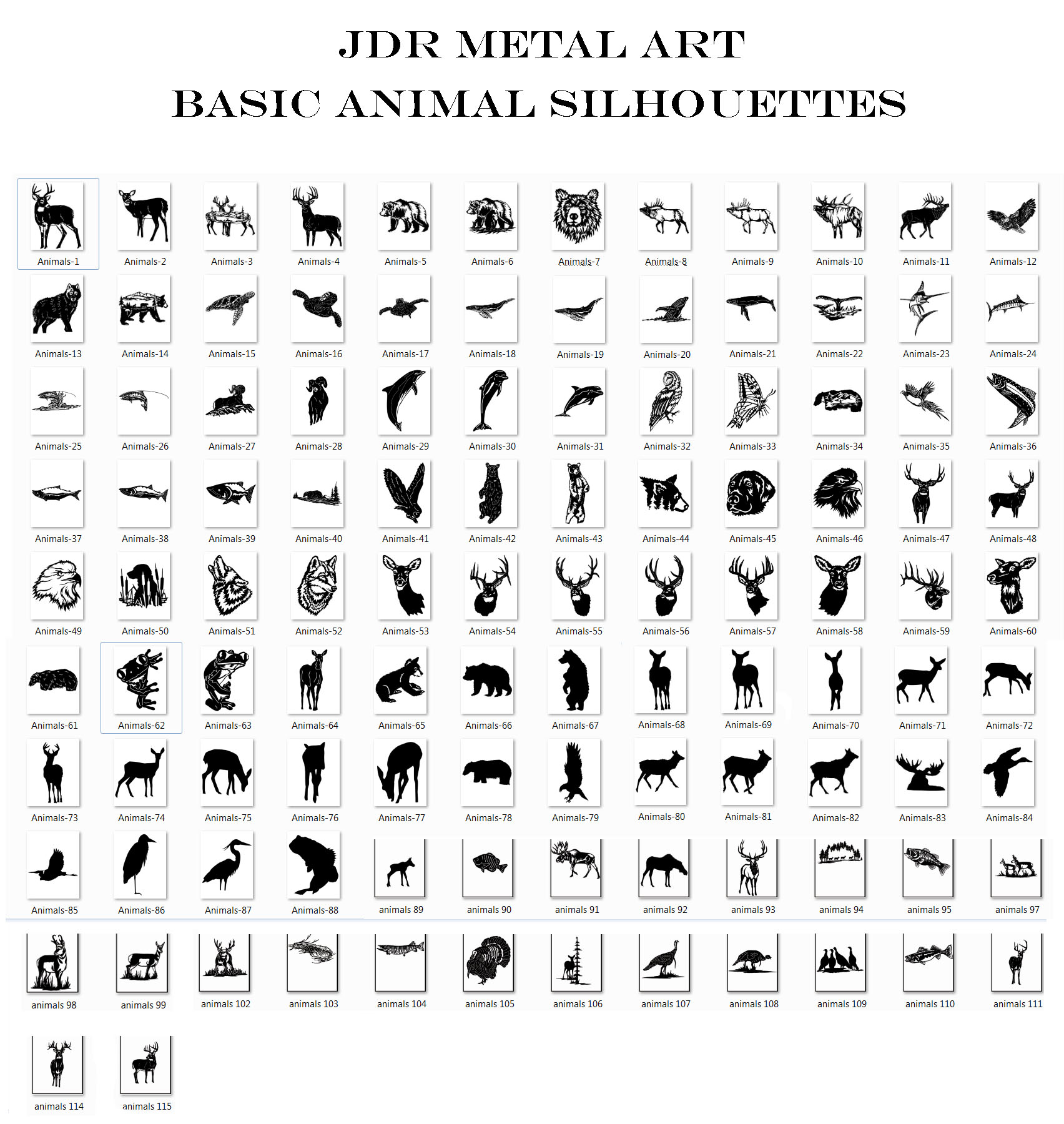 Get a design cost estimate today for the design you have in mind! 
Driveway Gate Designs-From Simple to Decorative
Whether you need a traditional or a decorative gate; there is a wide range of choices we have to offer that willmeet your needs.
Our simple driveway gate designs are graceful and sleek. Our picket-style gates are often made with arched tops. Some of them have spears on top of the gate. Others are flat on top and filled with sheet metal to create a visual barrier.
Our simple gate designs can easily be made into decorative gate designs by incorporating plasma cut elements. We create both small and large scenes of animals including farm animals and wildlife. And we can add custom lettering with your street name and number, farm, ranch or family name to the gate. The possibilities are really endless and are ultimately determined by whatever you desire.
Properly Designing a Long-Lasting Metal Driveway Gate
There are a handful of important factors involved in the creation of not only beautiful, but just as importantly; durable, long-lasting driveway gates.
In order to realize the full, long-term potential for each gate project we must consider a combination of these critical elements;
1. the client's imagination
2. the artist's imagination
3. the level of communication between client and artist
4. the artist's knowledge of the gate material's characteristics and limitations.
Creating the best steel and aluminum driveway gate designs is purely a balancing act of all four of these elements.
An artist without a strong background in the metal trades may design a beautiful gate that will be doomed to a short lifespan because design miscalculations were made.
A metal art driveway gate is a functional piece of art that is especially subject to many forces of nature such as gravity, wind, heat expansion and contraction and moisture.
What Sets JDR Metal Art Apart:
Experience Matters
JDR Metal Art has intimate knowledge of all aspects involved with the creation of custom driveway gates, from the first step the the very last.
There are many operations involved in creating driveway gates. Few gate manufacturers carry out all these operations under one roof. Most rely on outsourcing their design or powder coating processes in order to meet demand. Experience has shown time and again that it can be very difficult to find companies with employees who actually care and are worth outsourcing the work to.
Learning and performing each and every process involved in creating custom gates "hands-on" became a rite of passage that has since allowed JDR Metal Art to excel in all aspects of the gate industry.  The knowledge it takes to do the custom design work, the fabrication, the surface prep, the powder coat finishing, the packaging & shipping, delivery, installation, automation, as well as the maintenance and upkeep of all the tools and machines involved…all were won with hard-fought battles of love which resulted in JDR Metal Art outputting driveway gates with only the highest degree of beauty, quality and durability.
Simple Goals
JDR Metal Art's goal is ultimately to deliver the maximum design potential for the client's dollar in each project undertaken. With dedication to being an industry leader in value-for-price while remaining a small enterprise, this goal is only possible through the development of highly efficient processes and routines that enable JDR Metal Art to not only meet but consistently exceed the high expectations of discerning clientèle.
Excellent Execution
What allows JDR Metal Art to stand head and shoulders above the design competition is the experience of excelling in the execution of everything it takes to deliver the best results from beginning to end.
Knowledge is Power
It is doubtful that any gate designer in the industry besides JDR Metal Art also possesses the knowledge and experience to be able to say they have also engineered, built and operated both powder coating & CNC (automated) plasma cutting operations from the ground up.
Avoid Common Gate Design Mistakes
There are several serious errors in judgment people tend to make when designing or purchasing driveway gates.
The most common error is that too thin of material is used to construct the gate in an attempt to save a bit of money. Thin metal gates can be severely damaged just by a falling tree branch or just from the repeated impact of force from an electric gate opener over time. Thin metal gate designs are also very susceptible to "rust rot" and could easily buckle after a few short years when they will literally rust away to nothing from the inside out.
Another error to avoid is choosing materials that are too heavy for what the situation calls for. Sometimes it is assumed that the gate needs to weigh a ton to be secure or strong enough. This may be true in a handful of circumstances but generally people don't want or need an overly heavy driveway gate as, without proper steps taken, it becomes a long term problem. A gate that is too heavy for it's footprint will be much harder to open and close. It will require a larger, more expensive gate opener to move all the added weight. It will also require much more concrete to keep the gate post from moving in the ground due to the added weight creating more leverage on the gate post. Some gates will develop an ugly sag and begin to buckle under their own weight. A gate that is attached to a column will require constant adjustment and will slowly pull the entire column over as the years go by. Who wants their gate columns to look like the Tower of Pisa?
Incorporating the wrong hinges into the gate design is another avoidable mistake. J-bolt hinges require frequent greasing to keep the gates swinging freely. Forgetting to do so causes the hinges to dry out and the friction causes the hinges to get bound up. Once the hinges start to bind up they will have to be replaced or they will soon snap off at the J-bolt and the gate will be laying on the ground. J-bolt style hinges are typically not even rated to handle driveway gates over 8-10′ long.
Getting Started:
If you have any driveway gate design questions which I have not addressed on this page, be sure to contact us when you are ready and we will be glad to help you out.