Indianapolis Driveway Gates
Plasma Cut by JDR Metal Art
These dual swing driveway gates were custom designed by JDR Metal Art for an Indianapolis area residential entrance.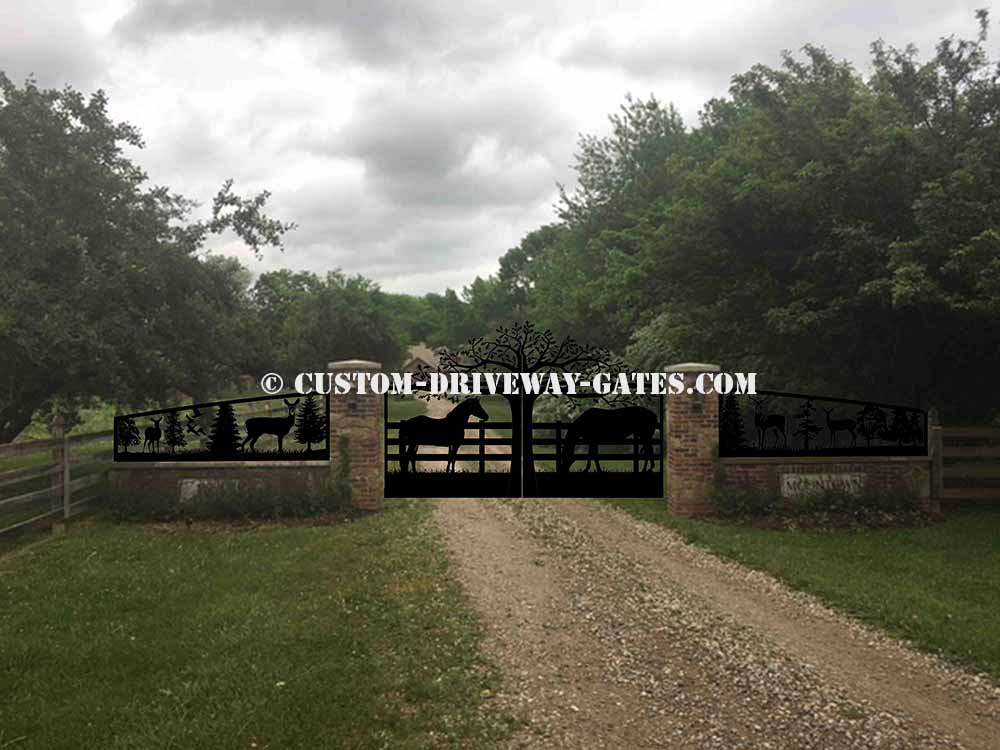 The gates feature arched top rails with steel plasma cut horses and an oak tree. The oak tree is roughly eight feet tall in the center. Each gate attaches to columns and are each 7′ wide and 5'6″ tall at the center of the driveway.
CNC Plasma Cutting Gates
The artwork is all cut with a self-designed & built CNC plasma cutting machine. It is far more accurate and repeatable than when I used to cut with a handheld torch for many years.
A computer running on the LinuxCNC program does all the motion movement controls as instructed by the gcode file that is created from the agreed design sketch. Exactly how the design looks is exactly what the machine will produce from raw material put on the cutting table.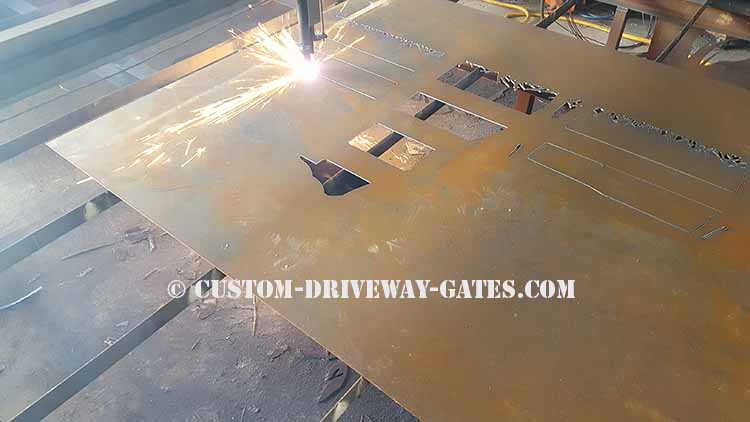 I like to use 1/8″ steel for the sheet cutouts because it is thick enough to be very durable over the long term while still retaining a more manageable weight for the gate opener to move over many thousands of open-close cycles.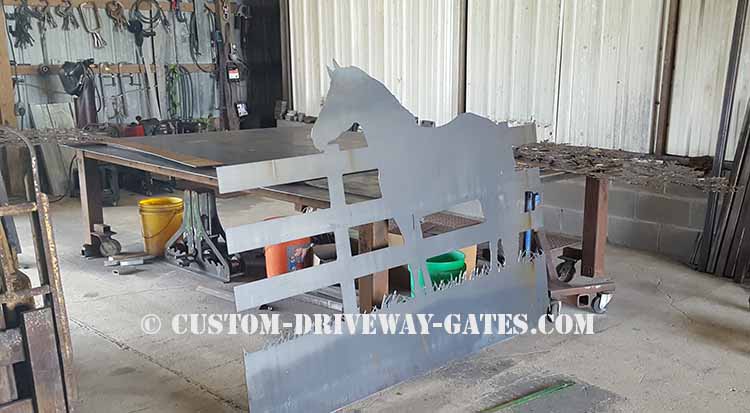 Plasma cut horse awaiting his newly framed home!
Custom Fence Panels
Custom metal art fence panels that are ten foot long by four foot tall grace the gates on each side. The panels feature a nature scene including deer, ducks, oak and pine trees, grass and an arched top to match the fall of the arch on the gates. Pictured immediately after the powder coat was cured in the propane fired oven at 400F.

The semi gloss black powder coat is the top coat. Beneath the top coat is a layer of primer that consists of zinc rich epoxy. This zinc rich layer provides greatly enhanced long term corrosion resistance. The primer layer goes on first, then the panels are baked at 250F until the primer turns into a gel. Once the primer gels then the gates are pulled out and sprayed with the black top coat. Then back into the over to be baked at 400F for about a half hour. Once the gates cool they are fully cured and ready for many years of rust-free outdoor exposure. The finished product is much thicker than paint and smooths down any sharp edges.  It also helps to fill in small surface imperfections such as scratches in the metal that paint would not cover.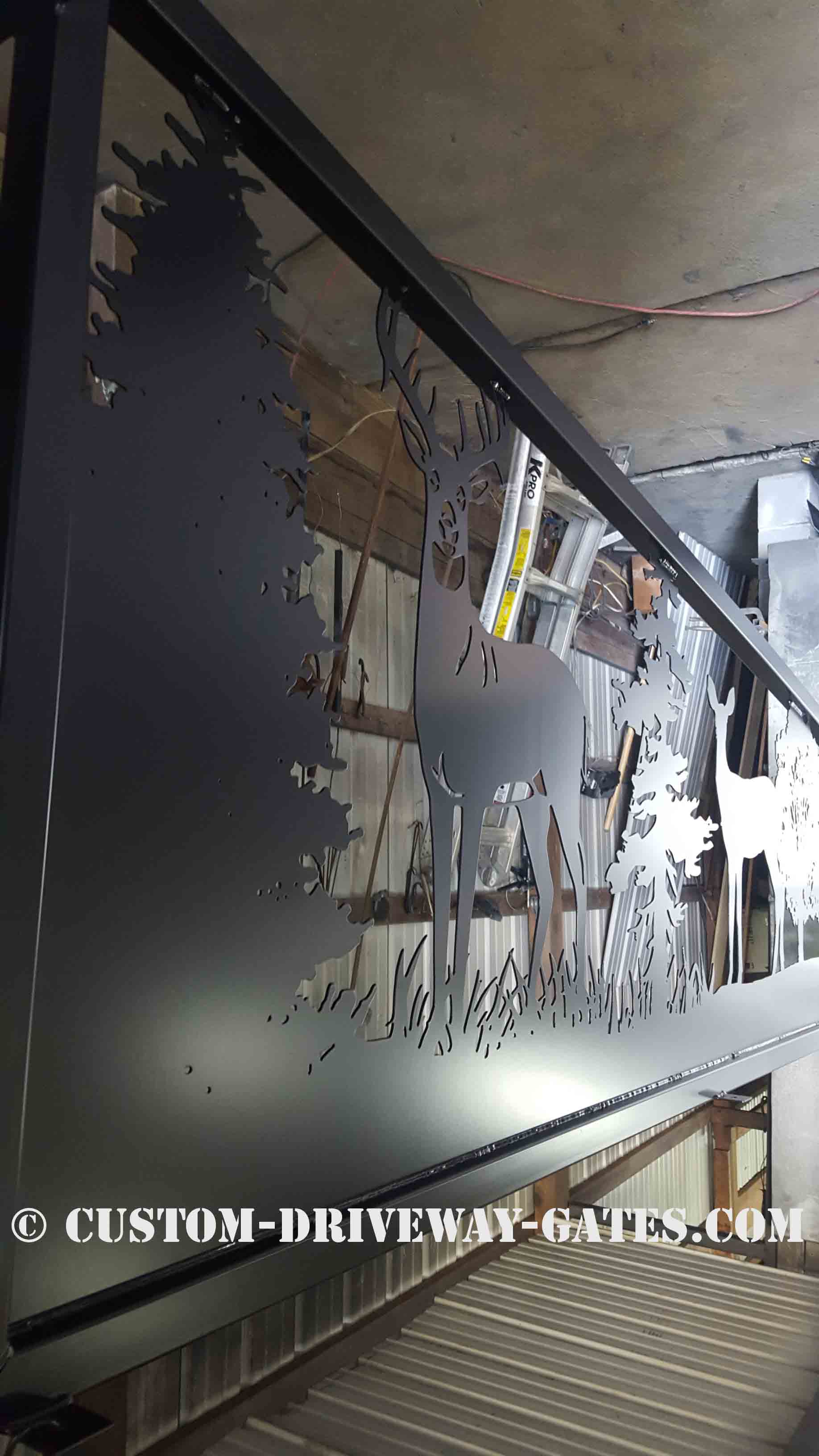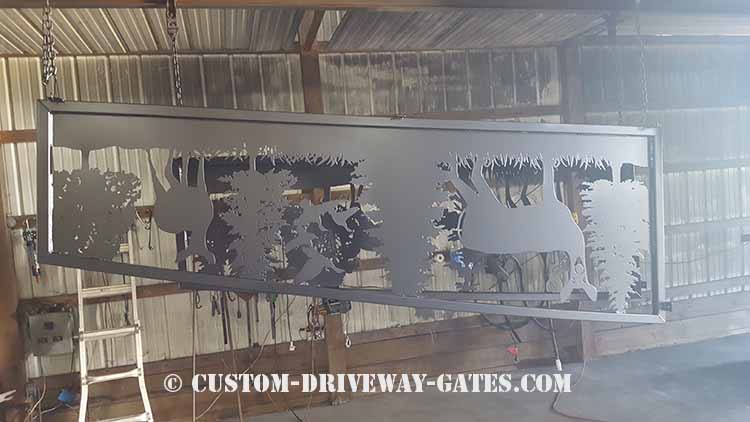 Need a Quote? Get One Here