Atlanta Ornamental Drive Gates
Customized Georgia Oak Tree & Horse Theme
These ornamental driveway gates were designed & built by JDR Metal Art for one of our Atlanta, Georgia customers. It features a 20′ wide x 8′ tall metal oak tree along with a mare and foal accenting each side of the gate.
We worked with the NE Fence Company who handled the installation of the gates and gate openers. As you can see, they did a fantastic job of putting it all together!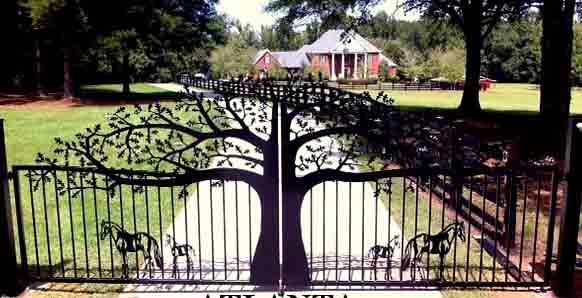 Custom Gate Art Plasma Cutting
We specialize in customized driveway gates. Each gate is designed to be 100% consistent with the client's chosen design theme. We design and plasma cut metal art gate silhouettes that are uniquely beautiful and built to weather nature's elements. Whether our client wants their gate to feature customized lettering, trees, horses, wildlife, etc..we strive to be Atlanta's #1 choice when it comes to fantastic looking gates built at a competitive price.

Hand Built Ornamental Driveway Gates Made in the US!
We build our ornamental driveway gates by hand. Our craftsmanship is always superb and precise and we receive many compliments on the quality of construction.
We also powder coat our own ornamental gates with the capacity to handle gates up to 20′ wide x 8′ tall. Our standard top coat color is 60% gloss black. We do also offer ornamental powder coat finishes.
Looking for a Custom Ornamental Gate Design for an Atlanta Home?
We make our designs from scratch using our customers ideas. Here's a dual swing Atlanta driveway gate we completed to customer specs in 2014. And here's a set of Atlanta metal gates we completed in 2015. Once we have the basic measurements of your driveway entrance and the general design theme then we are able to put together a drawing of the gate frame and a rough draft to establish the focal points of the design. Then we are able to add onto, revise, rearrange and otherwise modify the design until it looks exactly how you want it. Once the design is finalized we are ready to begin building your gate!
If you have any questions please contact us!