Atlanta Ornamental Driveway Gates
Driveway Gates by JDR Metal Art designed, built and shipped these Atlanta ornamental driveway gates. They were installed by the NE Fence company of Atlanta.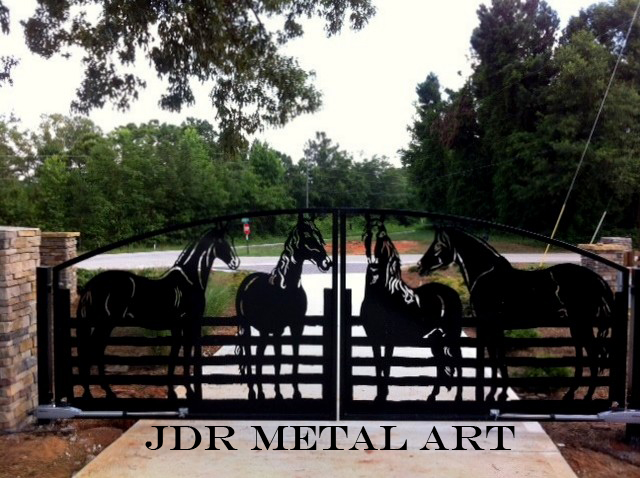 Handmade Ornamental Gates
We work with clients nationwide to provide them with beautiful, durable custom ornamental gates. Our ornamental horse themed driveway gates are built to last…all 2x2x1/8″ square tubing frame and 1/8″ thick sheet metal. Made for a 16′ opening, each of the gate panels weighs 250lbs.
The gate openers are the Liftmaster LA 400 dual swing unit. This unit is designed to handle (per leaf) 10′ long gates that are up to 850lbs. That means this particular set of gates are only a 1/3rd of what the gate opener units are designed to handle.
Custom Ornamental Gate Designs
Our ornamental gate design process makes it easy for you to get a stunning personalized gate. We offer free modification to our existing designs to give personalize it specifically for your family, farm, ranch or business name!
Other Atlanta Ornamental Gates by JDR Metal Art
We regularly design, build and ship ornamental gates to clients in the Atlanta, GA vicinity.
Whether it's a simple arched top driveway gate or a detailed ornamental oak tree gate with horses, if you can dream it, we can build it!
Let's get started today!
We Want Your Business!
Dear Customer,
Are you interested in having the best metal driveway gates built for your home, farm, ranch or estate? Thank you for considering JDR Metal Art for your customized metal driveway gate needs. We are excited to offer you a unique and personalized metal driveway gate design that will add both aesthetic and functional value to your property.
Our team of experienced expert designers and craftsmen specialize in creating custom metal driveway gates that reflect your unique style and preferences. We use high-quality materials, such as durable metals and powder coat finishes, to ensure that your gate is built to last beautifully for many years to come. We work closely with you to understand your specific needs and preferences, and we will provide you with a comprehensive design proposal that meets your requirements and budget.
We are confident that our custom metal driveway gates will exceed your expectations and provide a lasting value to your property. We look forward to working with you to create a beautiful and functional gate that reflects your unique style and enhances the security and privacy of your property.
Please do not hesitate to contact us if you have any questions or would like to schedule a consultation.
Best regards!
The Team at JDR Metal Art.