Gates for Southern California Driveway Entrance
Custom Made Horse & Dog Design
Plasma Cut by JDR Metal Art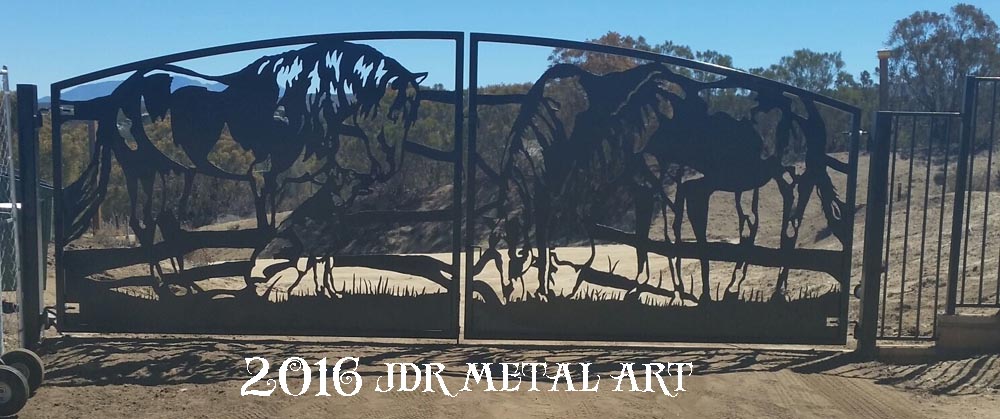 14′ Dual Swing Steel Gates
We made these dual swinging steel gate panels each 7′ wide to accommodate our California customer's 14′ wide driveway entrance. Each gate panel is 5′ tall on the ends and arches up to 6'4″.
Heavy Wall Steel Tubing Frame
We used extremely durable steel square tubing to build these gate frames. With a 3/16″ wall thickness for the 2″ square tubing frame, each gate panel will support far more than its own weight. We know that using heavier tubing is more costly but it benefits our customers also by adding many years to the life of the gate.
Plasma Cut Gate Design
Our customer was looking for a gate design with horses and dogs included in it. We also wanted to design something that fits in with the background of the area the gate would be installed.
The design was plasma cut from 1/8″ thick sheet metal. We then welded each sheet into the gate frame. Each gate panel weighs about 200 lbs.
JDR Metal Art Provides Custom Driveway Gates to California Clients
We work with custom gate clients all throughout California. Whether you're in Los Angeles, San Francisco, Sacramento, San Diego or anywhere else in California; we design and build affordable custom metal art gates for you and ship them directly to you or your contractor.
Rustic Driveway Gates | Sacramento, California Tree Gate Design by JDR Metal Art
We have developed a network of reliable gate installers in California who are familiar with installing our custom gates and automatic gate openers.
Of course we also frequently work with customers who wish to install their driveway gates themselves. It only takes a few hours or less, depending if the post holes will be done be hand or machine.
Contact Us