Sarasota Driveway Gates
Featuring Upscale Aluminum Metal Art Horses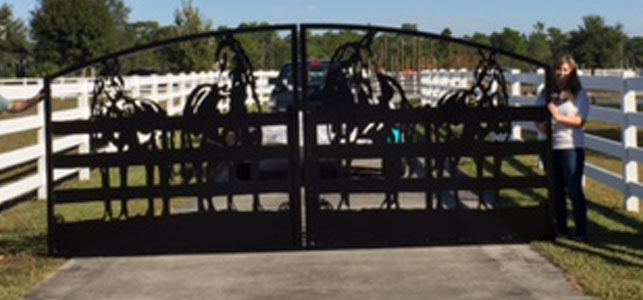 We designed & built these custom ornamental Sarasota driveway gates from marine grade aluminum here at JDR Metal Art back in 2014. Each side of the gate features four plasma cut horses standing at a fence in front of a beautiful Sarasota, Florida horse farm.
Custom Gate Design
Our relationship with these customers began when they reached out to us about our custom plasma cut gate design capabilities. As often happens with fully custom projects, the early stages of the design process can take some time to work through as different ideas come to mind and much thought and consideration are often invested by the customer in creating their new gate entrance. In this case, the clients first sent us pictures and measurements of their entrance. We worked back and forth to refine the design to fit their farm theme.
Handmade Aluminum Gates
We began building these the aluminum driveway gates in September. We built the frame with 2″ square tubing 1/8″ thick wall aluminum . The canvas is 3/16″ aluminum sheet. In October fabrication was completed and the gates were then powder coated to a baked finish using a "super durable" grade semi-gloss black powder coat to finish the product. Super durable grade powder coat is formulated especially for outdoor products that will be exposed to the intense sunlight and moisture exposure of the Florida environment. Therefore, the gates will not only remain rust free thanks to the aluminum but they will also exhibit long lasting gloss retention and durability.
The aluminum proved to be more expensive and harder to work with but turned out great in the end! We are confident that these customers will get a lifetime of enjoyment from their new Florida driveway gates!
---
Recent Gate Projects:
2021 Sarasota Driveway Gates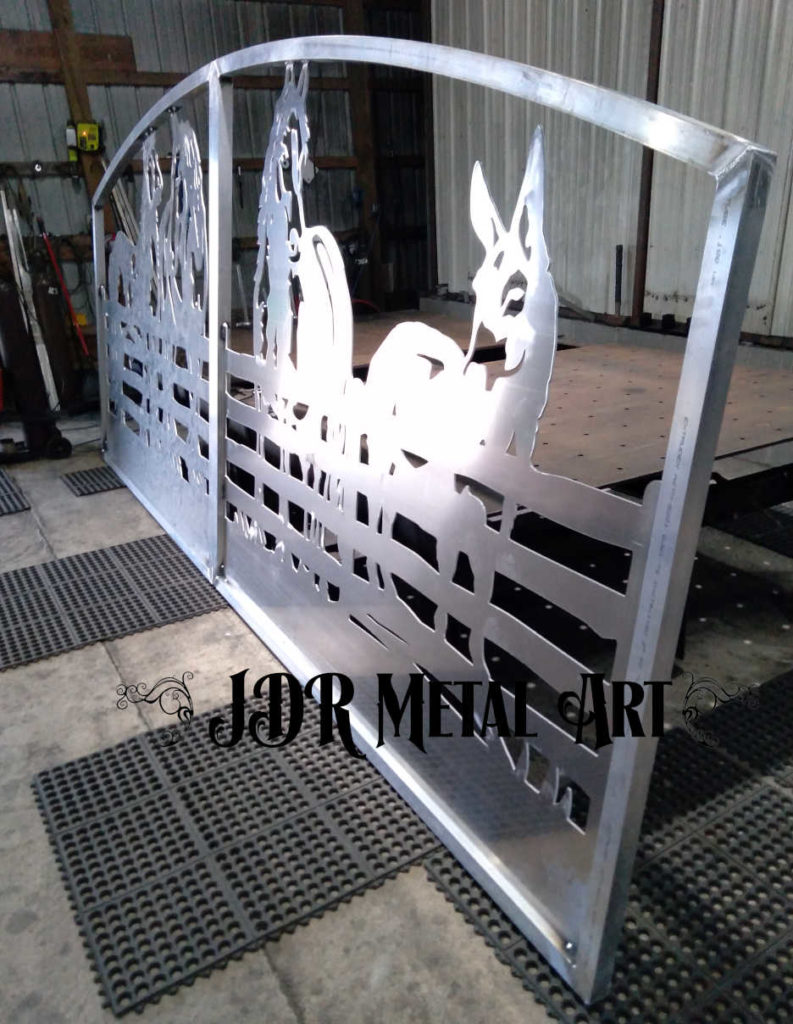 Driveway Gates Sarasota | Best in Aluminum Gates | JDR Metal Art 2021
---
Take a moment to learn the difference between aluminum & steel gates:
---
Need Reputable Sarasota Driveway Gate Installers?
Check out our friends at A1 Metalcraft!
---
To learn more or get a quote for our Sarasota Driveway Gates, please contact JDR Metal Art,or simply fill our the form for a free, same-day quote: