Cincinnati Ohio Driveway Gates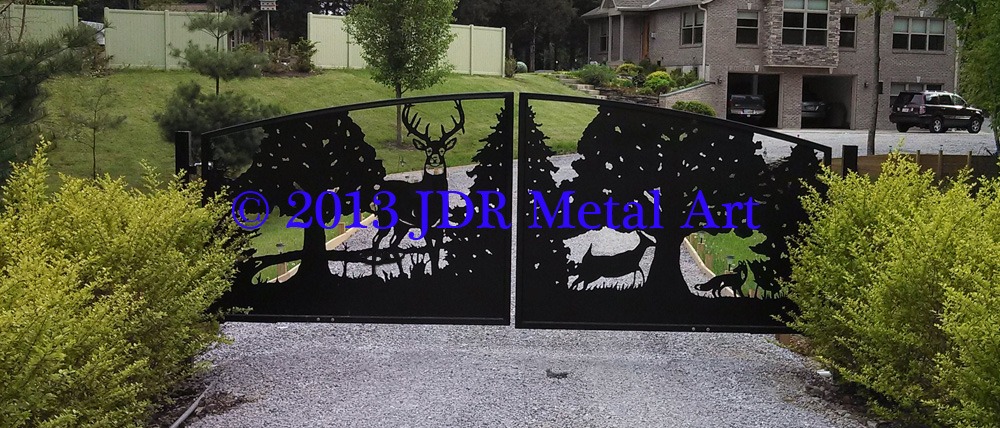 These Cincinnati Ohio driveway gates were built and installed by JDR Metal Art. They are 16′ wide and feature two whitetail deer and a fox in a woodland setting. It was custom designed, drawn out and plasma cut by hand.
Each gate panel is plasma cut from 11ga. cold rolled steel and framed with steel 2″ square tubing that has walls 1/8″ thick. They weigh approximately 250 lbs per panel.They were painted black with urethane paint.
We used steel 4″ square tubing with 1/4″ wall thickness for the posts and then filled them with concrete and rebar for added stability. The hinges are steel blocks with J-bolts and stainless steel ball bearings. We installed automatic gate openers and automated exit devices with these gates.
Custom Gates at Affordable Prices!
We can customize this design to fit any size entrance. Some of our design themes include horses, wildlife, and iron oak trees. We can also add custom lettering such as farm or ranch name, family or business name, etc. Or we also offer new custom gate designs from scratch!
Local Gate Installation, Pickup, & Delivery Options
It doesn't matter whether you are local to the Cincinnati, Ohio area or from any other part of the country; we regularly ship our gates all over the US at the lowest rates available and also offer local pickup and delivery options in Ohio and the Midwest.
We serve not only Cincinnati and the rest of Ohio but regularly ship our rustic entry gates nationwide using freight companies such as FedEx, UPS and many others. We use a variety of freight brokers so that we can pass the most competitive shipping prices along to our gate clients. All gates are powder coated and extremely durable. They are then carefully wrapped in shipping foam and then multi-layered in corrugated shipping material and shrink wrapped before being crated and shipped from our local freight terminal. You can pick it up from your local freight terminal or have it delivered directly to your home and business. Contact us for a free shipping quote to anywhere in the world.
We Want Your Business!
Dear Customer,
Are you interested in having the best metal driveway gates built for your home, farm, ranch or estate? We'd love to hear about your upcoming driveway gate project! We build custom driveway gates for people just like you from all over the United States. We are able to make any metal driveway gate design that you can imagine! And we have some of the most competitive pricing nationwide! Thank you for considering JDR Metal Art for your customized metal driveway gate needs. We are excited to offer you a unique and personalized metal driveway gate design that will add both aesthetic and functional value to your property.
Our team of experienced expert designers and craftsmen specialize in creating custom metal driveway gates that reflect your unique style and preferences. We use high-quality materials, such as durable metals and powder coat finishes, to ensure that your gate is built to last beautifully for many years to come. We work closely with you to understand your specific needs and preferences, and we will provide you with a comprehensive design proposal that meets your requirements and budget.
We are confident that our custom metal driveway gates will exceed your expectations and provide a lasting value to your property. We look forward to working with you to create a beautiful and functional gate that reflects your unique style and enhances the security and privacy of your property.
Please do not hesitate to contact us if you have any questions or would like to schedule a consultation.
Best regards!