Drive Entry Gates
Metal Art Oak Tree with Cattle Scene Background
These dual swing drive entry gates feature a giant oak tree and are complemented by a pastoral farm scene background. The gates are 24′ wide overall between the posts. We built them for a cattle farm in southern Ohio.
Plasma Cut Driveway Gate Panels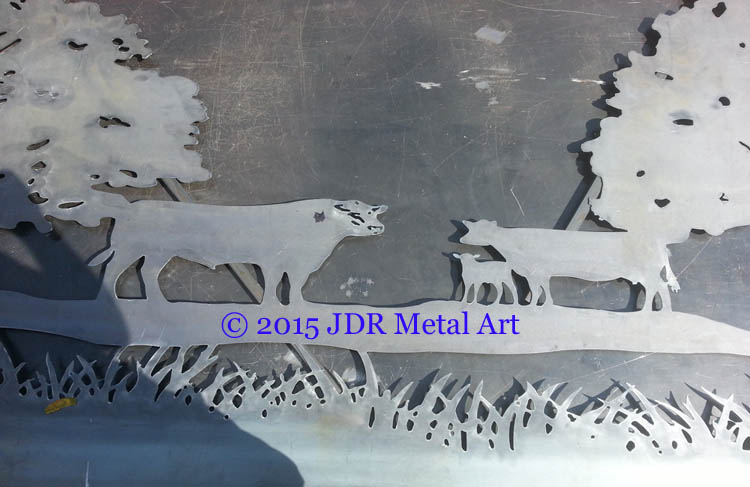 The background scene on these drive gate panels was cut with a CNC plasma cutter from 11 ga steel. There are three cows, a bull and a calf depicted in a wooded pasture.
The CNC plasma cutter leaves a smoother edge than our hand cut gates but there is no real difference once the panels are powder coated because the powder coat has a tendency to build up on the cut edges, thereby rounding these edges anyways.
Turnkey Solar Drive Entry Gate Operator Systems
We built these drive entry gates to accommodate an Apollo 1650 ETL solar powered gate opener system with remote entry, keypad entry and automated exit sensor functions. We have always been impressed with the craftsmanship of these particular openers and would recommend them for nearly any application. We upgraded to an oversize solar panel to absorb sunlight at a much faster rate than a smaller solar panel. These drive entry gates are towards the bottom of a valley so the sun is not in line of sight for more than a few hours everyday. The battery holds enough charge to operate the gates approximately 300 cycles before needing to be recharged. The solar panel charges the battery back up to full in just a couple of hours, even on an overcast day.
Drive Entry Gate Designs by JDR Metal Art
We customize our drive entry gate designs for each and every individual project in order to meet the needs of the individual client. This particular client raises cattle and wanted them to play a dominant role in the overall design. We also design drive entry gates featuring horses, wildlife & much more!