Oregon Driveway Gates
Plasma Cut Aluminum Elk Theme
At JDR Metal Art we custom built these aluminum driveway gates for a client's home on the Pacific coast in Oregon. They are dual swing gates which are 18′ wide total (9′ per gate panel). They were built from aluminum per the special request of our customer. They are much lighter than our typical steel driveway gates. Each gate weighs roughly 100lbs. Here the gates are shown after we powder coated them black.

On the material specifics; we cut 1″ aluminum square tubing with a 1/8″ thick wall for the pickets. Cast aluminum finials were welded on top of the arched gate frames. The gate frames were made with 2″ square tubing, also 1/8″wall thickness. We welded J-bolt style aluminum hinges with ball bearing and grease fittings to the 4 x 4 x 1/4 square tubing posts. Once the gate posts are set in concrete, the J-bolts go through the gate frames and the driveway gates hang in the air. The gates are then leveled precisely by means of a nut and jam nut on each of the four J-bolts.

Aluminum Plasma Cut Gate Burnouts
We laid out and cut these metal art elk by hand with the assistance of a Hypertherm 30 amp plasma cutter. The elk are made from 3/16″ aluminum plate. The rings were hand rolled from 3/16″ plate also and they were then welded into the gate pickets.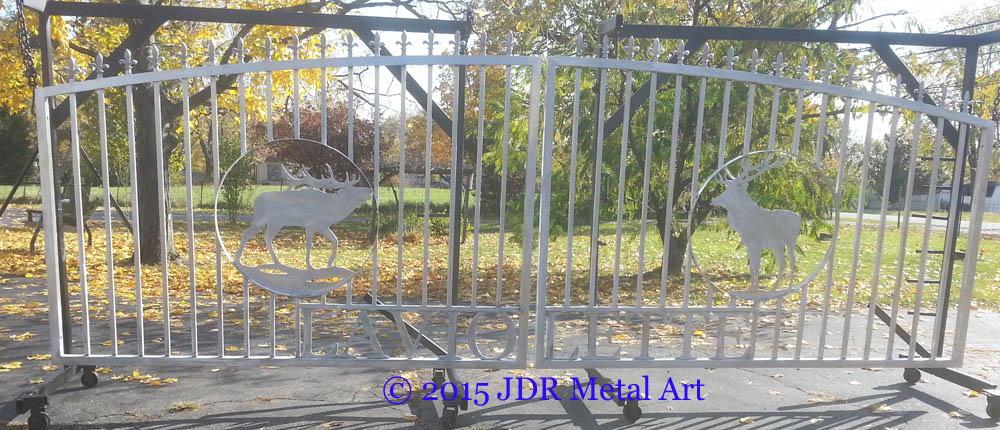 Custom Driveway Gate Lettering
We also burned the lettering out with a plasma torch. Our customer's last name was welded into the pickets at the bottom of the driveway gate. We are glad to say they now have a gate unlike any other!
Custom Aluminum Driveway Gate Design Work by JDR Metal Art
We worked with these clients from Oregon mostly via email to provide them with numerous drafts of the gate design until we were able to meet their needs for a custom gate design. It is always exciting to be creating something new for people and we were thrilled to ultimately be able to take part in bringing another driveway gate from concept to fruition.
If you have any questions please do not hesitate to get in touch with us via our Contact Us webpage. We hope to be building more custom aluminum driveway gates soon!