Lexington KY Driveway Gates
Racehorse & Horseshoe Entry Gate Theme
These Lexington KY driveway gates were custom designed for a residential entrance by JDR Metal Art. Being a dual-swing gate, each gate panel feature three race horses. A prominent horse shoe is in the center when the gates close. Each gate panel is approximately 7′ wide in order to span the customer's 14′ opening. The top of the gate is about 7′ tall.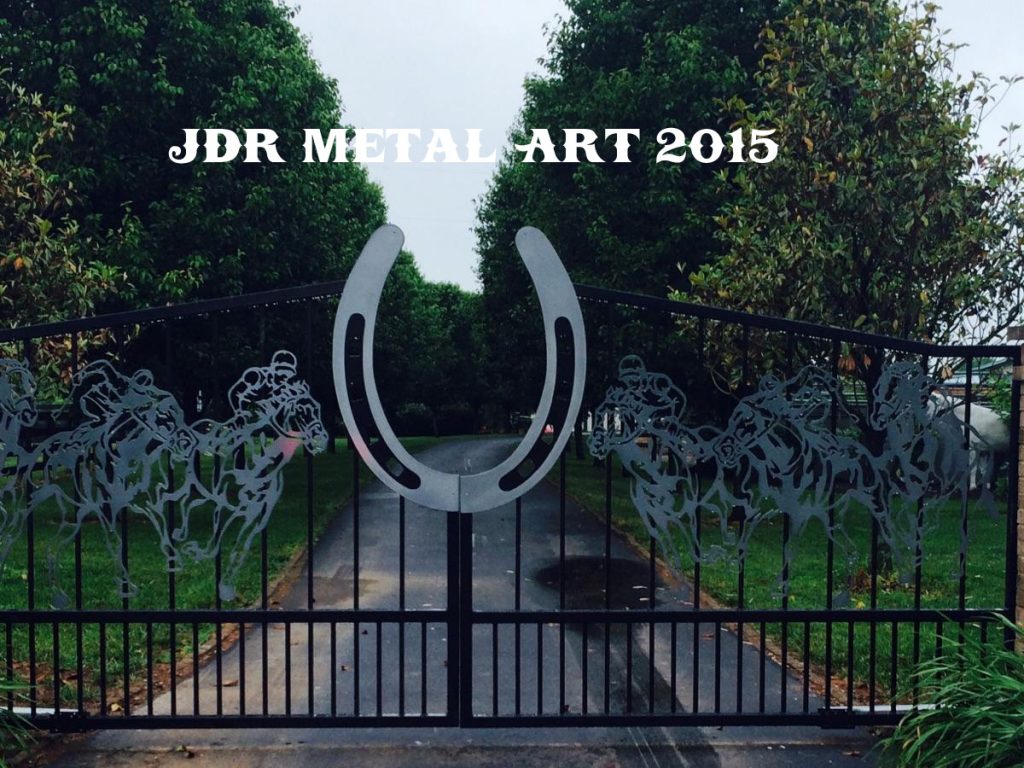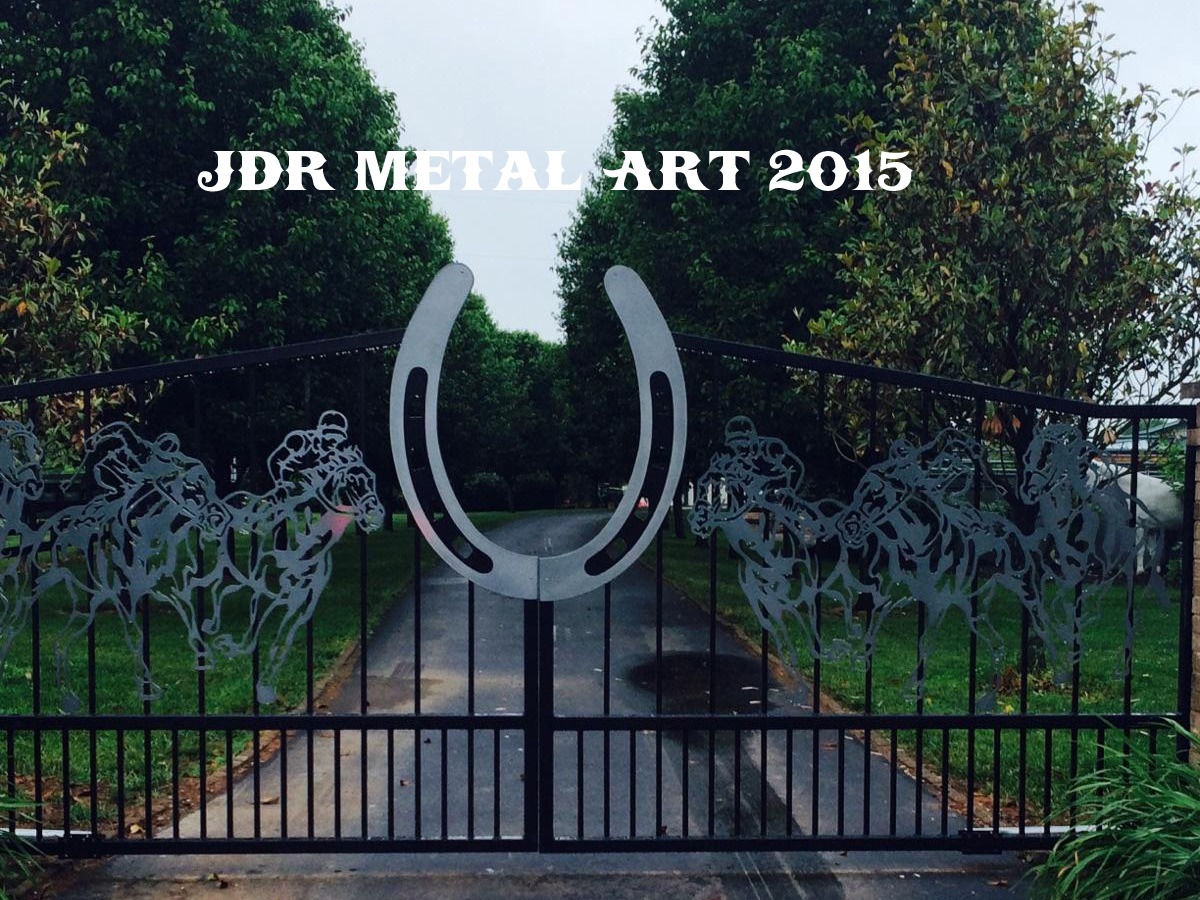 Custom Design & Metal Work
We worked with our client over the phone and via email to establish the design he wanted for his entrance. He is a horse farrier in the Lexington area and we were glad to be able to design a gate for him that really reflects his special background!
Metal Fabrication
Welding up the pickets on one of the gate panels. We use square tubing for the pickets and each picket is welded solid at all joints. We use a larger square tubing for the main frame of the gate panel. We use heavy gage tubing because lighter gauge materials used by other companies are less robust when it comes to being bumped around over the years. And it usually comes back to getting what you pay for!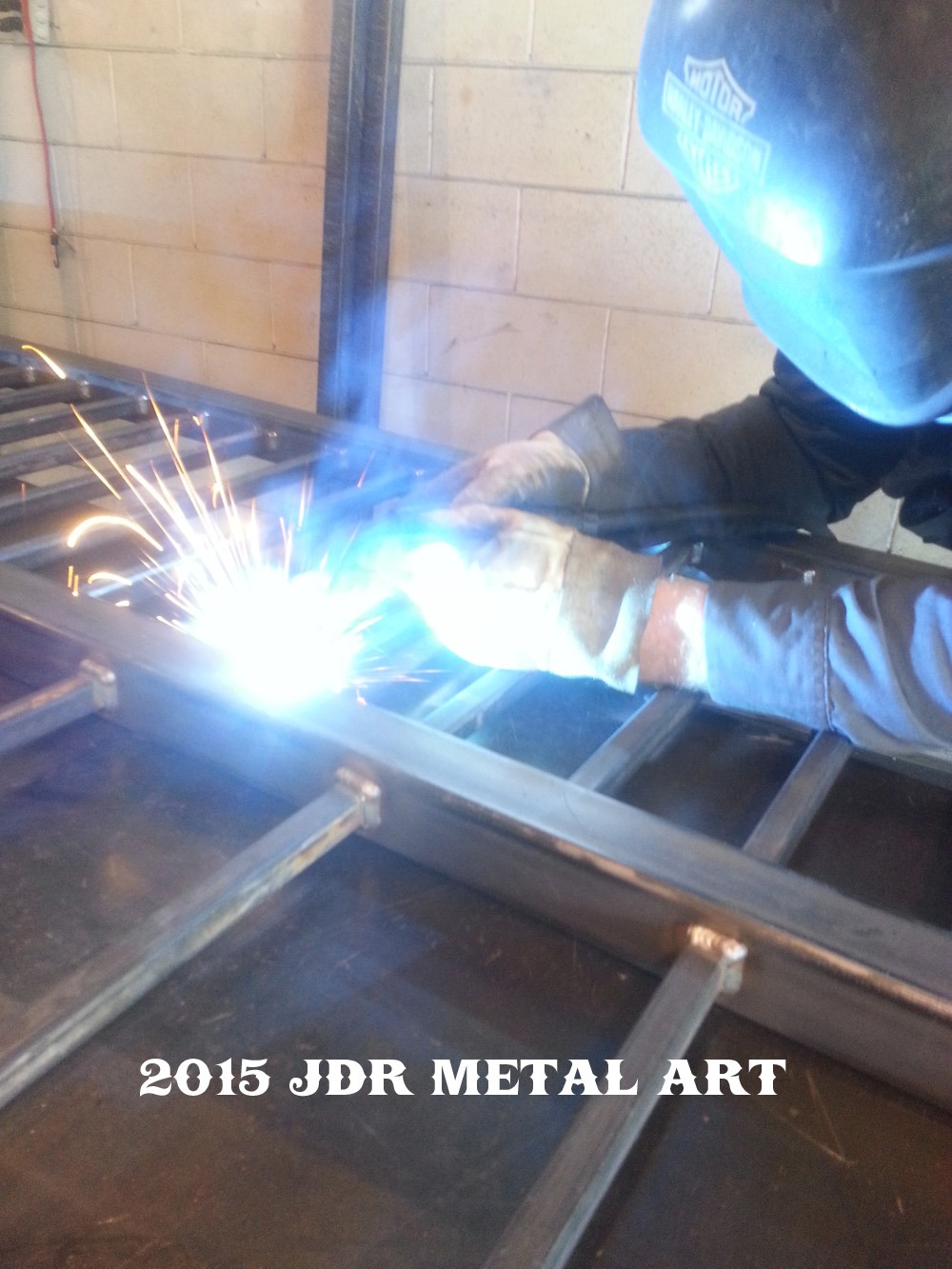 Picture of the back side of the gate, before we welded it up and cut the "nail" holes on the backing for the "horse shoe". A lot of time and effort goes into making all those welds look nice and pretty!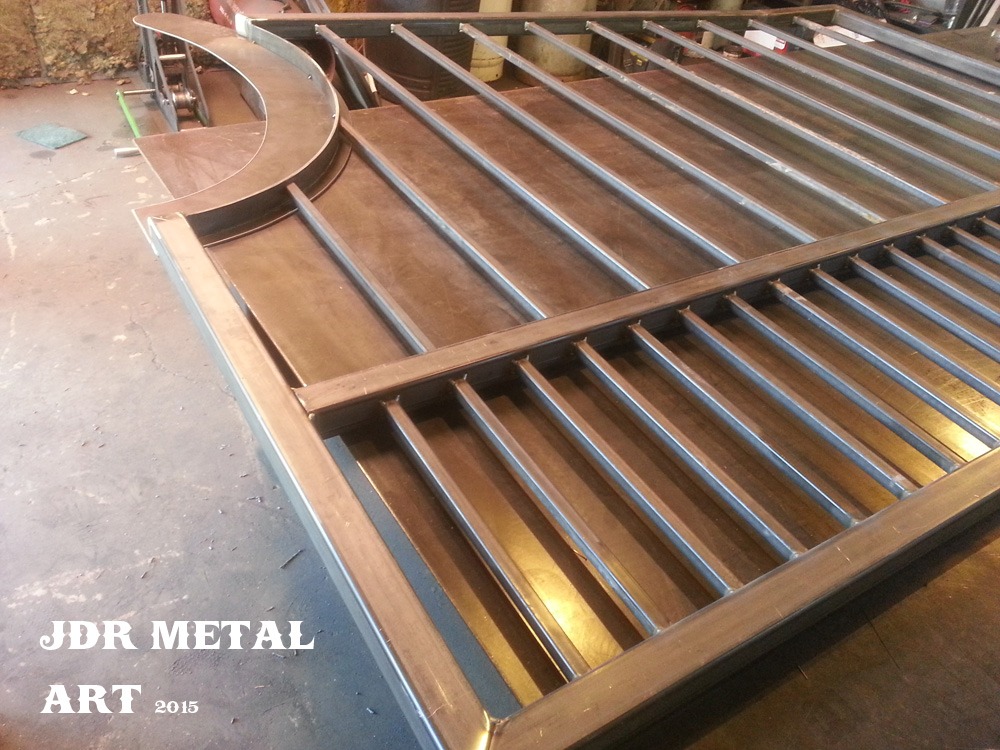 Here are the race horses which we plasma cut by hand. We use a plasma torch that is made in the USA by Hypertherm. They were sandblasted and then sprayed with zinc rich primer, chrome base coat and then a clear coat for a three layer powder coat finish.
We Want Your Business!
Dear Customer,
Are you interested in having the best metal driveway gates built for your home, farm, ranch or estate? We'd love to hear about your upcoming driveway gate project! We build custom driveway gates for people just like you from all over the United States. We are able to make any metal driveway gate design that you can imagine! And we have some of the most competitive pricing nationwide! Thank you for considering JDR Metal Art for your customized metal driveway gate needs. We are excited to offer you a unique and personalized metal driveway gate design that will add both aesthetic and functional value to your property.
Our team of experienced expert designers and craftsmen specialize in creating custom metal driveway gates that reflect your unique style and preferences. We use high-quality materials, such as durable metals and powder coat finishes, to ensure that your gate is built to last beautifully for many years to come. We work closely with you to understand your specific needs and preferences, and we will provide you with a comprehensive design proposal that meets your requirements and budget.
We are confident that our custom metal driveway gates will exceed your expectations and provide a lasting value to your property. We look forward to working with you to create a beautiful and functional gate that reflects your unique style and enhances the security and privacy of your property.
Please do not hesitate to contact us if you have any questions or would like to schedule a consultation.
Best regards!