Chattanooga Tennessee Driveway Gates

This Chattanooga, Tennessee driveway gate is a modified version of our tree themed driveway gates. It was designed and built in Columbus, Ohio then delivered to and installed on top of Signal Mountain.
I was very excited about this project ever since these clients first got in touch, saying they wanted something unique and different from the other gates in their area. They had in mind for us to come up with a wicked looking tree themed driveway gate for them so we obliged and got this design together for them using our custom gate design procedure.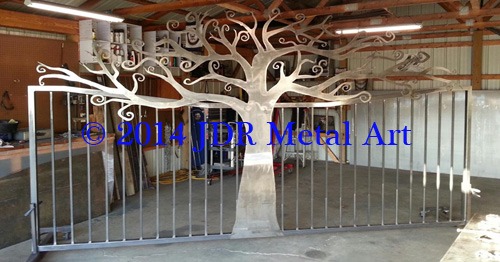 The plasma cut tree is 7′ 6″ tall at the center and made from 3/16″ sheet metal.  After it was cut out and cleaned up we welded the tree silhouette on to a 15′ picket fence style frame we built with a top rail that follows the flow of the tree. The frame is made from 2″ square tubing with 1/8″ wall thickness and 3/16″ wall thickness on the rail where the hinges are attached. The pickets are made from 3/4″ square tubing with a sturdy 14 ga. wall thickness. The surface of the steel is cleaned and then sprayed with primer before being painted with an oil rubbed bronze paint.
Metal Art Lightbox Columns
Solar Gate opener package.
We installed a single swing gate opener powered by a 50-watt solar panel. The solar panel charges a battery that stores energy to open and close the gate for a fully automated entry and exit with remotes for vehicles and keypads for visitors.
Driveway Gates by JDR Metal Art
We design and build custom gates for folks not just in Chattanooga, Tennessee but also all across the US. Shipping rates are quite affordable, you can contact us for a free shipping quote today. All gates are finished with highly durable powder coat and then carefully wrapped in shipping foam and multi-layered in corrugated shipping cardboard, shrink-wrapped and crated up. We ship out from our local UPS, FedEx and other freight carrier terminals. They are then shipped either to your local terminal for pickup or you can have them shipped directly to your residence or business!
We Want Your Business!
Dear Customer,
Are you interested in having the best metal driveway gates built for your home, farm, ranch or estate? We'd love to hear about your upcoming driveway gate project! We build custom driveway gates for people just like you from all over the United States. We are able to make any metal driveway gate design that you can imagine! And we have some of the most competitive pricing nationwide! Thank you for considering JDR Metal Art for your customized metal driveway gate needs. We are excited to offer you a unique and personalized metal driveway gate design that will add both aesthetic and functional value to your property.
Our team of experienced expert designers and craftsmen specialize in creating custom metal driveway gates that reflect your unique style and preferences. We use high-quality materials, such as durable metals and powder coat finishes, to ensure that your gate is built to last beautifully for many years to come. We work closely with you to understand your specific needs and preferences, and we will provide you with a comprehensive design proposal that meets your requirements and budget.
We are confident that our custom metal driveway gates will exceed your expectations and provide a lasting value to your property. We look forward to working with you to create a beautiful and functional gate that reflects your unique style and enhances the security and privacy of your property.
Please do not hesitate to contact us if you have any questions or would like to schedule a consultation.
Best regards!