Louisiana Plasma Cut Gates
Custom Fabricated, Powder Coated and Shipped to New Orleans by JDR Metal Art
These plasma cut gates are designed and fabricated by JDR Metal Art and are being shipped to New Orleans, Louisiana. Besides stunning plasma cut artwork,  these driveway gates feature a fabulous "wet copper lipstick" powder-coated finish laid on a foundation of corrosion-resistant zinc-rich primer and topped off with a clear gloss topcoat for added durability and fade resistance. We are extremely happy with this color (chosen by the client) and feel that the gates "look like a bright penny"!
We are shipping these gates, hinges & posts via motor freight to Louisiana where they will be installed for our client's residential entryway. There they will add security and beauty for many years to come!
Superior Powder Coated Finish for Metal Art Driveway Gates
Corrosion Resistant Zinc Rich Primer, "Wet Copper Lipstick" & Gloss Clear Coat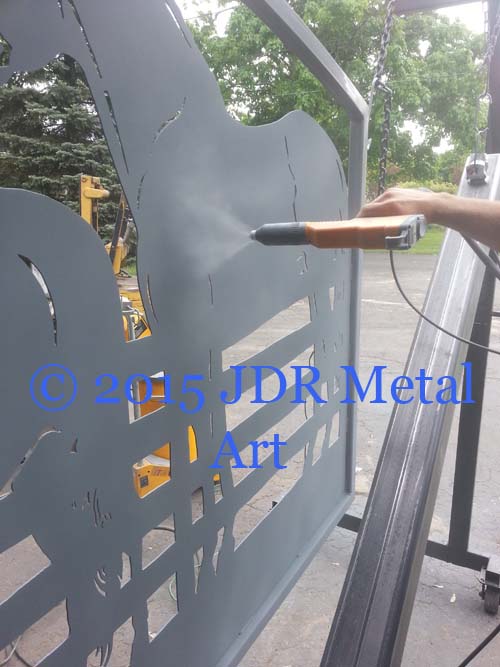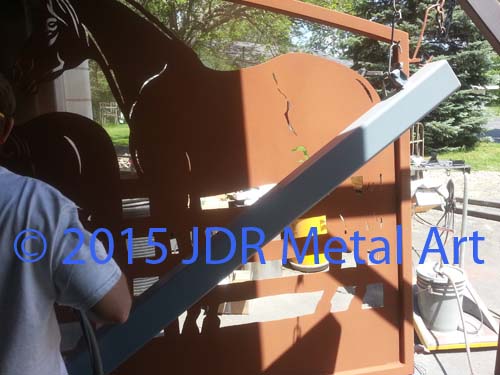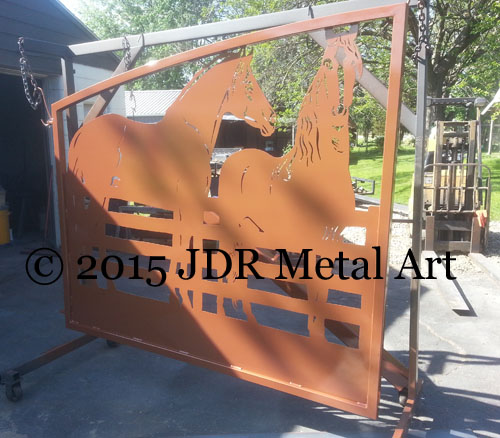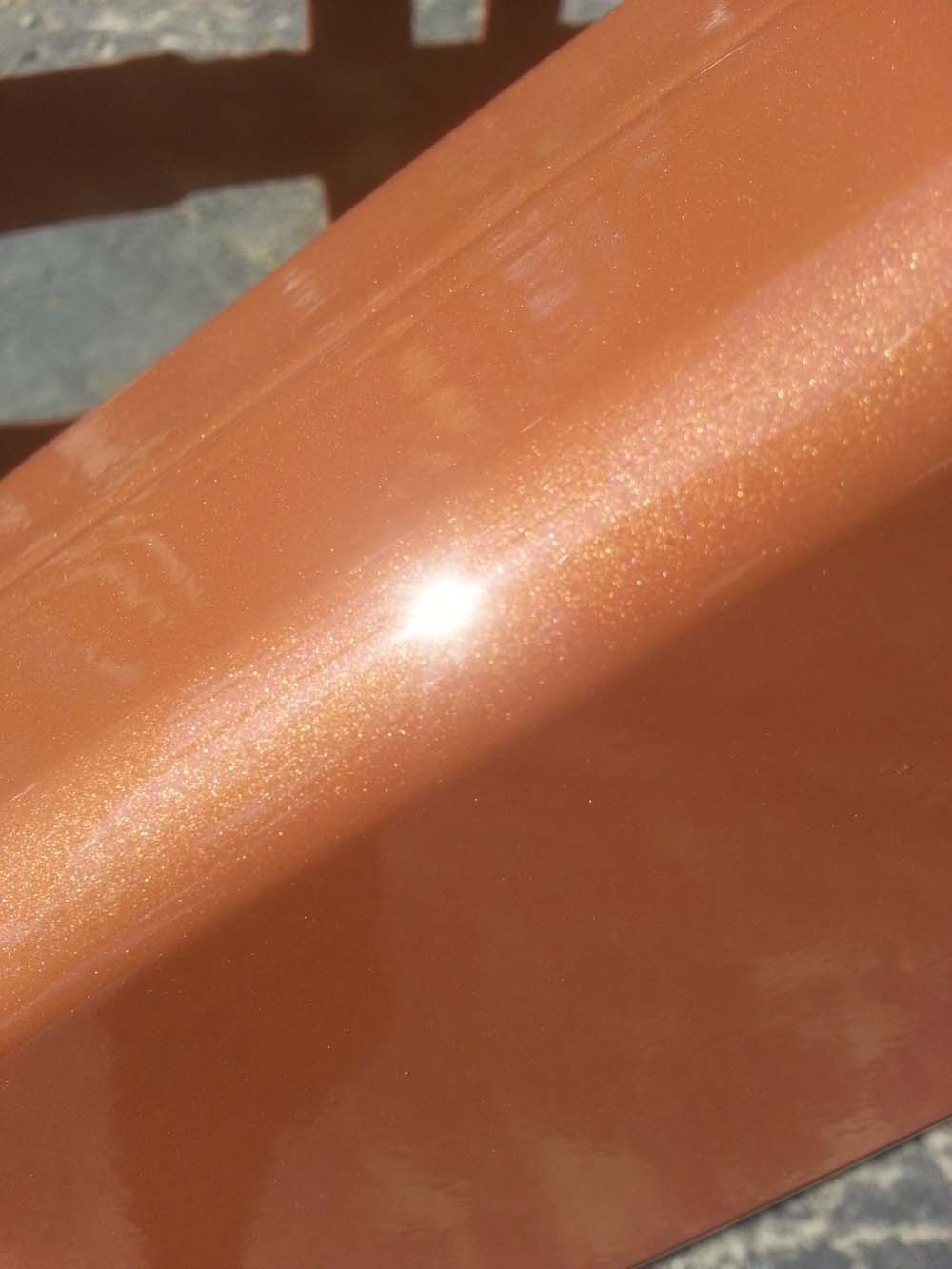 Rugged Steel Metal Art Driveway Gates
We use a minimum of 1/8″ thickness for all our metal art driveway gate silhouettes and gate frames. Each of our plasma cut metal art gates are specifically engineered to exacting standards to ensure an extremely rugged finished product that will stand the test of time. We fabricate all of our arched frames and silhouettes in-house. Our steel is sourced from mills that produce high quality American-made steel. The hinges are of the sealed bearing variety…no periodic greasing is needed! Each gate post is prefabricated with two hinges rated to hold a minimum of 1000 lbs per post…more than double the weight of each of our plasma cut gate panels!
Custom Plasma Cut Gate Designs by JDR Metal Art
Here at JDR Metal Art we provide full-scale plasma cut gate design solutions for anyone seeking beautiful plasma cut gates. All of our plasma cut gates are designed to meet our clients' needs. We work with gate, fence, and general contractors, private residential customers, resorts, farms, estates, golf clubs, subdivisions, homeowners' associations, ranches, lodges, and more. We work hand in hand with our customers to learn exactly what they want in the finished product. Then we create what is necessary to meet and/or exceed their expectations. We are also able to provide background information and services in coordination with needs such as gate openers, security, and more!
We Want Your Business!
Dear Customer,
Are you interested in having the best metal driveway gates built for your home, farm, ranch or estate? We'd love to hear about your upcoming driveway gate project! We build custom driveway gates for people just like you from all over the United States. We are able to make any metal driveway gate design that you can imagine! And we have some of the most competitive pricing nationwide! Thank you for considering JDR Metal Art for your customized metal driveway gate needs. We are excited to offer you a unique and personalized metal driveway gate design that will add both aesthetic and functional value to your property.
Our team of experienced expert designers and craftsmen specialize in creating custom metal driveway gates that reflect your unique style and preferences. We use high-quality materials, such as durable metals and powder coat finishes, to ensure that your gate is built to last beautifully for many years to come. We work closely with you to understand your specific needs and preferences, and we will provide you with a comprehensive design proposal that meets your requirements and budget.
We are confident that our custom metal driveway gates will exceed your expectations and provide a lasting value to your property. We look forward to working with you to create a beautiful and functional gate that reflects your unique style and enhances the security and privacy of your property.
Please do not hesitate to contact us if you have any questions or would like to schedule a consultation.
Best regards!
The Team At JDR Metal Art.