Dayton Driveway Gates by JDR Metal Art
This 14′ dual swing driveway gate was custom made by JDR Metal Art for a Dayton, Ohio hunting preserve.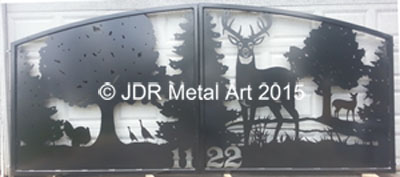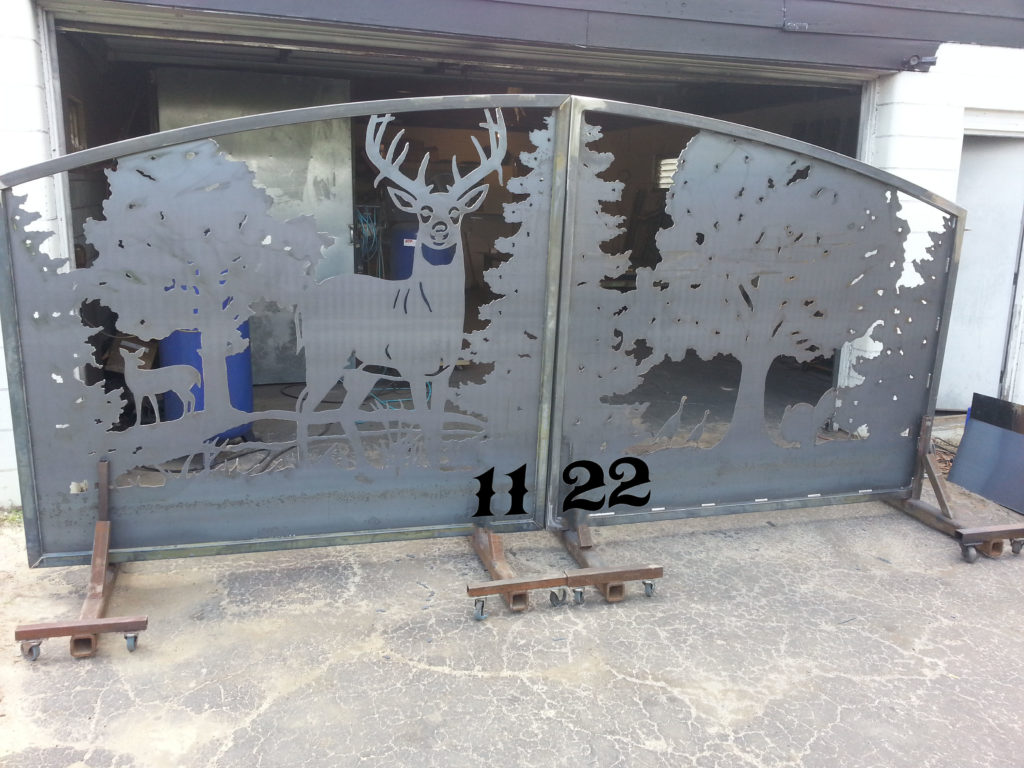 The gate features a whitetail buck and doe on the right side. The left side features a turkey tom and hens. The street number is plasma cut into the center of the gate.
Hand Cut Plasma Art Driveway Gates
These silhouettes were all plasma cut by hand and welded into arched gate frames. We also fabricated steel posts with sealed bearing hinges already welded on.
Beautiful Powder Coated Finish
Everything was sandblasted, pretreated, then powder coated with zinc rich primer. After this the gates were top coated with 60% gloss black powder coat for durable, long lasting beauty.
We like powder coat because it is far more durable than paint. It is much more resistant to scratching and can even withstand a hammer blow.  It is also much more eco-freindly than paint because there are no paint fumes or harsh solvents involved in powder coating. The powder coat is electrostatically applied to the gates as a thin film of powdery dust. The gates then go into the powder coat oven to be baked at 400F degrees for 10 minutes. The powder coat film turns into a gel at this temperate. As the gates cool down to room temperature the powder coat hardens into a fully cured finish.
While most of our driveway gates are powder coated black, we also provide custom metallic finishes, textured finishes and clear coat finishes.
Custom Entry Gate Designs
We custom design gates for our customers not only in Ohio, but nationwide. With your ideas in mind we will work to help you create a stunning, one-of-a-kind driveway entry gate.
Nationwide Shipping & Free Local Pickup
We offer free local pickup. For serving those areas outside Ohio we offer freight shipping nationwide through UPS, FedEx, and more.  Everything is built ready for installation at your home or business. We can also provide gate openers and help you find a reputable local installer. We have worked with many fence contractors nationwide and also use Angie's List to find other well-qualified installers.