Kentucky Driveway Gates
Plasma Cut Art Gate Theme for Louisa, Kentucky Entrance
These beautiful plasma cut metal art Kentucky driveway gates were handcrafted for our clients in Louisa. Our clients are finishing completion of their new homes and decided to contact us to help them get a custom gate design.
Plasma Cut & Powder Coated Metal Art Gates
Here are some pictures of the gates in the shop while they were in the process of being constructed and powder coated.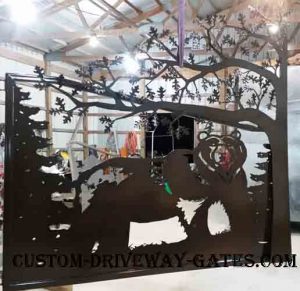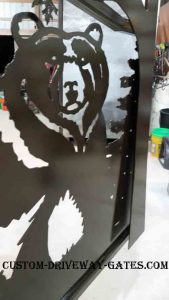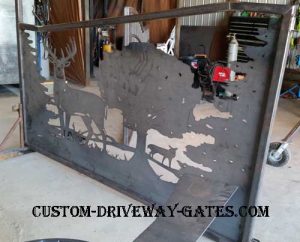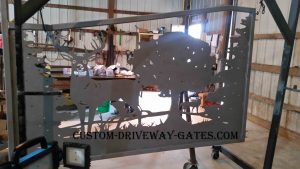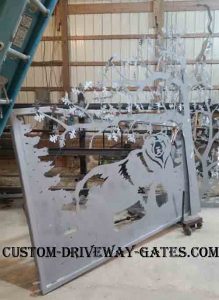 Custom Powder Coating
With over 6,000 powder coat colors available there are so many options when it comes to choosing the color for a driveway gate. These gates are coated with a three-layer powder coat system. They were first sandblasted free of rust and mill scale. Then a layer of zinc rich powder coat primer was put down. The next layer was the metallic oil-rubbed bronze. The final layer is a 100% gloss clear coat for added weathering properties.
Make Your Driveway Entrance One-of-a-Kind!
We are always looking for the next cool driveway entrance gate project to work on, let us know what you need and we can make it happen for you. =) We build Kentucky driveway gates as well as driveway gates for our clients nationwide. Let us know about your upcoming Kentucky driveway gate project! We also install nationwide, let us give you a free quote today!