Oklahoma City Driveway Gates by JDR Metal Art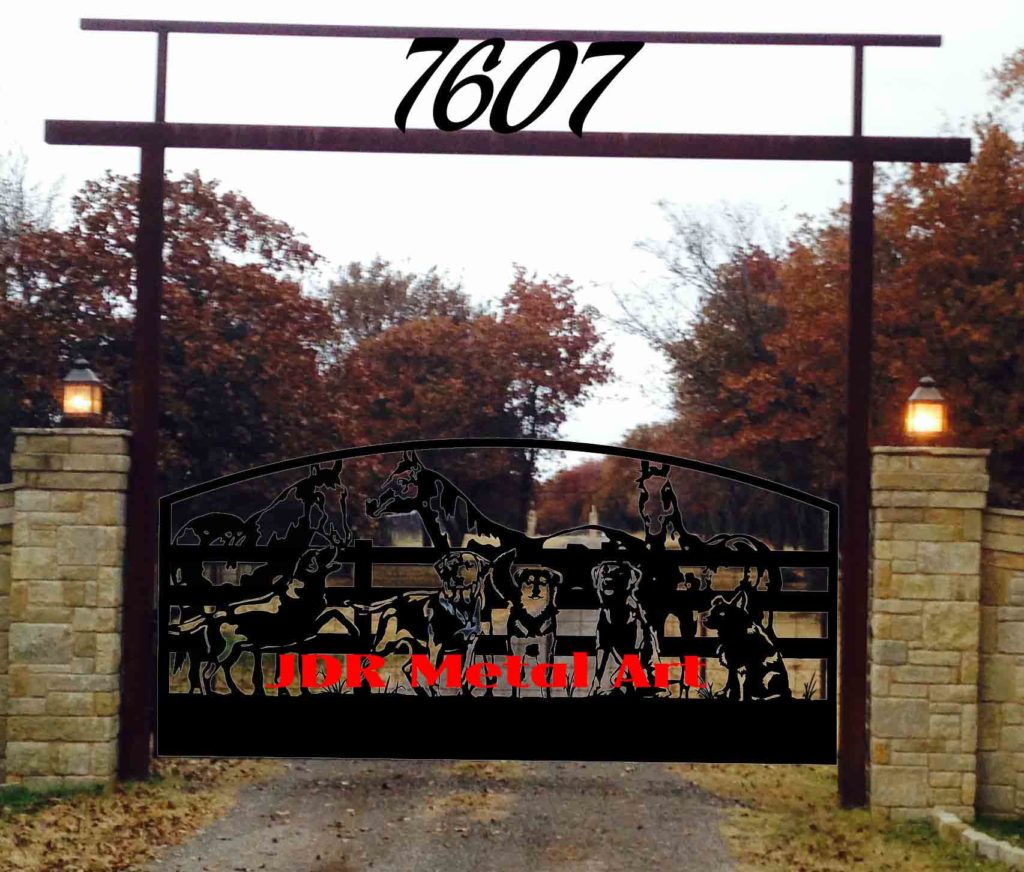 Oklahoma City driveway gates featuring life-size horse and dog plasma cut silhouettes built at JDR Metal Art.
We are currently working on this driveway gate project for a ranch entrance located on the outskirts of Oklahoma City. There will be one of these 15′ wide x 7'4″ tall single swing gates at two separate entrances. Each gate will feature three paint horses and our clients' five family dogs.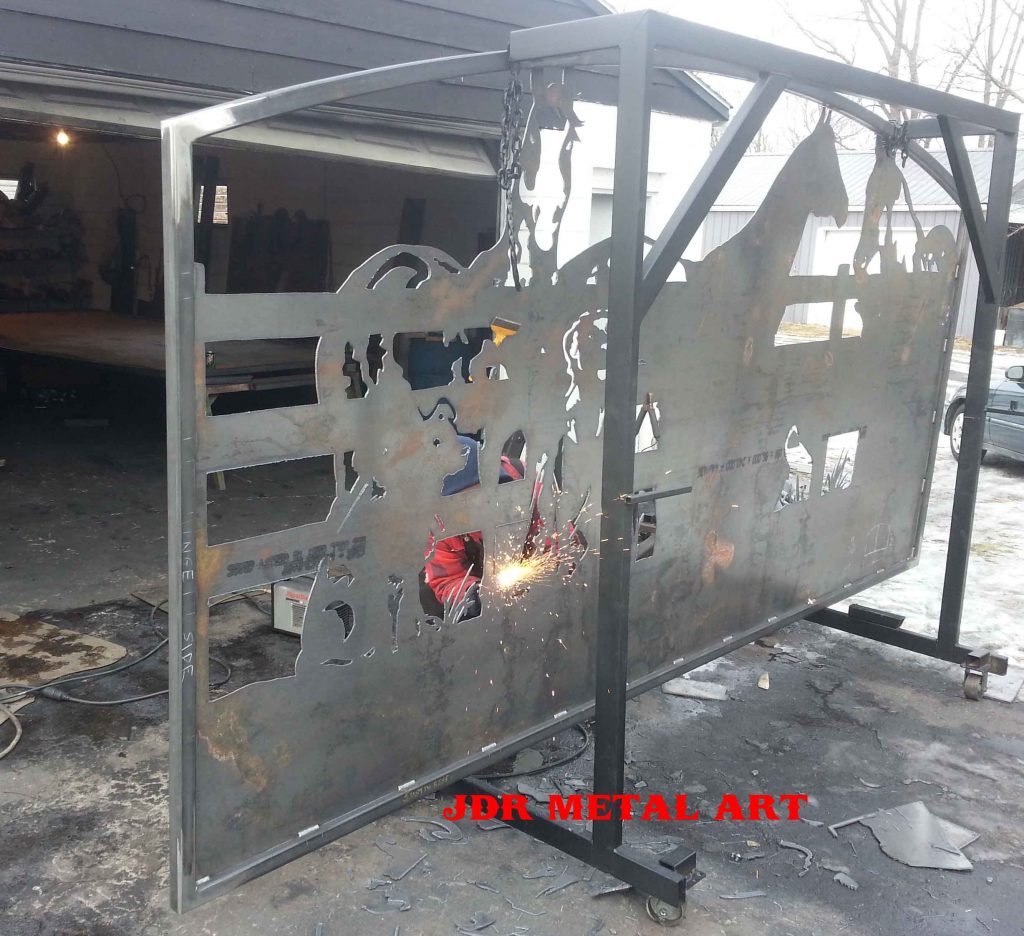 Using our custom gate design process, we were able to take the design from start to finish in a couple week's time. First, we worked with our customers over the phone and through email to coordinate the necessary dimensions and details for the custom driveway gate design. Then we put together the design theme they had in mind.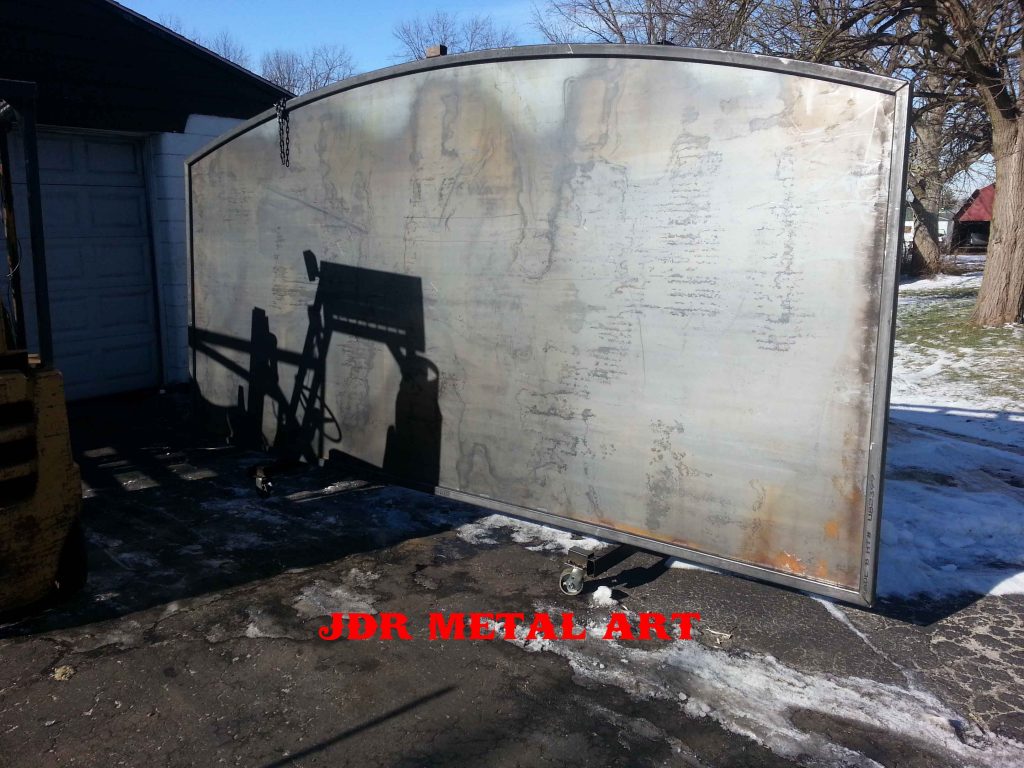 We lay the designs out by hand and then use a hyperthem plasma cutter to create these gate silhouettes. Since there are two gates with the same design and we are doing them by hand (not with a CNC machine) each one will be slightly different but this makes them unique as well!
One of the five plasma cut dog silhouettes after we sprayed the steel gate with a bit of driveway cleaner to accelerate the rusting process…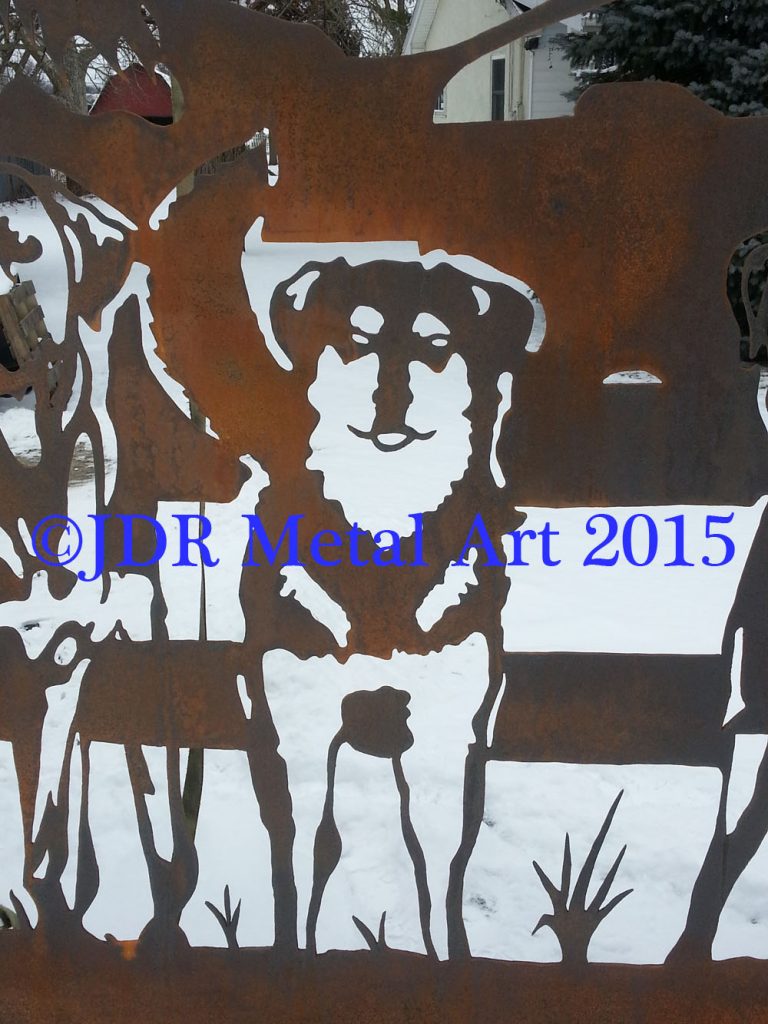 To contact JDR Metal Art:
We Want Your Business!
Dear Customer,
Are you interested in having the best metal driveway gates built for your home, farm, ranch or estate? We'd love to hear about your upcoming driveway gate project! We build custom driveway gates for people just like you from all over the United States. We are able to make any metal driveway gate design that you can imagine! And we have some of the most competitive pricing nationwide! Thank you for considering JDR Metal Art for your customized metal driveway gate needs. We are excited to offer you a unique and personalized metal driveway gate design that will add both aesthetic and functional value to your property.
Our team of experienced expert designers and craftsmen specialize in creating custom metal driveway gates that reflect your unique style and preferences. We use high-quality materials, such as durable metals and powder coat finishes, to ensure that your gate is built to last beautifully for many years to come. We work closely with you to understand your specific needs and preferences, and we will provide you with a comprehensive design proposal that meets your requirements and budget.
We are confident that our custom metal driveway gates will exceed your expectations and provide a lasting value to your property. We look forward to working with you to create a beautiful and functional gate that reflects your unique style and enhances the security and privacy of your property.
Please do not hesitate to contact us if you have any questions or would like to schedule a consultation.
Best regards!
The Team At JDR Metal Art.