Virginia Driveway Gate
16′ Single Swing Tree Design
This artsy tree-themed driveway gate was built for a Virginia estate entrance. It totals 16′ wide by 8′ tall and weighs 350 lbs.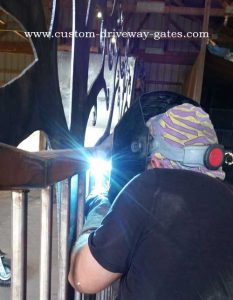 Metal Prep: The Foundation of an Exceptional Gate Finish
Sandblasting prepares the steel for the powder coat finish by removing rust, mill scale, and other soils from the surface. Here the plasma cut tree is getting cleaned up with a large supply of compressed air and silica sand.