Estate Gates
15′ Artistic Iron Tree Theme by JDR Metal Art
Estate gates should be beautiful! This one features an iron tree design theme built for a repeat customer with an estate located in NW Pennsylvania.
It is a custom project that developed over a couple of years from the time it was conceived until we eventually built it. Our fantastic customers were wanting some ideas for a new gate design. They decided to make this one another part of their estate. It is a 15'4″ single swing picket style gate featuring a handmade plasma cut "iron" tree design.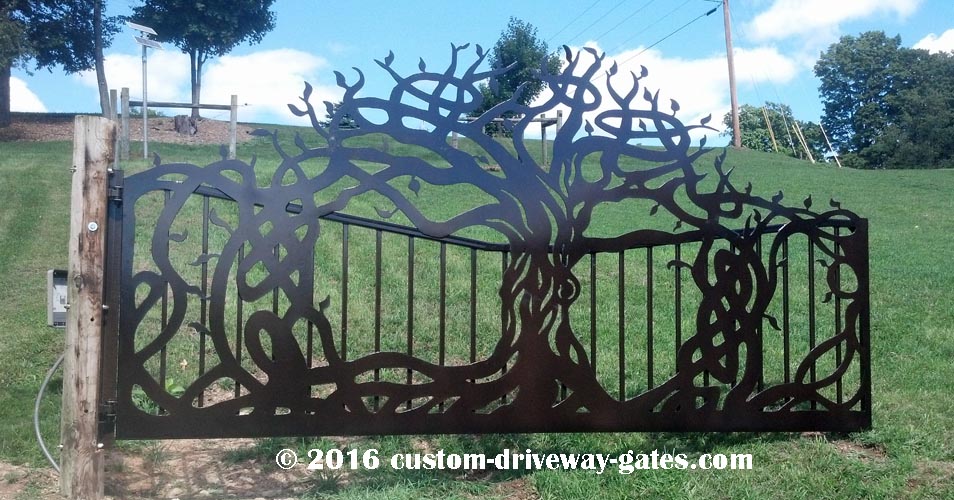 Estate Gates Fabricated by JDR Metal Art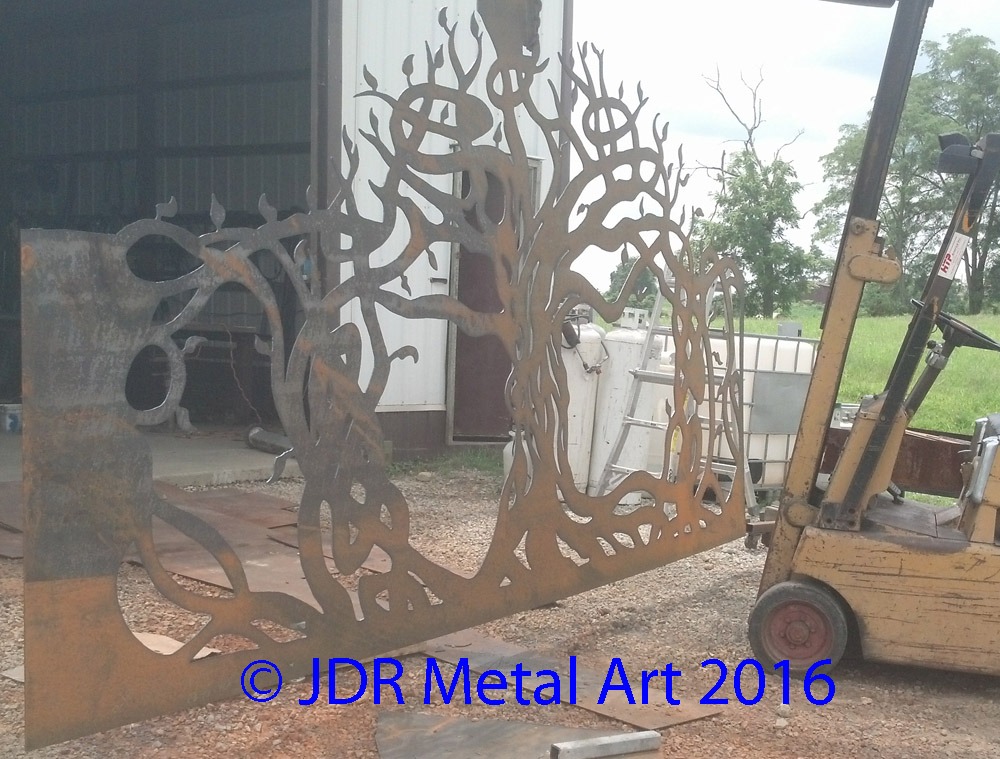 Estate Gates Customized With Plasma Art
We plasma cut our custom estate gates by hand. Each and every one is different and unique!
Plasma cutting is the combination of a very hot electrical arc and a stream of air which directs  molten metal leaving behind a thin cut in the metal.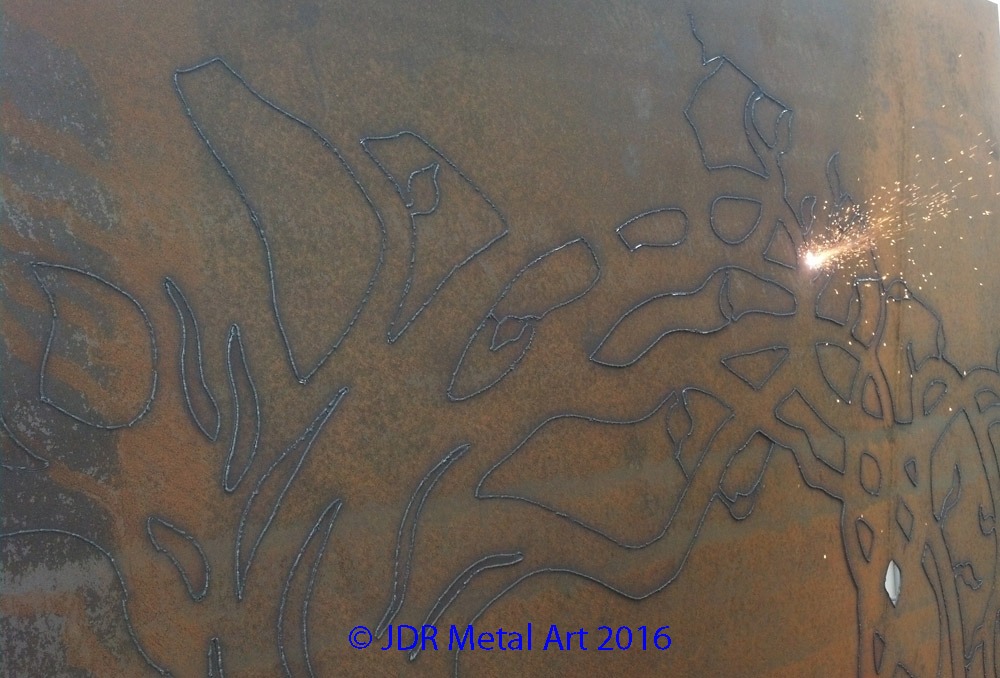 All Welded Up
Here's the gate laying on one of our welding tables. You can see it's hanging over the side of the table by a couple feet 🙂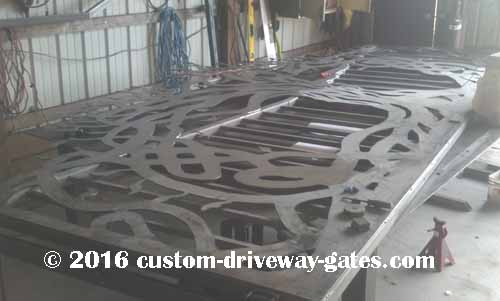 We've built estate gates up to 30′ long on this welding table before. And of course we can make gates even larger if you need it done!
JDR Metal Art's Estate Gates Are Built to Last!
We always seek to provide our customers with an estate gate that will last for the decades to come. This one is no exception.
The plasma cut artwork silhouette was made from an 8′ tall and 16′ wide sheet of 3/16″ hot rolled steel. The sheet weighed just under a thousand pounds. The final weight of the estate gate was 450lbs.
We made the frame to support the huge artwork silhouette from steel square tubing. For this one we used tubing with a 3/16″ wall thickness because of the length of the gate. The 1″ square tubing used for the pickets only has a 1/8″ thick wall to help save some weight.
At a finished height of 7'8″ tall this estate gate was quite a challenge to handle. Thankfully heavy equipment was available all along the way!! Being handled with a crane and forklifts without any damage is always a great test of how well our estate gates are going to withstand the forces of time.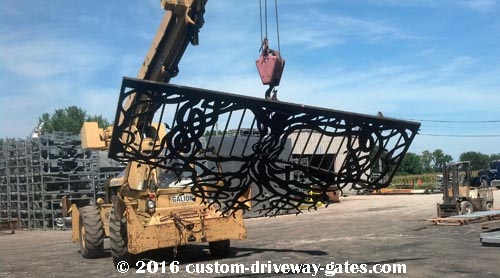 Powder Coated Gates with Oil Rubbed Bronze Finish
3 stage custom Powder Coat finish
These driveway gates were coated with a three stage powder coat finish. The first coat was our typical primer; a zinc rich corrosion preventive epoxy. The second coat we sprayed on was our metallic oil rubbed bronze color coat. We then ran a final pass of full gloss clear coat to add weathering properties to the metallic finish.
Protective Coating
Powder coat is a protective coating we prefer to use rather than paint. Powder coat builds substantially thicker than paint. It smooths out any of the sharp edges that sometimes can develop during the gate plasma cutting process.
Scratch and Chip Resistant
We think that powder coat paint is much more durable than the vast majority of other paints because powder coat is so scratch and chip resistant. It will not be removable with a fingernail, unlike many paints. In fact, many times even a blow from a hammer will not phase the surface of a properly applied powder coat.
Environmentally Friendly
Powder coat is also much more environmentally friendly than paint because we don't have to use any solvents to apply the powder. Air fluidizes the powder and allows it to be sprayed on uniformly. An electrical charge applied to the powder helps it to stick uniformly to the metal gate.
Fast Cure Time
Powder coat doesn't take weeks to cure like paint does. Once the powder has been applied the estate gates go into a very large propane fired oven that is heated to 400 degrees. The powder coat turns into a gel at this time. Once the part has been up to temperature for 10 minutes then the oven is turned off and the gate cools down to room temperature. Once the gate has dropped to about 150 degrees the powder coat gel turns into a fully cured paint that can be handled once it cools down a bit further.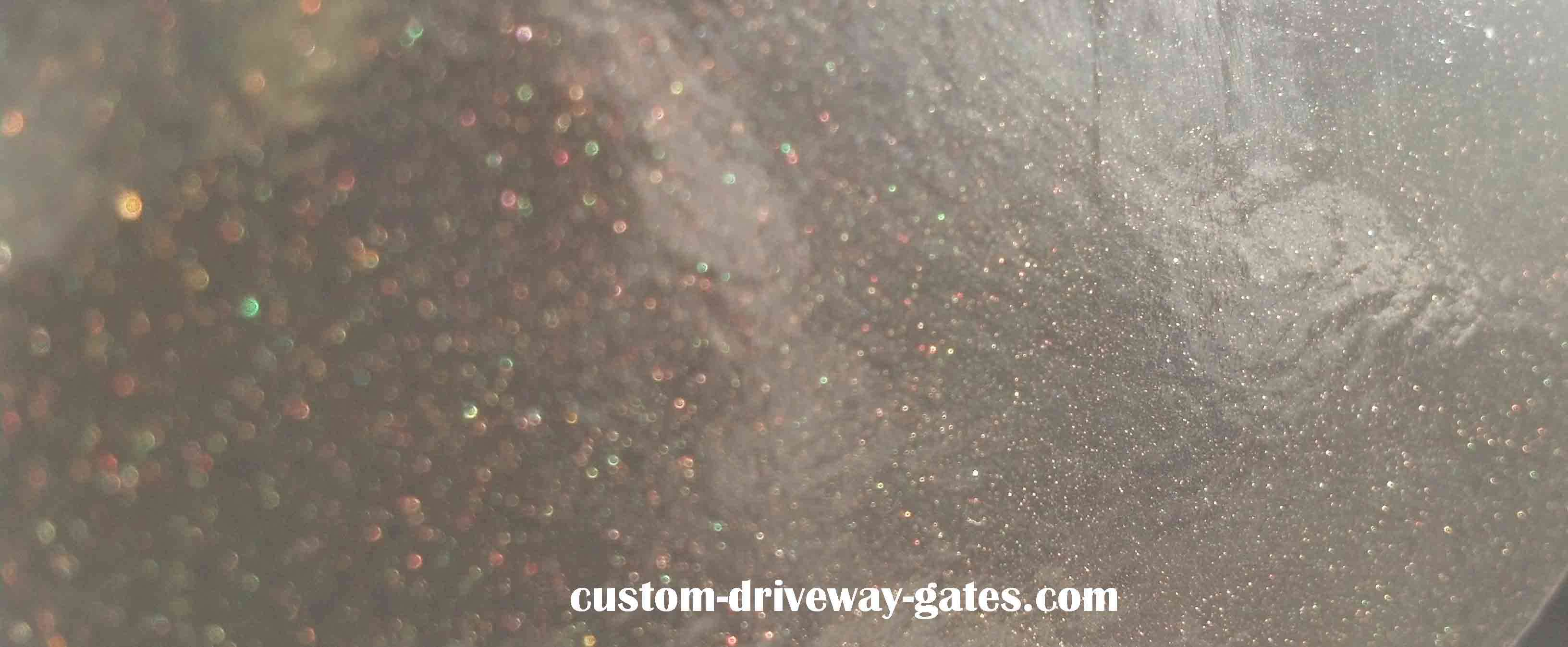 Estate Gate with Custom Adapter Plate
Steel Gate Mounted to Wood Post
This single swing estate gate was made for one of our client's horse pastures.
At the time we built the gate we also built a custom gate adapter plate to our customer's specifications. Then we attached the gate to it's supporting wood post at the installation site.
In the photograph above you can see our adjustable sealed bearing hinges. They are mounted with grade 8 hardware and have a 2000lb weight capacity. Our gate is very much within that range.
Estate Gate Opener System
LA 500 Swing Gate Operator
Our client installed the Liftmaster LA 500 series swing gate operator. It is a commercial grade operator and a great choice because it is made especially for large estate gates such as this.
Dual Locking Device
Also being installed into the opener system is a dual locking device to keep strain off the gate operator during periods of high winds. The client's estate has large hills and wind can really put a lot of resistance on larger estate gates such as this one.
Remote Controls
Remote controls give the estate owners the access they need without having to stop and get out of the tractor numerous times to open and close the gate.
Estate Gates Pricing
Whether you need estate driveway gates or an estate pasture gate, JDR Metal Art is ready to get started building an exciting new estate gate for you.
We are proud to offer our custom gates nationwide at the most competitive prices available. Please compare us to your local gate companies! Our number 1 goal is to offer you far superior designs for a lesser cost or equal cost to that of all our quality competitors.
Feel free to call or text us at one of the numbers listed on our contact us page or simply use the easy form below to get a free estate gate quote from us today!
We look forward to speaking with you!
We Want Your Business!
Dear Customer,
Are you interested in having the best metal driveway gates built for your home, farm, ranch or estate? Thank you for considering JDR Metal Art for your customized metal driveway gate needs. We are excited to offer you a unique and personalized metal driveway gate design that will add both aesthetic and functional value to your property.
Our team of experienced expert designers and craftsmen specialize in creating custom metal driveway gates that reflect your unique style and preferences. We use high-quality materials, such as durable metals and powder coat finishes, to ensure that your gate is built to last beautifully for many years to come. We work closely with you to understand your specific needs and preferences, and we will provide you with a comprehensive design proposal that meets your requirements and budget.
We are confident that our custom metal driveway gates will exceed your expectations and provide a lasting value to your property. We look forward to working with you to create a beautiful and functional gate that reflects your unique style and enhances the security and privacy of your property.
Please do not hesitate to contact us if you have any questions or would like to schedule a consultation.
Best regards!
The Team at JDR Metal Art.