20.
North Carolina Oak Tree Driveway Gate
12′ Single Swing Metal Art Tree, Cattails & Wildlife Silhouettes
12′ single swing gate with plasma cut metal art oak tree, cattails & wildlife theme with customized lettering.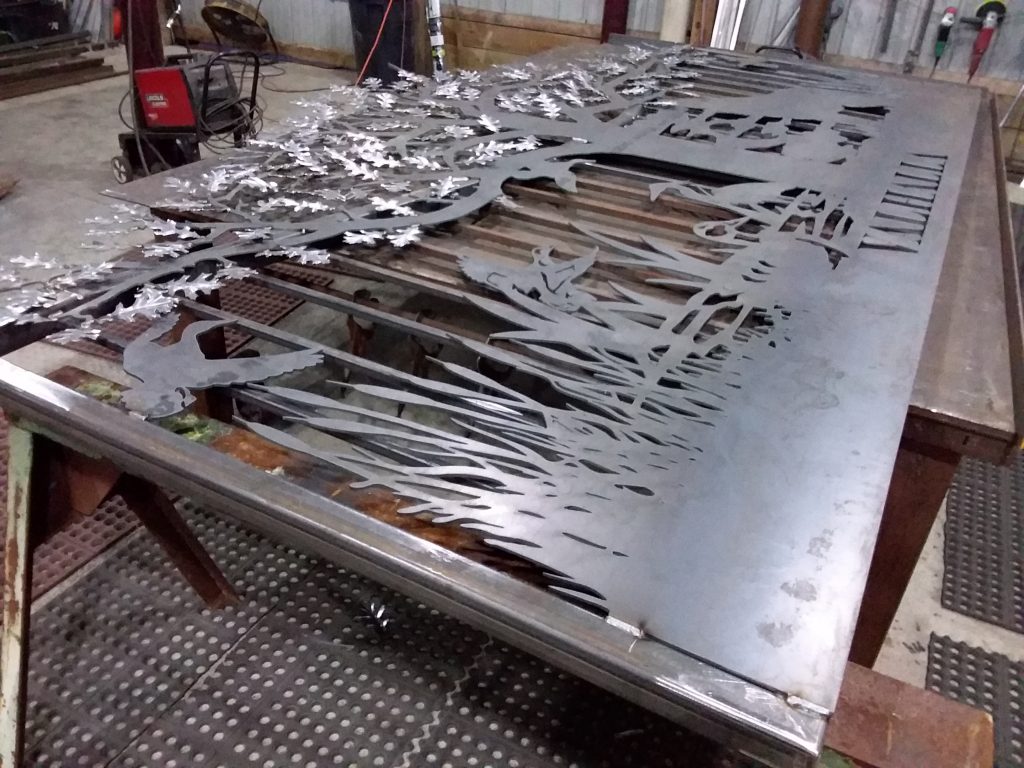 ---
21.
Sacramento, CA Rustic Driveway Gate
14′ Dual Swing with Complementary Horses
Client north of Sacramento decided to go sans our super durable powder coat finish and instead let his gates rust naturally..nowadays being commonly referred to as "rustic chic". It's a dual swing steel gate with pickets. There is a decorative oak tree on the front with plasma cut horses beneath.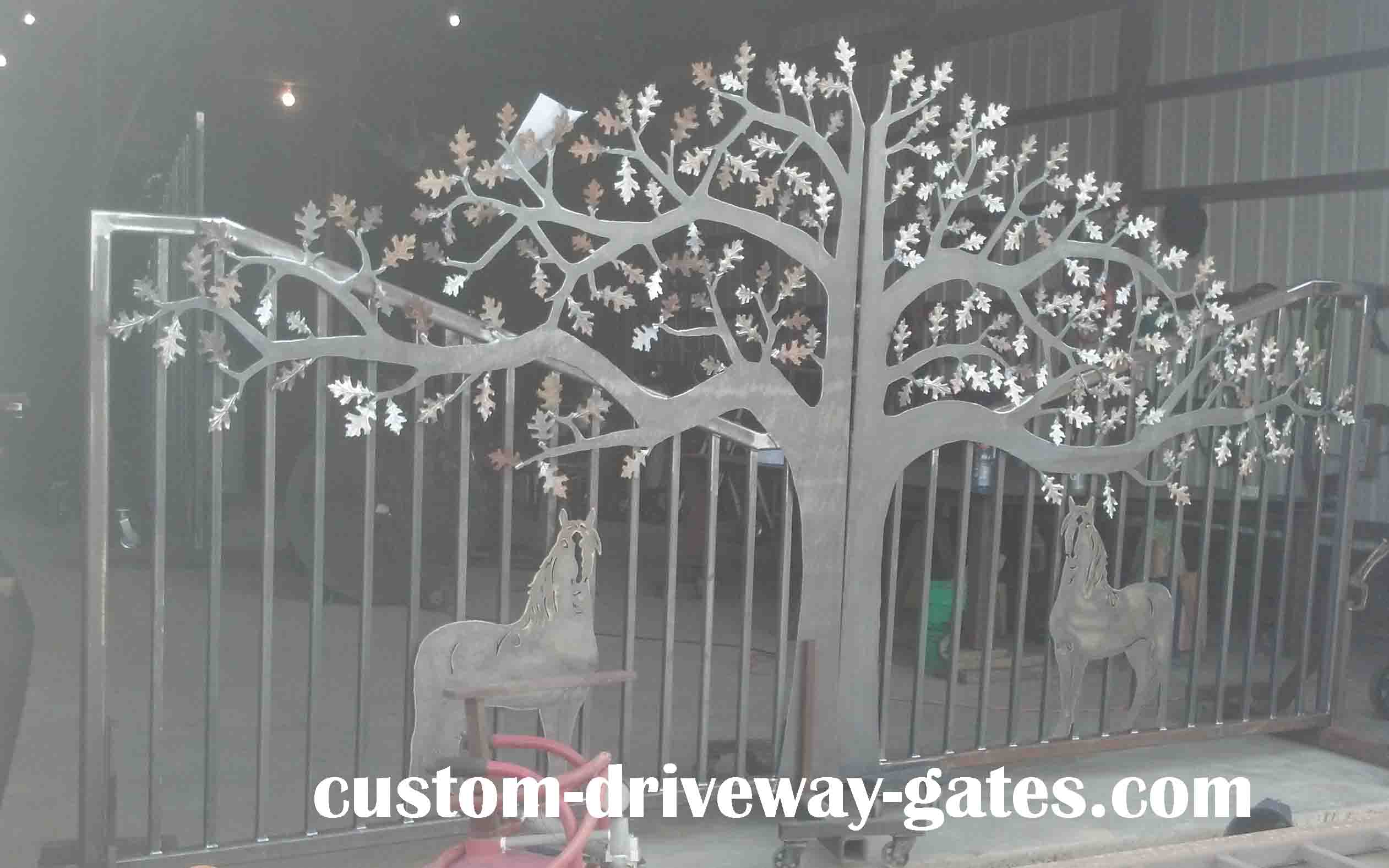 The pickets are 1″ square tubing, the frame 2″ square tubing, the tree is plasma cut from steel 3/16″ sheet and the oak tree leaves are stamped from 16ga steel; each one is carefully hand placed and permanently welded in place.
Shown below with natural California rustic finish.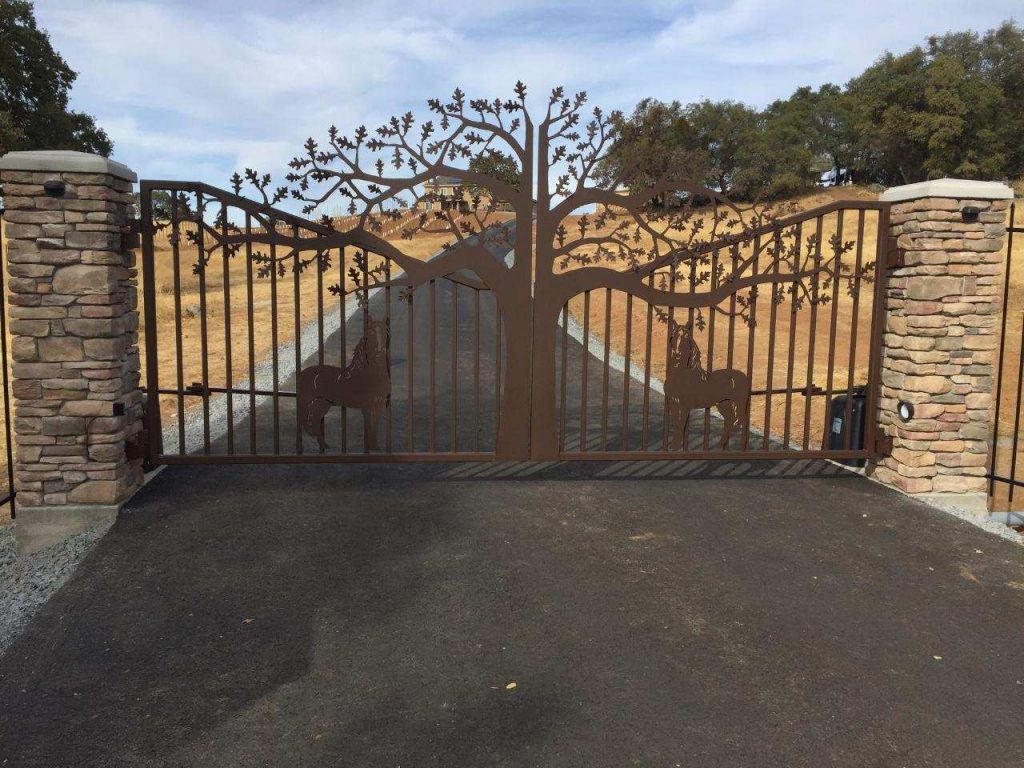 ---
22.
Louisiana Entry Gates
These Louisiana entry gates were built for a lady with smaller dogs. We put the pickets closer together on this one so the dogs wouldn't be able to get out. Not one of our tallest tree gates, this one is around 6'6″ tall.
---
23.
20′ Dual Swing Driveway Gate
Coon Hunter Driveway Gate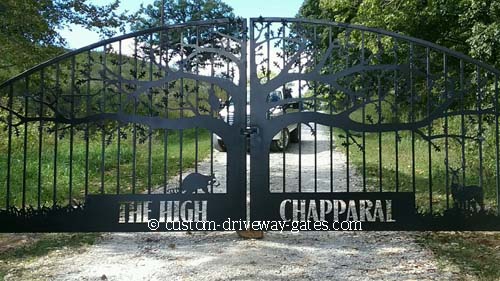 Decorative driveway gates built for avid coon hunter from West Virginia and installed by JDR Metal Art at client's Missouri property. Features the decorative tree, raccoons and deer also, as well as the client's farm name.
The tree is a whopping 8′ tall at the top and has an arched frame behind it. Design is plasma cut from 3/16″ sheet.
---
24.
Pennsylvania Tree Gate
16′ Single Swing
Custom Tree driveway gate theme for Erie, Pennsylvania / Lake Chataqua, NY area property. 16′ wide single swing is 8′ tall at the center. This huge gate is powered by an LA 500 gate opener to manage opening and closing with the high winds coming off Lake Erie.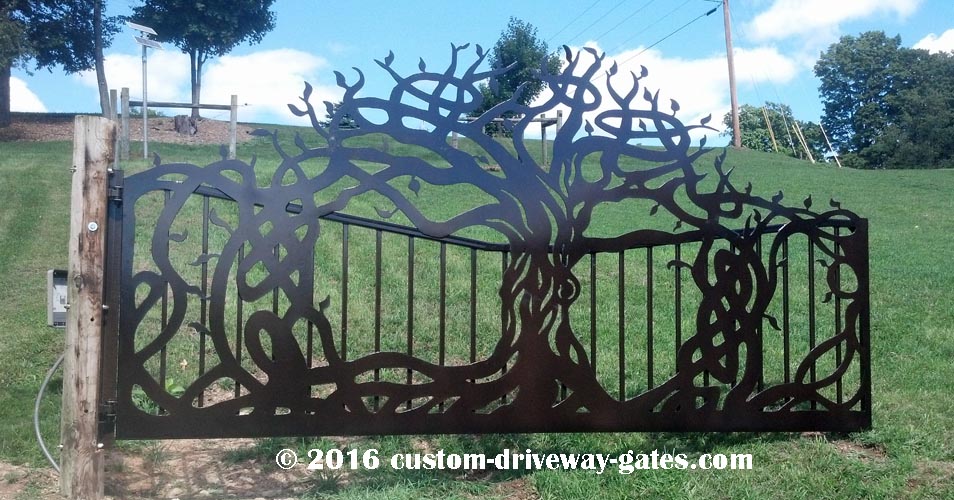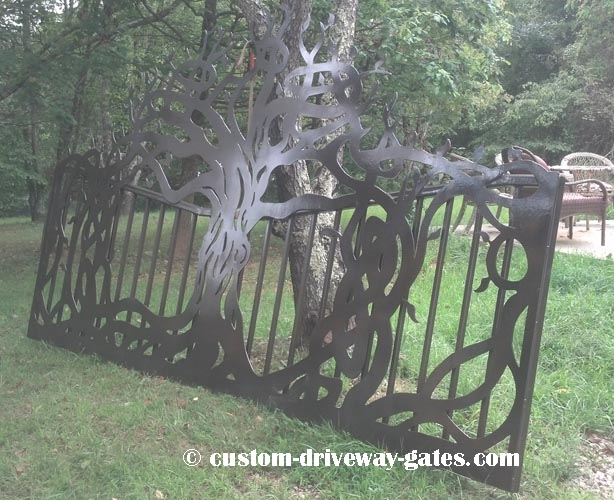 ---
25.
Kentucky – Aluminum Curly Tree Gate
14′ Dual Swing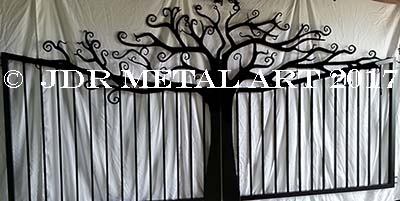 Louisville, Kentucky aluminum gates, dual swing.
The decorative metal art tree is plasma cut from 3/16″ aluminum sheet for extreme durability. 2″ aluminum square tubing outer gate frame. 1″ square tubing pickets. The gates have maintenance-free roller bearing hinges provide very smooth, resistance-free, long-term swinging that makes it easy for the gate openers. The aluminum is very lightweight which further eases the burden on the electric openers, thereby increasing the lifespan of the opener system.
These decorative aluminum gates were sandblasted and given an eco-friendly "transition metal coating" pretreatment before applying two coats of our "Super Durable" exterior grade powder coat finish.
---
26.
8′ Wide Pedestrian/Walkway Gate
Dual swing walk gate for Chicago, Illinois residence.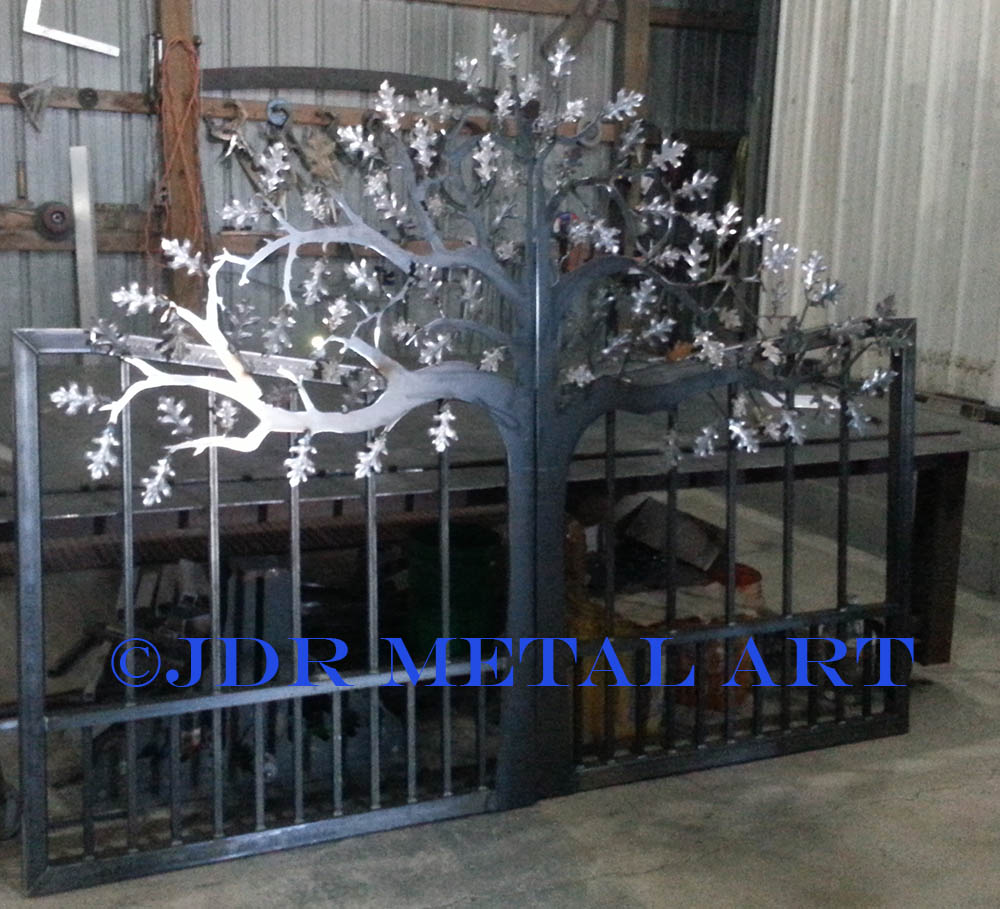 ---
27.
California Palm Tree Driveway Gates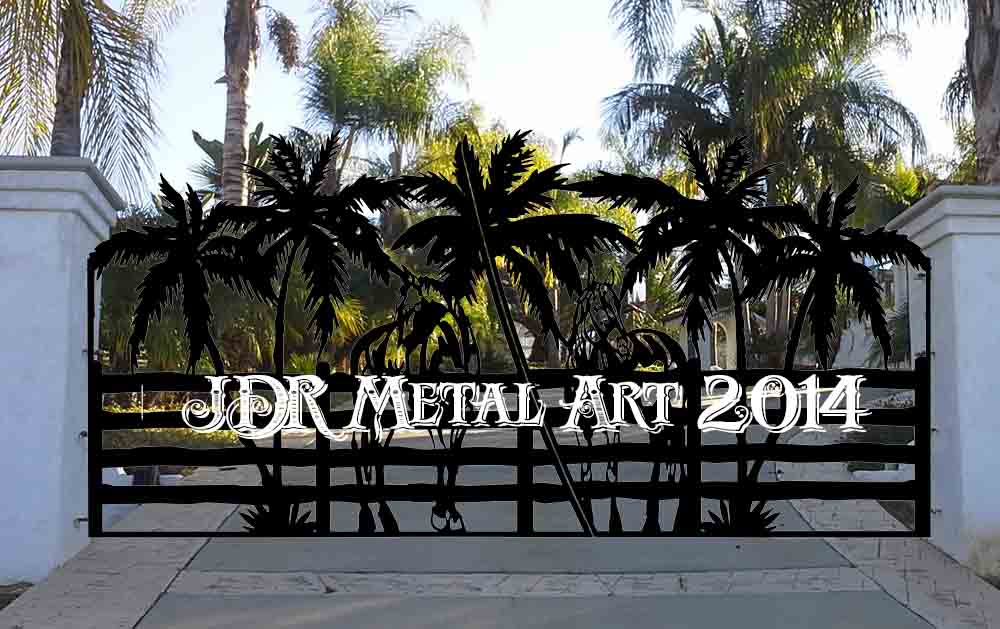 Palm tree gate design features a stallion and a mare for front entryway to southern California mansion.
---
28.
Columbus, Ohio 12′ Dual Swing Steel Gates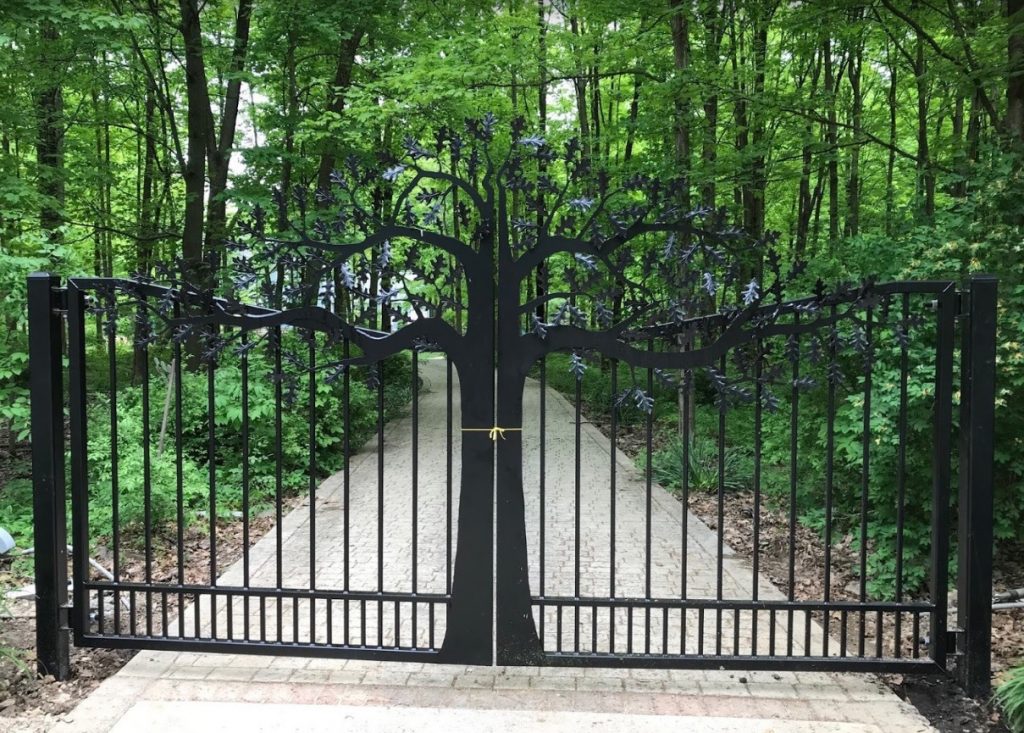 We custom built these gates for a residence in the Columbus, Ohio area.
---
29.
Indianapolis 14′ Tree with Decorative Side Panels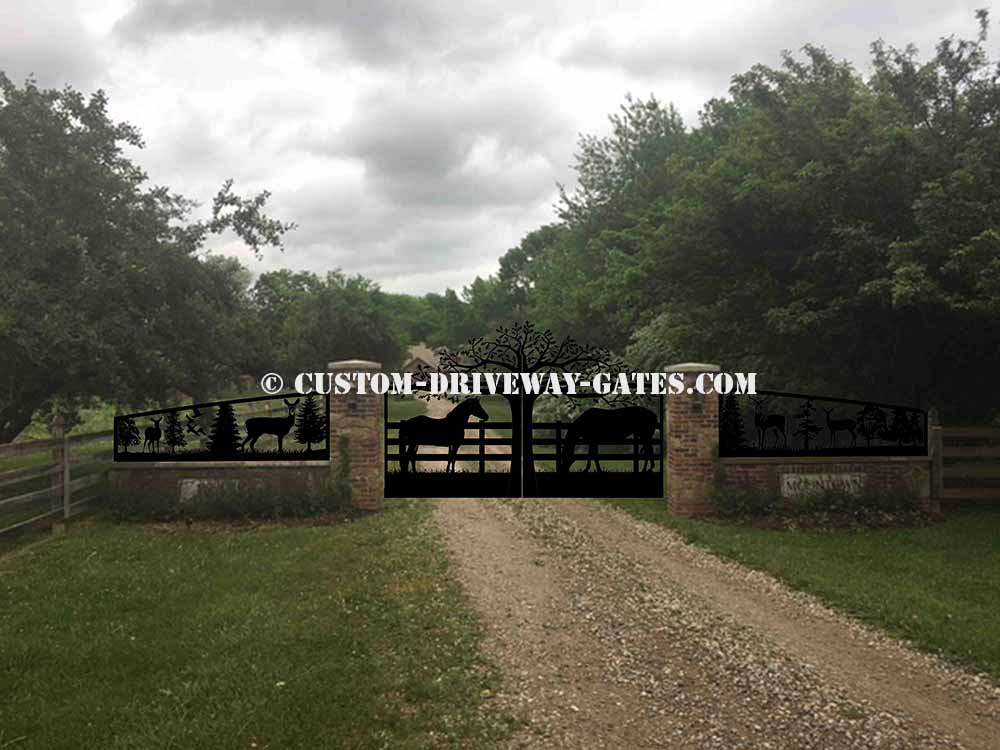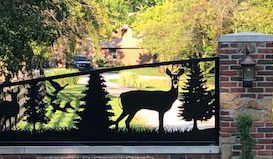 ---
---
30.
Minnesota Oak Tree Driveway Gate Design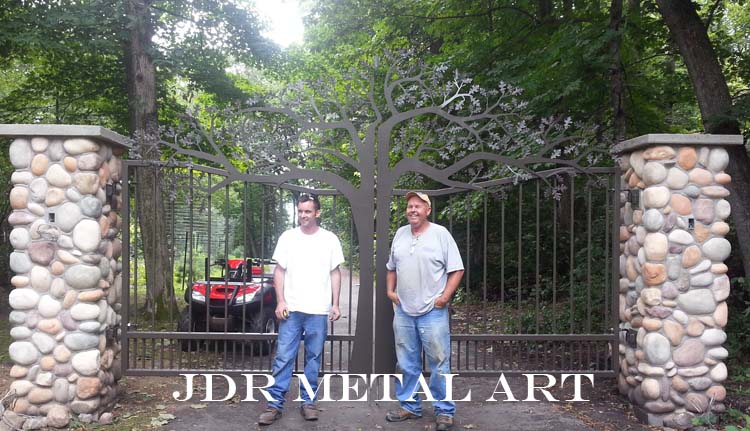 This beautiful oak tree driveway gate is flanked by two massive stone columns and safeguards a log home located on an exceptional walleye fishing lake north of Minneapolis, Minnesota. Doubled pickets across the bottom.
---
31.
Kentucky Driveway Gate
"Tree of Life" 12′ Single Swing
This project was done in collaboration with the fine people at Overhead Door of Lexington, KY.  Their client presented us a gate design idea and we turned it into reality for them.
32.
Single Swing Curly Tree Gate
This is a 16′ single swing steel gate we delivered to Virginia.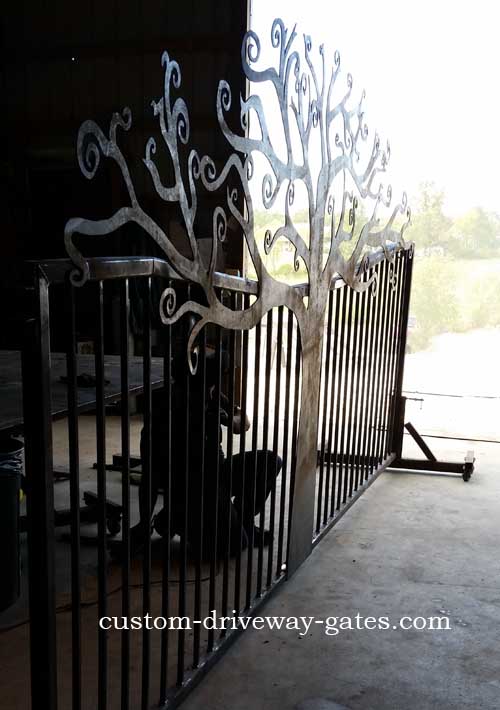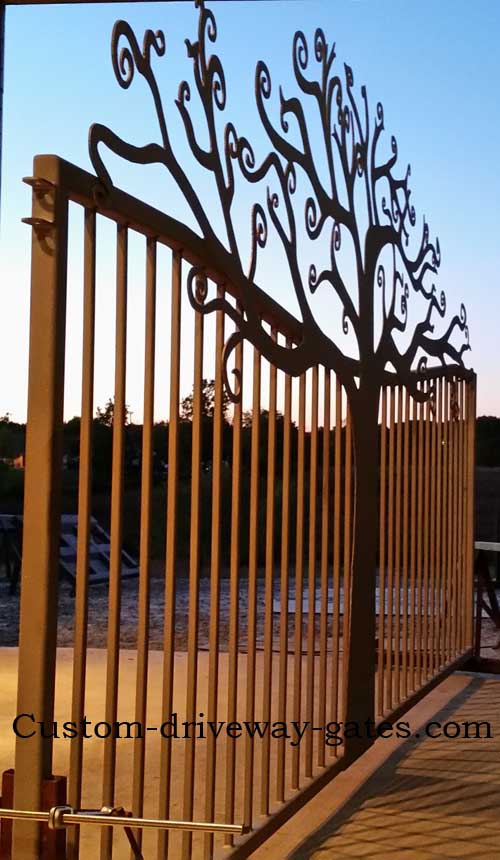 ---
33.
Orlando, Florida Oak Tree with Horse
18′ dual swing steel gates for Orlando property entrance.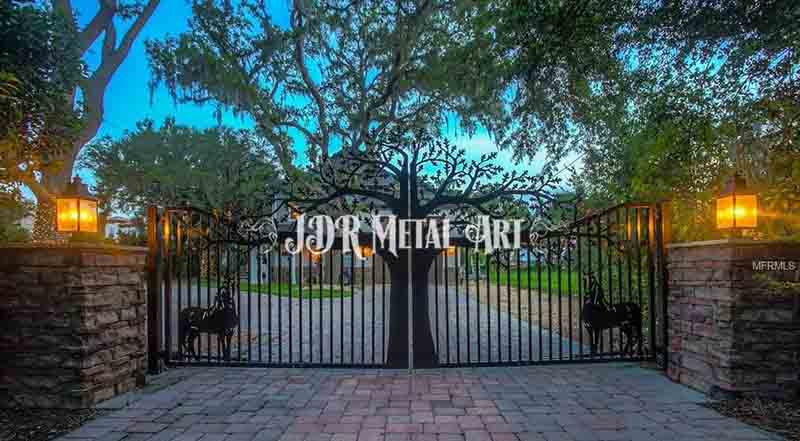 34.
Dallas Fort Worth Oak Tree
15′ wide x 9′ tall dual swing metal driveway gate, crafted from steel.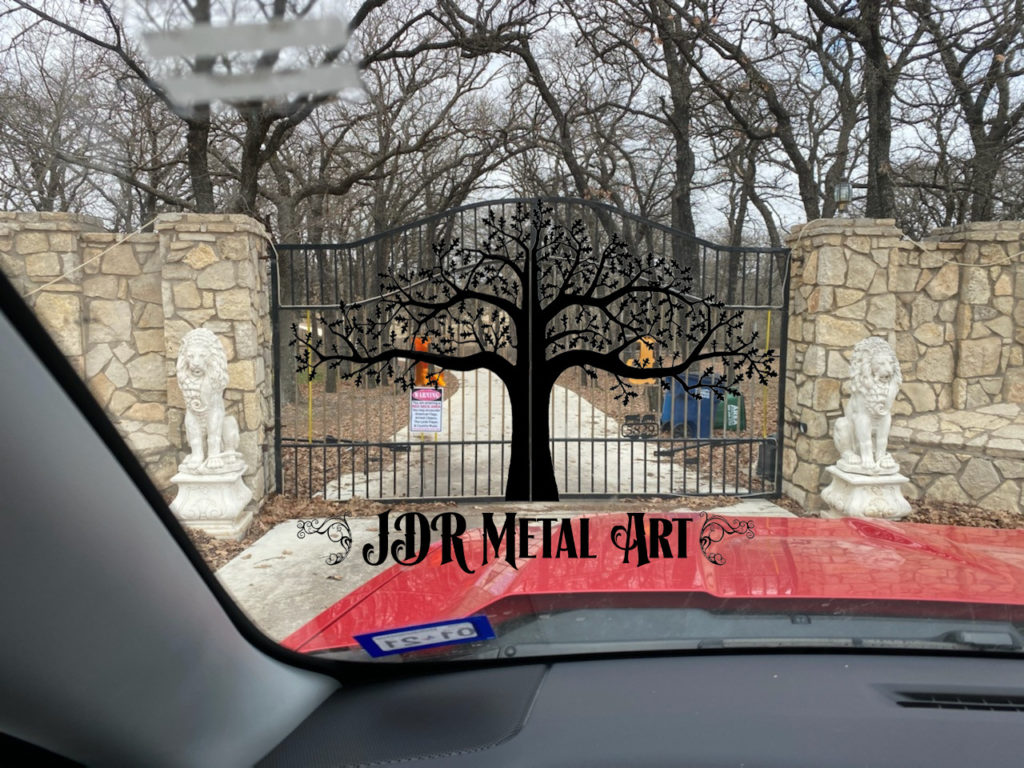 35.
24′ Dual Swing Oak Tree Driveway Gate
Steel Cattle Farm Entrance Gate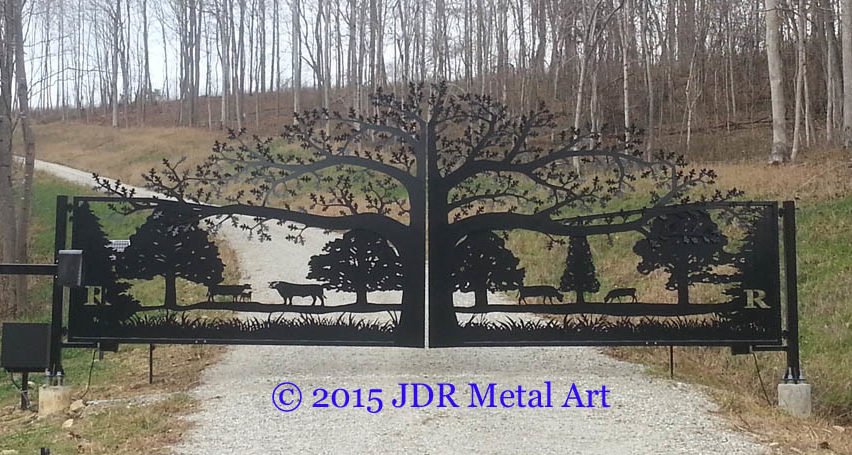 A 24′ dual swing entrance gate for a southern Ohio farm. It also features metal art livestock silhouettes and scenery incorporated into the background.
36.
Modern Tree Gate Design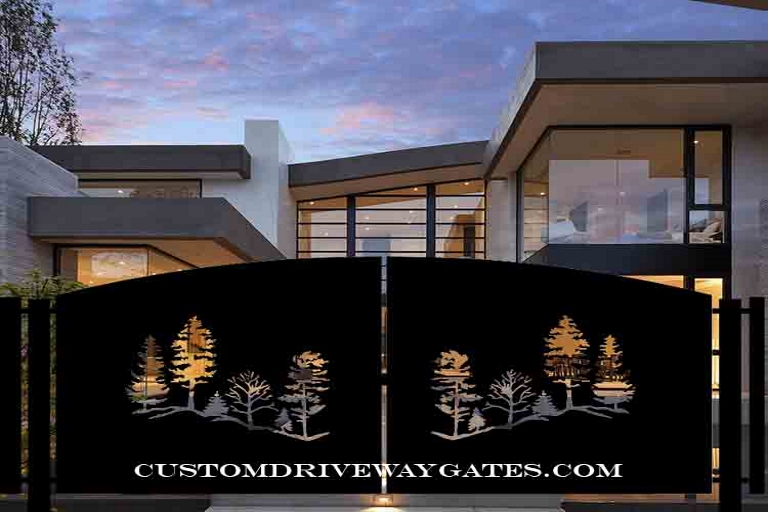 Need Decorative Driveway Gate Designs?
We have created many hundreds of decorative gate designs for our clients over the years. We design and build whatever gate design our customer desires and guarantee they will be 100% satisfied with the end result.
Below are several design possibilities for other tree-related gate design themes. Do you have an idea that you'd like to see turned into a design for your new custom gate?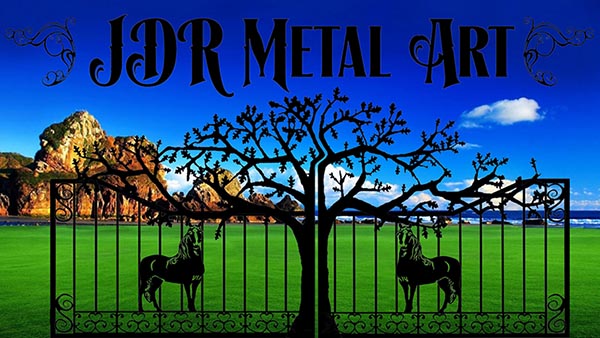 Few people wish to get in and out of their car or truck numerous times a day just to open and close their driveway gate, even on a warm, sunny day…but especially on mother nature's more unpleasant days.
Our decorative driveway gates will work with practically all automatic gate openers. We install many different gate opener configurations and are familiar with all the best brands  out there such as Liftmaster, Apollo, Door King, Viking, etc.
Whether you have 110v or low voltage (12 or 24v) power available at the gate site or are half a mile from power and need to use a 12v or 24v solar system, we can help you understand your better options to power them to create the most reliable gate operator system.
Are You Interested In a Personalized Driveway Gate Design? We'd Love to Hear From You!
We can design a custom tree gate for you using our simple and easy gate design process.
Once the gate design is finished to exceed your expectations then we are able to move forward with the custom fabrication work.