Automatic Driveway Gates with Decorative Deer Silhouettes
Here at JDR Metal Art we built these custom automatic driveway gates for a beautiful residence in north central Ohio in the spring of 2012. It is made from steel material and plasma cut by hand with a Hypertherm plasma cutter. The overall width is 20′ and the top of the gate towers approximately 7′ above grade. It is solar powered by Liftmaster dual swing gate openers, It can be activated by remote controls, a keypad, and an automatic exit sensor.
Custom Automatic Driveway Gates & Designs
We can custom design any gate themes you may have in mind, including but not limited to wildlife gates, equine gates, and tree gates. We are able to alter almost all of our existing designs to suit the size needs of your driveway entrance. We also make custom wrought iron gate designs from scratch if you are interested.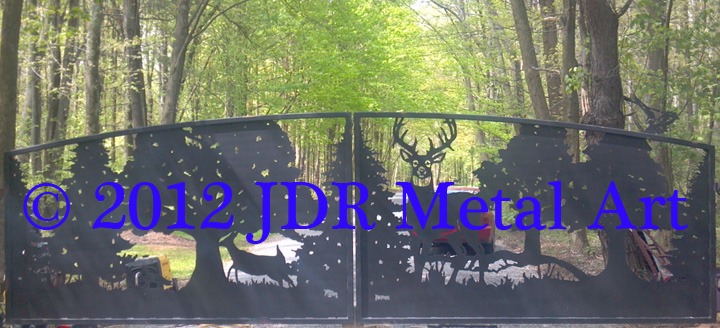 All of our automatic driveway gates are pretreated, primed and powder coated for long lasting beauty and durability. They are ready to have openers mounted to them and power supplied for hands-free entry and exit with the proper automation equipment. A keypad and automated exit sensor are highly recommended for visitors. Handheld transmitters can be supplied to allow operation from the comfort of a vehicle.
To contact JDR Metal Art: