Metal Driveway Gate with Tree & Wildlife Theme
This metal driveway gate is a work of art with its oak tree & deer wildlife theme. With over 200 stamped steel leaves welded in place, this handcrafted masterpiece is a 12′ wide, dual swing that is 6'8″ tall in the center.
Custom Iron Gates for Washington Home
By JDR Metal Art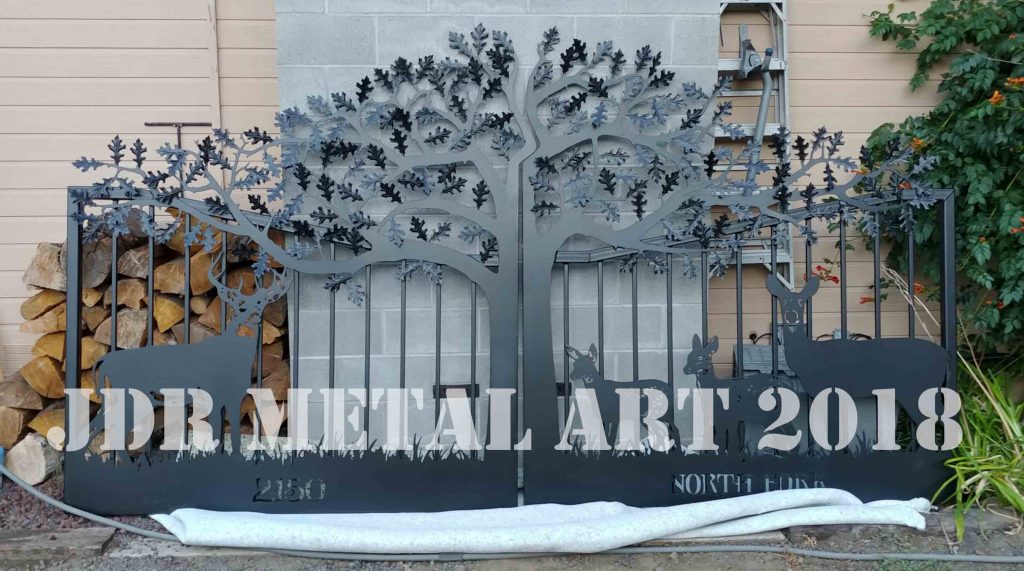 Powder Coated Metal Gates Panels
Each panel has been primed with the unbeatable combination of zinc-rich powder coat primer top coated with a matte black finish.
The zinc-rich primer greatly extends the life of the powder coat finish by preventing rust from forming beneath the powder coat. It also prevents rust from spreading at any area where the finish has been dinged or scratched down to the bare metal.
The matte black finish is an exterior grade finish that is formulated with UV inhibitors to resist fading.
Metal Driveway Gates – Nationwide Shipping
Our metal driveway gates ship nationwide. Any size, any metal (steel or aluminum), and design..contact us today for a free consultation and metal driveway gates quotes.