Frequently Asked Questions
Do you offer installation and automation of your custom driveway gates?
We are no longer able to provide installation services due to the high volume of gate orders. Over the years we've built excellent working relationships with a nationwide network of gate installers who are familiar with installing our gates, as well as providing automation services and long-term preventive maintenance & safety checkups.
Which gates are better, steel or aluminum?
It depends on our customer's needs because steel and aluminum each have their advantages and disadvantages.
Steel is very strong and durable but is also relatively heavy and will rust if not properly coated.
Aluminum weighs 60% less than steel, is extremely corrosion resistant and exceptionally strong for it's weight. Aluminum is also more expensive than steel and more challenging to work with.
Keeping those factors in mind is helpful when considering which material to use in the construction of your gate.
How much do steel and aluminum driveway gates weigh?
Steel gates generally weigh approximately 25 lbs per linear foot. Therefore a 10′ steel gate panel would weigh approximately 250lbs.
Aluminum gates generally weigh approximately 8.3 lbs/ft. Therefore a 10′ aluminum gate panel would weigh approximately 83lbs.
These weights are rough estimates only, please contact us to learn more about a specific gate you may have in mind.
How much will my driveway gate cost?
Depending on the gate design and material, from $200-500 dollars per linear foot. Therefore a 10′ gate panel would be anywhere from $2,000 to $5,000.
What is the process for buying a custom driveway gate?
Once the customer chooses a design we ask for 50% down payment to begin building the driveway gates for your project. The remaining balance is due at the time of completion. Clients wishing to pay for their project in full up front receive a 3% discount as this typically allows us to ship the project out faster.
How much do you charge for custom designs?
Existing gate designs are free. For new designs, depending on the complexity of the project we may require a design deposit of $30-$500.
How long does it take to build my custom gate?
Our lead time to completion is usually 2 to 3 weeks from the time a down payment is made. Larger or exceptionally intricate projects may take longer to complete.
How will I get my driveway gate?
We can either deliver or have it shipped directly to you via freight. We have shipped to the majority of the lower 48 states.
If you ship a gate to me, is it insured against damage?
Yes, each gate we ship to our clients is guaranteed to arrive in its original condition and is covered by freight insurance. In the highly unlikely event that the gate arrives damaged you can refuse the shipment which will be returned to us free of charge, by the carrier, where it will restored to original condition (if possible) or replaced with a new exact match of the original. After shipping hundreds of gates nationwide we have only had three instances of damage reported, all of which were relatively minor and remedied to the client's satisfaction.
However, this insurance policy is ineffective when the client is unavailable to accept delivery of their gates. We had a client who went on vacation, left his gates sit at the freight terminal for two weeks where it was constantly exposed to forklift traffic, then was upset with us when he got back from vacation, went to pick the gate up and it was damaged. The insurance wouldn't cover his damage because he violated the storage policy (luckily wasn't billed storage fees) and JDR Metal Art was stuck covering half the repair cost to try to keep this particular customer happy. These sort of scenarios are easily avoidable.
What are your storage/excess handling fees?
We try to ship gate projects out every 3rd business day. Projects that are unpaid and/or unshipped after 3 business days get in the way and become a safety hazard and are also at heightened risk of being damaged due to lack of isolated warehousing capacity. Therefore, we charge an excess handling and storage fee of $25 per business day until the final payment is made and client is prepared to accept the delivery. To promote expedient business & payment practices and to best serve all our clients, no exceptions will be made for this policy.
Shipping & Cost Info
How It's Done
Each driveway gate package is carefully palletized on a protective wooden crate with thick foam padding, shrink wrapped, banded and shipped to its destination via common carrier, typically UPS Freight and FedEx Freight.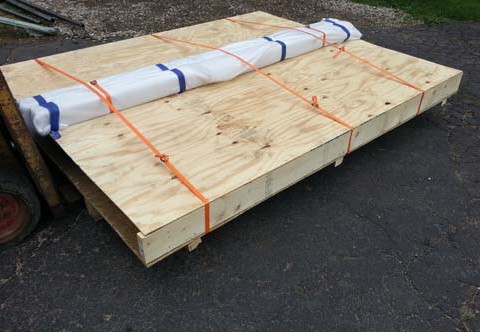 Shipping Options
There are several options for receiving your new driveway gate package.
The first option, pickup from a local freight terminal, is usually the least expensive.
The second option is delivery to a commercial address with dock or forklift and is typically more expensive than terminal pickup.
The third option is residential delivery. This can add several hundred dollars to the shipping cost. 3-4 individuals can cut the straps, open the the skid and offload the panels in a half hour. A lift gate can be ordered that will lower the skid to the ground for an added fee.
Shipping costs typically range from $300-$800 depending on size, weight and the delivery destination. Very large projects (usually 14′ or longer when palletized) may incur overlength fees.
***Orders $5,000 and over qualify for FREE SHIPPING to your local freight terminal! Mention this offer at time of ordering***
Get a shipping quote below.
What forms of payment do you accept?
We accept personal & business checks. We also accept credit/debit cards or Paypal for an additional 2.9% payment processing fee.