Columbus, Ohio Ornamental Driveway Gates by JDR Metal Art
We just finished the fabrication and powder coating of these new dual swing ornamental drive gates. They were purchased as an anniversary gift and were installed at our client's new residential property outside Columbus, Ohio.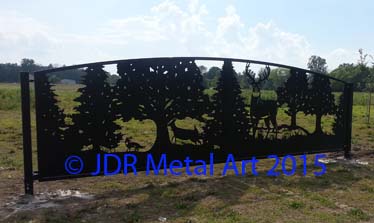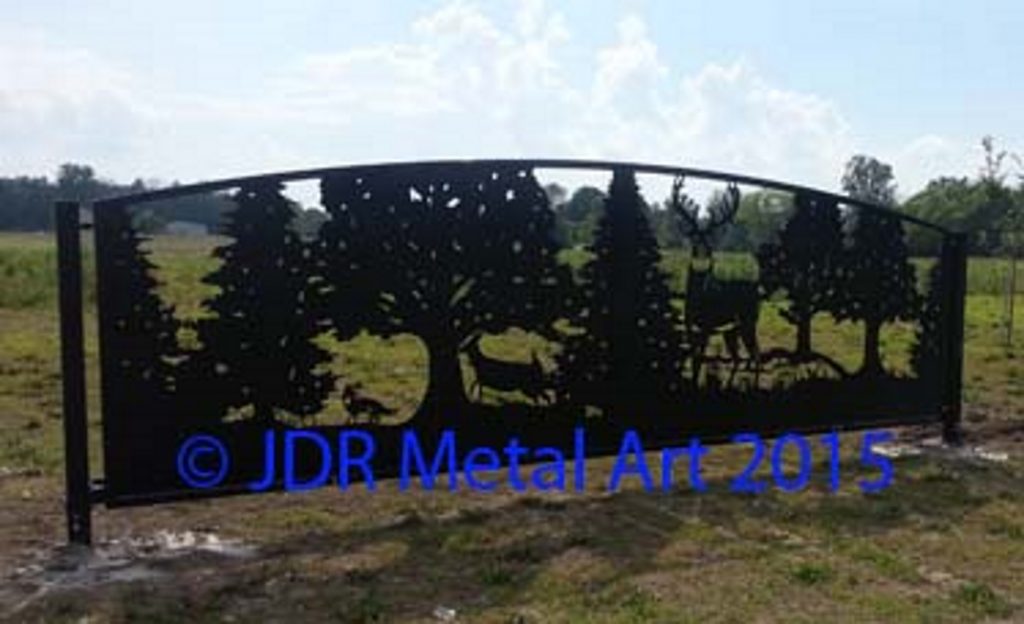 Foundation is the Key to Success!
Due to the fact that these plasma cut gate panels are each built 10′ wide and over 6′ tall, there will be a tremendous amount of weight hanging freely in the air that needs to be properly supported by the posts set into the ground. Concrete is cheap and this type of application calls for plenty of it.

Our post holes are a minimum of 4′ deep. We always want to get as far down as reasonably possible in order to ensure that there is enough room to hold all the concrete we want to put around and beneath our gate posts.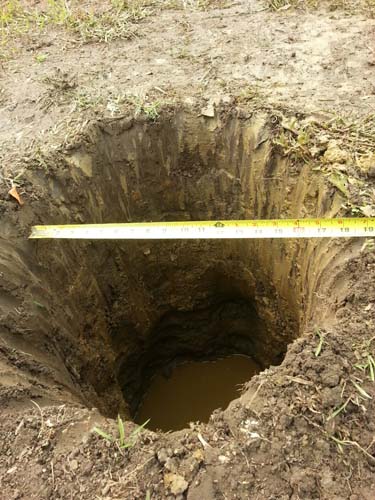 Each post hole is 16″ wide at the top and flares out to 2′ wide at the bottom. The bell shape below the frost line prevents the gates from leaning over time. It takes about a half ton of concrete to fill each of our post holes. Each of these particular plasma cut drive gate panels weigh just under 300 lbs while the posts each weigh 100 lbs.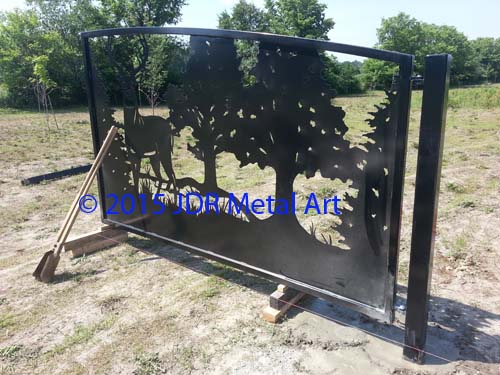 We always prefabricate the drive gate posts and hinges so they are ready to bolt together on the job site for a relatively simple installation. We set the gates to the desired height using wood blocks as shims to get the gate level in its place. Next we drop the post in its hole and there assemble the post to the gate with bolts and nuts through the hinges. The gate is then held plum while the hole is filled with concrete. The same procedure is completed with the second gate panel…now everything is perfectly lined up and the concrete cures for at least 24 hours before the shims are ready to be removed from underneath to let the gates hang freely. At that point the drive gate openers are ready to be installed.
JDR Metal Art Supplies Custom Designed Drive Gates Worldwide
We crate and ship our custom built drive gates worldwide at the most competitive rates available. We use carriers such as UPS Freight, FedEx Freight, Yellow Roadway and many others. We can also personally deliver our gates for a fee. We offer free local pickup in central Ohio for our customers from the surrounding states.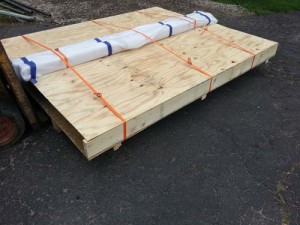 We Want Your Business!
Dear Customer,
Are you interested in having the best metal driveway gates built for your home, farm, ranch or estate? We'd love to hear about your upcoming driveway gate project! We build custom driveway gates for people just like you from all over the United States. We are able to make any metal driveway gate design that you can imagine! And we have some of the most competitive pricing nationwide! Thank you for considering JDR Metal Art for your customized metal driveway gate needs. We are excited to offer you a unique and personalized metal driveway gate design that will add both aesthetic and functional value to your property.
Our team of experienced expert designers and craftsmen specialize in creating custom metal driveway gates that reflect your unique style and preferences. We use high-quality materials, such as durable metals and powder coat finishes, to ensure that your gate is built to last beautifully for many years to come. We work closely with you to understand your specific needs and preferences, and we will provide you with a comprehensive design proposal that meets your requirements and budget.
We are confident that our custom metal driveway gates will exceed your expectations and provide a lasting value to your property. We look forward to working with you to create a beautiful and functional gate that reflects your unique style and enhances the security and privacy of your property.
Please do not hesitate to contact us if you have any questions or would like to schedule a consultation.
Best regards!
The Team At JDR Metal Art.