Traditional Driveway Security Gates
JDR Ships Nationwide!
Traditional & Classic Style Driveway Gate Designs
Custom Made Home, Farm, Ranch and Estate Gates
JDR Metal Art's security gates help you to prevent unwanted vehicles from getting access your private property.
Over the years we have custom built and delivered or shipped many types of security gates to our clients across the United States.
Whatever the customer's situation, we work with them one-on-one to find out what their needs are and to give them different options which will help them achieve those needs at a price that is very reasonable.
ANY GATE DESIGN IMAGINABLE – WE MAKE THEM ANY SIZE YOU NEED!
Here's just a small sample of gate designs which can be made either with or without decorative elements.
Contact us to get a free personalized security gate design!
Design #1
Arched Top with Pickets
(Optional Any Farm/Ranch Logo/Name Etc.)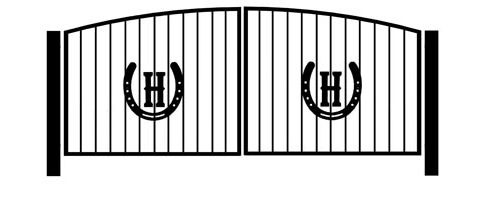 ---
Design #2
Double Arched Top with Optional Clavos
---
Design #3
---
Design# 4
---
They are built with a rugged 2″ square tubing steel frame.
Custom Picket Gate with Metal Art Inserts
Double Arched Top Single Swing Gate
Deer, Mountain & Grass Theme
This 12′ single swing security gate was built for a hunting retreat in southern Ohio.
The design with the deer in center was originally a sign our customer bought years ago. It had rusted so we sandblasted it and made it the centerpiece of his new driveway gate.
It is powder coated with zinc rich powder coat primer and a black top coat baked to 400 degrees.
Our customer DIY-installed a Mighty Mule gate opener. We also welded on a plate for his gate lock to mount on the right side of the gate.
Metal Privacy Gates
Some of our security driveway gates are wrought iron picket style gates (with or without finials or spears on the top). Others, such as the model shown below, are completely filled with metal to also create a visual barrier.
Bexley Model
We build this style of metal privacy gates or security gates for neighborhood driveways, typically in the city and urban areas . They are made from extra heavy duty steel tubing and sheet metal.
We can make them with either arched or flat tops. They can be made to swing in toward the property or outwards toward the road, depending on the situation.
Our metal security gates can also be made to either slide open and closed on a track imbedded into the driveway or on rollers mounted to posts so the gate does not have any contact with the ground.
Metal Picket Gates for Horse Facility
This western style ranch gate is a 24′ dual swing was designed and built for the CT Bryant cutting horse facility in northern Ohio. We also handcrafted a plasma cut silhouette of his ranch brand and another one of a horseman working a cow that was mounted to the arch overhead.
Ohio Security Gate with Pleasure Horse Design
20′ dual swing laser cut gate with custom lettering for Shank Quarter Horse farm in northern Ohio. These took about three hours total to hang to the block columns.
Tulsa, Oklahoma Driveway Entrance Gate
Picket Style Metal Gates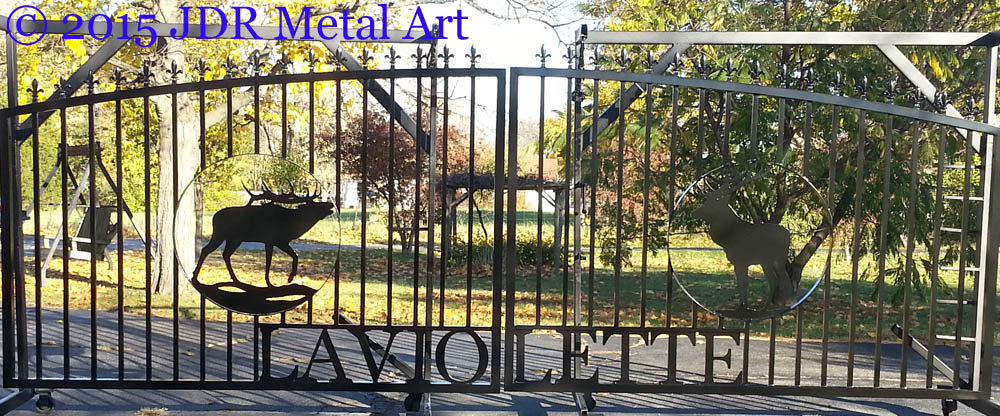 Built To Last for a Very Long Time!
We're proud to exceed the industry standards in numerous ways:
Our security gates are only constructed from steel and aluminum stamped "Made in the USA". We don't use foreign sourced metals as is often used by the mass production gate companies.
We use materials which are approximately twice as thick as what many of our competitors use. For instance, we use a minimum of 1/8″ thickness, often 3/16″ or more for the gate frame. While the thicker materials do add to the overall weight of the gate, the added benefits are that your gate will be much more resilient to all the stresses of opening and closing day in and day out through all weather conditions. Thicker materials also hold up much longer to the damaging effects of rust and corrosion that any well-built security gate will inevitably face. We have seen our competitors gates rusted out within a handful of years of installation due to their poor paint or powder coat finishes and their extremely thin and flimsy gate construction.
We take every step possible to properly prepare and finish our handcrafted creations. We sandblast them clean and wash them free of any oils remaining from fabrication.  We use an extremely durable three layer powder coated finish to ensure that our security gates are going to fully withstand everything the sun, wind and water can throw at them!
Ready for a quote?